EXTREME FACE PAINTING BOOK HELPS YOU KICK YOUR KID'S HALLOWEEN COSTUME UP A NOTCH
Related:
extreme face painting
,
face painting for kids
,
face painting designs
,
face painting ideas for kids
,
halloween face painting ideas
,
Check out "Extreme Face Painting: 25 Friendly Step-by-Step Demos," an enhanced ebook that offers easy face painting ideas and designs for kids, on Halloween and beyond.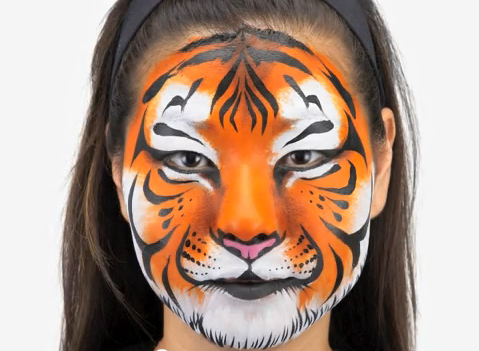 Brothers Brian and Nick Wolfe, award-winning special effects artists, have released a new video-enhanced ebook that shows regular people how they can make the most out-of-this-world face painting effects: "Extreme Face Painting: 25 Friendly Step-by-Step Demos." The Wolfe brothers share easy instructions and techniques to help artists at all levels achieve fun, funny, and unbelievable face painting designs, including birds, butterflies, knights, monkeys, starry skies, and more. The ebook, which comes with video instructions, offers more than two dozen easy face painting design ideas for kids and adults -- the perfect way to spice up a Halloween costume or add some extra fun anytime of the year.
For horror fans, the Wolfe team has also released a second ebook, "Extremem Face Painting: 25 Fiendish Step-by Step Demos," which offers darker face painting designs like zombies, witches, vampires, yetis, orcs, and cyborgs.
Check out a video promo for the books that shows the friendly and fiendish effects you'll be able to achieve through the Wolfe brothers' instructions.
The enhanced versions of the books (with video!) are available through iTunes for the iPad and iPhone for $5.99 as well as at Barnes & Noble for the Nook Color. The regular ebook is also available at Amazon for the Kindle and the print book is available wherever books are sold.
---
Get Your FREE Indoor Activity eGuide!
---
More PRODUCTS Articles
Holiday Fashions for Boys and Girls
Photographer Behind Humans of New York Releases Children's Book
New Book Encourages Kids to Give Up Halloween Candy
Runnin' Wild Kids Shoes Owner Opens Toy Store
Top 10 Audiobooks for Halloween Season