If you've read one of Vicki Iovine's 'girlfriend' books — and unless you are recovering from painful episiotomy stitches and it hurts to laugh — you may consider Vicki a soulmate. Iovine, in books ranging from The Girlfriends' Guide to Pregnancy (and TGG to Surviving the First Year of Motherhood/Toddlers/ Getting Your Groove Back), offers practical, no-nonsense advice, along with a droll look at motherhood. The mother of four kids — 12, 14, 16 and 18 — is not one to keep secrets from her reader 'friends', so it comes "naturally" to share her success with Botox in reducing her motherhood-induced frown lines. The Girlfriends' Guide to Staying a Hot Mama is a free booklet produced by Allergen, makers of the line reducer, in which Iovine writes about her skin care regimen, and Botox treatments; they recently hosted a Big City Moms dinner where she talked more about the wonder shot.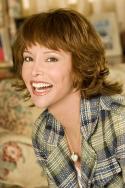 Iovine acknowledged a pejorative tone to "ladies who lunch", but asserts that women need 'a community of girlfriends'. She also noted that, while she looked amazing at her dinner, "I do it with help," and credited her New York look to "Spanx and false eyelashes." She added that, "It is OK not to look like this all the time." She calls this the "gift of the skinned knee — stuff happens." But what is important, she insists, is having recovery tools, so you can quickly get over whatever life throws you.

It is impossible to be a perfect mom to four kids, Iovine confessed, adding, "It kills me." Her solution? "Instead of raising the bar, I take it down a notch." This brought her back to her Botox treatments. Before, she explained, her frown lines gave her a permanent expression of looking 'ticked off'. Her dermatologist (aka, 'essential' doctor) endorsed it, and Iovine reported an all-round great experience.

But she revealed her extra secret — keep your laugh lines, since laughing will prolong your life. Staying a hot mama is internal, she adds; this busy author/mom takes time to read for pleasure, or to get a bikini wax — both of which make her feel good.

"I'm just another working mom," Iovine says. We should all be so blessed.