Thinking about buying a car? You're in good company. According to Media Audit, nearly 21 percent of parents in the U.S. are planning to purchase a vehicle in the next 12 months. Nine percent plan to buy new; 10 percent plan to buy used; the rest are undecided.

We asked six national experts what makes a great family car. And we got six very different answers. Kristin Varela, founder of MotherProof.com, paid a lot of attention to safety, but she also noted that parents can drive fun cars, too — that's why she recommended a convertible! In these days of $3-a-gallon gas, Keith Turner, who writes a nationally syndicated column, "The Family Car", focused on fuel economy. And for Joanne Helperin, an editor at Edmunds.com, it was the little things that mattered. If those back seats are contoured, she said, you're going to have trouble getting a car seat inside.


OUR EXPERTS

Editors at Consumer Reports
Consumer Reports has the most comprehensive auto-test program and reliability survey data of any U.S. magazine or website. CR engineers and technicians at its 327-acre Auto Test Center test cars and trucks at the track and on public roads for performance, convenience, comfort and safety. CR's team of survey experts compile and analyze reliability data on more than 1 million vehicles each year — the largest consumer survey of its kind in the U.S. Visit ConsumerReports.org.

Lauren Fix
Lauren Fix is a professional race car driver, award-winning automotive and lifestyle expert, and author of two upcoming books, The Carma Coach and Just Drive It! She has appeared numerous times on Oprah, Today, The View, CNN, and National Public Radio. She is the automotive editor of YourLifeMagazine.com and contributes to USA Today, Good Housekeeping, Woman's World, Redbook, Self and many other national magazines and websites. Her website is LaurenFix.com.

Joanne Helperin
As senior features editor at Edmunds.com, Joanne Helperin writes automotive lifestyle articles and manages Edmunds.com's Women and Family Car Guide (Edmunds.com/women). Joanne has bought, sold, leased and rented all the cars for her own family, using everything from brokers and dealers to print ads, auctions and the Internet. Someday, she'll busy herself designing the perfect family car: It would include fewer cup holders and more places to put other important things, like a purse, trash and a box of tissues. Read her blog, The Driving Woman, at blogs.edmunds.com/women.

Keith Turner
Keith Turner is a veteran journalist who has been writing his self-syndicated auto review column, "The Family Car", since 1994 for parenting publications nationwide. In his more than 20 years of newspaper experience, Keith worked as a reporter and editor for newspapers in Michigan, California and Alaska. In 1989, Keith was a member of the Anchorage Daily News staff that was awarded the Pulitzer Prize for Meritorious Public Service for its dramatic series, "A People In Peril". Find him online at TheFamilyCar.com.

Kristin Varela
Kristin Varela is the founder and chief executive mother of MotherProof.com, a company dedicated to providing women in general — and mothers in particular — with useful and entertaining car reviews. While the list is expanding daily, her cutting-edge print column is published by numerous daily papers, regional parenting magazines and international websites. Varela has been featured in or has appeared as an expert guest on ABC's The View, CBS The Early Show, CNN Headline News, PAX TV, ABCNews.com, Parenting, Working Mother, Ladies Home Journal, Travel and Leisure, and more.

Joe Wiesenfelder
Joe Wiesenfelder joined cars.com in September 1997 as one of its first members and has more than a decade of automotive journalism experience. As the senior editor and vehicle profiler, he helps develop the site's award-winning advice content. From new car reviews to expert advice on vehicle safety and fuel efficiency/fuel related technologies, Joe has covered a wide range of automotive issues in his career. He has also written for Motor Trend, Wired, Spin, Car Stereo Review, Stereo Review, Audio and Video, among other publications; he has appeared on the Today Show, CNN, CNNfn, CNBC, MSNBC and VH-1.


WHAT THE EXPERTS SAID
Sedans

Toyota Prius (pictured below)
Base price: $21,725
Fuel economy: 60/51 MPG
Recommended by: Joanne Helperin, Keith Turner, Kristin Varela
Helperin says, "The Prius lets a family go green affordably and with little sacrifice." She likes not only its fuel economy, but also its "ultra-low emissions, generous interior room, and excellent build quality." She adds: "For the safest ride, be sure to order the optional side and rear curtain airbags."
Turner likes the Prius for its legroom and its gadgets, including keyless entry, push-button startup, and a Bluetooth cellular phone connection that synchs with your cell phone and mutes the stereo when a call comes in.
Varela cautions that the fuel savings may not, in the end, offset the higher sticker price of a hybrid, but buyers can take comfort from knowing that they will be "contributing to cleaner air for our children." She notes a couple of important safety features — including a back-up detection camera, which could prevent back-over injuries; and a tire pressure monitoring system, which could prevent tire blowouts.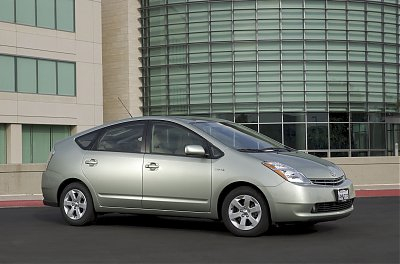 Honda Accord
Base price: $23,350 ($30,990 for the hybrid)
Fuel economy: 24/34 MPG (25/34 for the hybrid)
Recommended by: Consumer Reports, Keith Turner
The Honda Accord is Consumer Reports' Top Pick family sedan. They like its agile handling, smooth engine, roomy cabin, and impressive crash-test results.
Turner points out that the hybrid version of the Accord has all of those features, plus the world's first V6 hybrid engine, which seamlessly shifts from six cylinders to three when less power is required.

Toyota Avalon
Base price: $26,625
Fuel economy: 22/31 MPG
Recommended by: Consumer Reports
Consumer Reports says this large sedan "combines comfort and convenience with a powerful and smooth V6 engine." They like the secure handling, quiet ride, and expansive rear seating.

Ford Five Hundred
Base price: $22,930
Fuel economy: 19/26 MPG
Recommended by: Lauren Fix
Fix calls the overhauled 2007 Ford 500 "a great family car" and a "safe choice for any driver." She likes all the head and knee room and the fact that drivers facing tough winters can opt for all-wheel drive.

Volvo C70 (pictured below)
Base price: $38,710
Fuel economy: 21/29 MPG
Recommended by: Kristin Varela
Varela calls the Volvo C70 "a fun and sexy hard-top convertible for families not ready to trade in the sportster for the minivan." A convertible seems like a real family-car option when you can still count on safety features like these: Hidden roll bars pop up when an imminent roll-over is detected and extend if the car is rear ended at more than 20 mph (with the top down) to protect rear passengers from flying debris. Side curtain airbags protect front passengers' heads in the event of a rollover. Varela also notes that, although the car seats a family of four, it's a lot more fun if you leave the back two passengers with a sitter.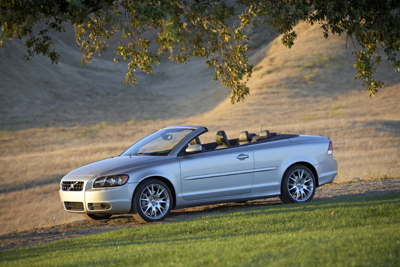 BMW 5 Series
Base price: $42,495
Fuel economy: 21/29 MPG
Recommended by: Joanne Helperin
"Chauffeuring the kids around doesn't mean giving up a fun ride," Helperin says. She credits the entire BMW 5 Series lineup with "an incredible balance of ride, performance and comfort," as well as "velvet-smooth engines that inspire driver confidence." Although the sedan is roomy enough for a family of four, Helperin says larger families should choose the wagon, which has all the "killer driving characteristics" and even more room for baggage.


Wagons


Subaru Outback (pictured below)
Base price: $24,795
Fuel economy: 22/28 MPG
Recommended by: Consumer Reports
Consumer Reports likes the upscale features brought in for the 2005 redesign of the Outback, including automatic climate control and an oversized sunroof in Limited trim. They call the ride "supple, controlled and quiet." This is a popular wagon with some of the size and feel of an SUV.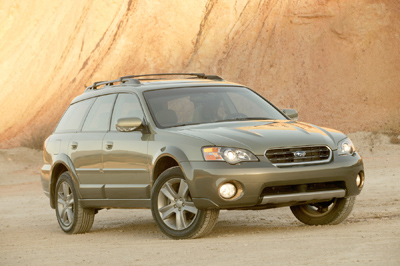 Ford Freestyle (pictured below)
Base price: $25,805
Fuel economy: 20/27 MPG
Recommended by: Joe Wiesenfelder
The Freestyle doesn't get a lot of attention — maybe because it has an identity crisis: Some consider it a wagon, some call it an SUV. Wiesenfelder says he likes it either way, noting that it's based on a Volvo platform and has the safety ratings to prove it. "It makes excellent use of interior space, seating six or seven people very comfortably," he says. "Even the third row can accommodate the tallest of teens."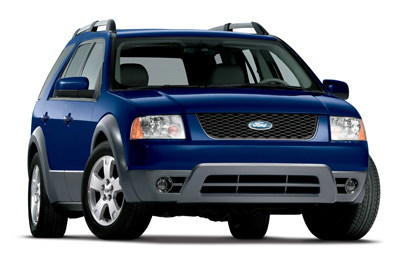 Dodge Magnum
Base price: $23,335
Fuel economy: 21 city MPG
Recommended by: Joanne Helperin
What do Edmunds.com editors want in a mid-price wagon? This is it. Helperin calls the Magnum "a real head-turner". This family car, she says, "provides serious fun for driving-enthusiasts-turned-parents. A cross between a family hauler and a '50s chop top, the Magnum's low-slung roof and dark tinted windows give it iconic good looks." She likes the ride and handling qualities, which measure up to many sedans. "Add in an optional Hemi-powered V8 engine and more than 70 feet of cargo space," she says, "and we say, leave the SUV in the garage."


Minivans

Chrysler Town & Country/Dodge Caravan
Chrysler Base price: $21,985
Chrysler Fuel economy: 19/26 MPG
Dodge Base Price: $18,630
Dodge Fuel Economy: 20/26 MPG
Recommended by: Keith Turner
"When it comes to family-friendly functionality," Turner says, "nothing quite compares to the Chrysler Town & Country and its twin, the Dodge Caravan." What separates this minivan from the rest of a pretty strong pack, he says, is the "show-stopping" Stow 'N Go seating system, which turns a seven-passenger carpool cruiser into a wide-open cargo carrier in a matter of seconds. This is the kind of versatility active families need, he says.

Kia Sedona minivan
Base price: $22,995
Fuel economy: 18/25 MPG
Recommended by: Joe Wiesenfelder
Wisenfelder calls the Sedona the "best value in minivans." It holds the top crash-test rating from the Insurance Institute for Highway Safety and has a laundry list of standard equipment — including some high-value safety features that are optional on other vans — all for a lower starting price.

2007 Toyota Sienna
Base price: $23,625
Fuel economy: 19/26 MPG
Recommended by: Lauren Fix
Fixlikes the Sienna's five-star crash-test rating and the fact that it's low-maintenance and has a great resale value. This all equals lower lease payments and a great all-around family car.

Honda Odyssey minivan
Base price: $25,345
Fuel economy: 19/25 MPG
Recommended by: Consumer Reports, Lauren Fix, Joanne Helperin, Joe Wiesenfelder
Everybody loves the Honda Odyssey. It inspires our raters to use words like "ultimate" and "one of the best-executed vehicles of any style." Wiesenfelder likes the gas mileage, the great crash-test ratings, and all the safety features, including "power doors that reverse at the lightest touch."
Fix likes the value you get with the Odyssey, because it is low-maintenance and has a great resale value.
Experts at Consumer Reports call this "a very slick vehicle that is every bit as capable as a mid-luxury sedan." They like the flexibility of the interior and finishes in the cabin, as well as the agile handling.
Helperin and her colleagues at Edmunds.com call the Odyssey their "Editors' Most Wanted" minivan of 2006, and their readers agree, naming it the "Consumers' Most Wanted." They like the comfortable seating, plentiful storage, car-like ride, and windows that open in the second row.


SUVs

Hyundai Tucson
Base Price: $17,845
Fuel Economy: 22/27 MPG
Recommended by: Kristin Varela
Varela calls the Tucson "a great small SUV for families on a budget;" its base price is nearly $3,000 less than others in its class, like the Toyota RAV4 and the Honda CRV. She likes its safety features, including a total of six airbags, and the thoughtful family-friendly features. The second-row seats, which fold forward and recline, are roomy enough to accommodate adult passengers and rear-facing infant seats. There's also plenty of storage, right down to both round and square cup holders in the rear armrest.

Suzuki Grand Vitara
Base price: $19,199
Fuel economy: 19/24 MPG
Recommended by: Keith Turner
Surprised to see a Suzuki on the list? Turner says, "The Japanese automaker has made great strides in securing a deserving space in any American driveway." He also believes the Grand Vitara deserves to be considered a top pick for families. "In its second generation, the Grand Vitara is a compact SUV that offers great handling, perky performance and a very strong list of safety features to help keep loved ones out of harm's way."

Toyota Highlander Hybrid and Lexus RX400h hybrid
Toyota Base price: $24,530
Toyota Fuel economy: 33/28 MPG
Lexus Base price: $48,535
Lexus Fuel economy: 31/27 MPG
Recommended by: Keith Turner
Turner calls this "a toss-up between kissing cousins." The Lexus RX400h was the first luxury sport utility vehicle to utilize gas-electric synergy, he explains, and the Highlander soon followed with the added advantage of a third-row seat, providing room for seven passengers. Miles per gallon in both vehicles is roughly 30, which is an extraordinary number for any size SUV.

Honda Pilot SUV
Base price: $26,995
Fuel economy: 18/24 MPG
Recommended by: Joe Wiesenfelder
"Not all parents are ready to be seen in a minivan," Wiesenfelder believes. For them, the Pilot offers the best of the SUV and minivan worlds. Based on the Odyssey minivan, he notes, it has eight seats, all-wheel drive and a high seating position, but it lacks sliding doors. It looks like an SUV, but it's more fuel efficient and less likely to roll over.

Chevrolet Suburban SUV
Base price: $36,990
Fuel economy: TBD
Recommended by: Joe Wiesenfelder
According to Wiesenfelder, "truck-based SUVs make poor use of interior space." For large clans, he says, "minivans are a better choice… but there's little cargo room when all seats are filled. If you want to carry nine people and their hockey gear, the Suburban is the only choice." The fuel-conscious should note that the all-new 2007 gets better gas mileage and can run on E85 ethanol.

Ford Explorer
Base Price: $26,530
Fuel Economy: 15/21 MPG
Recommended by: Joanne Helperin
"A practical SUV with few faults" is what Helperin calls the Ford Explorer (and its twin, the Mercury Mountaineer). She likes its spacious, comfortable cabin and versatile layout. She notes that front-seat side airbags and stability control (which includes roll stability control) are standard across the line. "Performance is solid all around, with strong powertrains, excellent tow ratings, and a well-controlled ride that feels good on pavement and can handle the off-road bumps," she adds.

Mercedes R350
Base Price: $48,000
Fuel Economy: 16/21 MPG
Recommended by: Kristin Varela
The style-conscious R350 blends characteristics of minivans, wagons, and SUVs, according to Varela. It's easy to get in and out of, thanks to wide-opening doors and a low step-in height. And it's easy for the whole family to find comfortable places to sit, with sliding second-row captain's chairs and full-size seating in the third row (the "way back" is not just for little kids any more!). The reinforced and shatter-proof panoramic roof extends from the front of the car to the third row, giving everyone a sense of the wide-open road.

2007 Audi Q7
Base price: $49,900
Fuel economy: 14/19 MPG
Recommended by: Lauren Fix
Fix calls the Q7 "a very impressive seven-passenger luxury SUV with Audi performance, safety, design, and versatility." She likes the high seating, spacious interior, off-road capability, and, of course, the "flexibility that you expect from an Audi."