Barbara has a dilemma. While anxiously awaiting the birth of her first grandchild, she is concerned that her current vehicle won't be able to handle the transportation duties of today's active grandparents.
"I love my two-door [Toyota Celica] sports car, but there's no room in the back for a child seat," laments Barbara. "And a convertible just isn't right for a newborn baby."
So, in preparation for her granddaughter's arrival, Barbara is going car shopping.
For most new parents — and sometimes grandparents — the transition to life with children means many changes, including a family-friendly vehicle upgrade. Because children are in a car seat until age 12, and the safest place for children to ride is in the back, accessibility and legroom are of the utmost importance for growing families. Here's a quick look at the best small cars for today's active families:
Chevrolet Aveo
: With a new, hip design due out in 2007, the Aveo comes packed with value-added features, including front side airbags and a price that starts below $10,000.
Ford Focus
: With a base price of around $13,000 and high fuel mileage, the Focus is a truly economical pick for young families.
Honda Civic
: Comfort, reliability and fuel economy combine to make the Civic one of the most impressive small cars on the market. Although its styling may be on the conservative side, the value — and resale value — is tough to beat.
Hyundai Elantra
: Although not overly exciting design-wise, the Elantra makes up for it in value, with an attractive starting price in the mid-teens and fuel economy in the low 30s.
Mazda Mazda3
: Mazda replaced the Protégé with this model but didn't sacrifice value, comfort or style in doing so.
Mini Cooper
: The Mini Cooper's tall, flat roof provides extra headroom — and the coolness factor is undeniable.
Nissan Sentra
: Like the Corolla and Civic, the Sentra is a mainstay among young families. The latest Sentra adds style, space, and interior flexibility for active families.

Suzuki Aerio
: The Aerio's sporty styling may catch your eye, but it's the interior space and spunky performance that will hold your attention.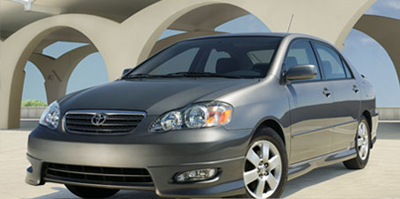 Toyota Corolla
(pictured) : Right there with the Civic is Toyota's extremely popular Corolla, which continues to impress young families with its handling and interior space versatility.
KEITH TURNER writes the auto review column, 'The Family Car', and maintains the website, TheFamilyCar.com.