Expert advice from an experienced dad and NASCAR racer:
Whether you're riding shotgun or handing over the keys, sharing the car with your newly-minted teen driver will put more than a few gray hairs on your head. To minimize parents' stress, we asked veteran NASCAR racer
Kenny Wallace
, a competitor in the NASCAR Busch Series and the father of three teenage girls, to share tips on preparing teens for life on the road.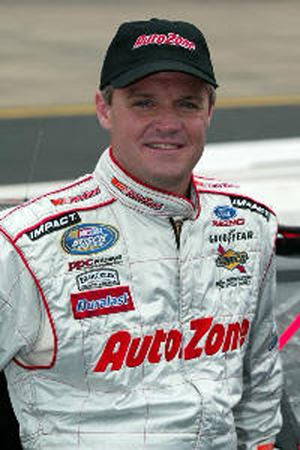 —
Always buckle up.
More than 5,000 teenage drivers are killed in auto accidents each year and thousands more are injured, according to the American Academy of Pediatrics. Wearing seat belts cuts down significantly on injuries.
—
Take time to drive with your teen.
Driver's education will teach kids the basic rules of the road. But becoming a good driver requires logging time behind the wheel. Wallace recommends making time on the weekends to take your teen onto neighborhood streets. "Getting a license is one thing, but taking off with the car is another," he says. Many states have graduated licenses, which require adult supervision for young drivers and limit nighttime driving until they've gained experience.
—
Agree to house rules and stick by them.
No speeding or driving while under the influence of drugs or alcohol. Take back the keys if rules are broken. Wallace has given his girls new cars, but he's clear about what he expects. "My girls know that if you wreck it, I'll take it away," says Wallace.
—
Anticipate what other drivers might do.
"That's the joke around our house," says Wallace. "Anticipate. When I'm driving with my girls, I stay real calm but say, 'Anticipate that stop light. Look ahead and notice when the light is turning. Anticipate what's coming, be prepared.'"
—
Don't get overly confident.
Young drivers can get cocky behind the wheel. Their false sense of confidence and inexperience can be a dangerous combination in traffic situations that call for quick thinking. Conversely, young drivers can get scared when accidents do occur. Wallace's daughter, Brooke, had two wrecks, one involving a deer that jumped unexpectedly in front of her car. The incidents shook her self-confidence. "She was convinced the car was possessed," says Wallace. "I had to sit her down and say, 'You had some bad luck. You're a good driver, and here's what you can do to become better.'"
—
Be aware of blind spots.
It takes a while for kids to get used to using both the rear view and side view mirrors. Yet it's a critical practice for knowing where other drivers are around you on the road. Since cars can quickly disappear from view when passing, encourage your teen to routinely check both mirrors before making a lane change. Also teach him to look over his left shoulder to make sure the road is clear.
—
Stay in your own lane.
"Brittany, my 15-year-old, likes to pull out of the drive but doesn't stay in her lane," says Wallace. "She gets aggravated when I mention it, but I tell her if she's not careful, someone will take her nose." Be aware of your surroundings, and watch the center line to make sure you're not swerving into the other lane.
—
Talk about car maintenance.
All cars require regular servicing to keep them on the road. Make a checklist and share it with your teen. He or she should know to change the oil every 3,000 to 5,000 miles, that tires must be inflated to 32 pounds of pressure for best performance (don't forget the spare), to rotate tires with oil changes, and to have car fluids and belts checked regularly. "A lot of people don't pay attention to their cars," notes Wallace. He even recommends reading the car's manual, so "you'll know a little bit about what you're driving."
—
Purchase a car that's safe.
Wallace says parents should look for a car that gets good gas mileage, has plenty of metal around it and receives a good safety rating. Used vehicles can work out, too, if properly inspected by a reputable mechanic. If handing down the family car makes the most sense financially, spruce it up by tinting the windows or putting chrome wheels to give it a bit more style. Wallace's bottom line? "Buy what you can afford."
JANE SCHNEIDER is the editor of 'Memphis Parent' magazine.