Speed was once the driving force in the life of Olympic skater Bonnie Blair.

Now she leads a busy, on-the-run life as a mom, just like the rest of us.

But once an athlete, always living a healthy, busy lifestyle. That's the message she tries to get across to her two children — Grant, 8 and Blair, 6 — and the message she takes on the speaking circuit across the country, urging everyone from corporate executives to school kids to live healthy and to go for the gold.

So it might seem incongruous that fast food behemoth McDonald's has tapped Bonnie Blair for their newly created Global Moms Panel. She joins other Americans — Michele Borba, Ed.D., child development expert; Laura Lopez Cano, a Latina artist; and Kim Carter, a librarian and PTA president — along with several other moms from other countries to, says the company, "provide input and guidance on a broad range of topics to help the company better serve the needs of moms and families both inside and outside its restaurants worldwide.

"I'm excited for a way to work with other moms to see if we can make a change, here and there," Blair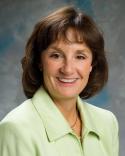 commented by phone from her home just outside Milwaukee. "They want our honesty. McDonald's is the kind of company that has always wanted to hear back from their customers. They've made some steps toward healthier eating, but I think they can still do more."

And, she points out, just because you're an athlete doesn't mean you can't eat at fast food restaurants. Or deprive your kids from doing so.

"Look, when I grew up, we had well-balanced meals every day and we sat down together as a family," Blair continued. "But now parents are shuttling kids to their afterschool activities and sometimes things get crazy. We go to McDonald's a few times a month. Hey, I love my French fries! But you have to be smart about it, and you have to pass this on to your kids. If you don't try and keep the idea of healthy eating in the back of your mind, of course you're going to pile on the pounds. You've got to be smart. And I think that goes for everything, not just fast food."

While the group has met and talked briefly, their first panel discussion will occur mid-summer, and Blair is already making notes.

"I've suggested that maybe they could make the portions a bit smaller in their Happy Meals," she said, "in order to add carrots or an apple to give it a bit of a balance. Maybe there could be, say, five different parts of a Happy Meal and kids could choose three or four, guided by their parents. This idea could be extended to other meals as well.

"And their salads I think are great, but they're big and a salad as a meal doesn't always do it for me — I like more variety. So maybe they should make these smaller and offer them as side salads, so you could have a cheeseburger, a salad, and fries."

Blair says she looks forward to working, too, with such an interesting group of women. Aside from her American colleagues, the panel includes: Keddie Bailey, an English full-time mom; Stefania Belmondo, an Olympic cross-country skier currently working for the Italian forestry ministry; Maru Botana, a TV chef in Argentina; Christa Kinshofer, an Olympic skier in Germany; and Gao Min, an Olympic diver in China.

Blair is one of the most decorated U.S Olympians of all time. She went first to Sarajevo in 1984, and returned to the Olympic speed lanes in 1988, 1992 and 1994. She won five Gold medals and one Bronze. In 2004, she was elected to the U.S Olympic Hall of Fame, and is currently on the Board of Directors for U.S. Speedskating. She is married to former Olympic speedskater David Cruikshank, who now trains ice hockey players how to skate.

While their kids are still young, Blair reports that Grant is "major into hockey — so we're still always at the rink, but now for another reason!" Daughter Blair's interest is in gymnastics right now. Mom Bonnie is active in the kids' school, volunteering time at least once a week when she's home and not traveling the country giving motivational speeches.
It is at these lectures that Blair espouses the beliefs that got her to the pinnacle of her sport and help her in raising her own kids: "Being dedicated and making smart choices — which include good nutrition, getting enough sleep, avoiding drugs, and hanging out with the right kind of people."