SCARY STORIES CAN HELP PREPARE KIDS FOR REAL WORLD
Related:
ghost stories
,
facing childhood fears
,
Halloween
,
prepare kids
,
scary for kids
,
With it's ghost and ghouls, goblins and witches, Halloween can be scary for kids. But experts say facing childhood fears, even through ghost stories, can help kids prepare for life.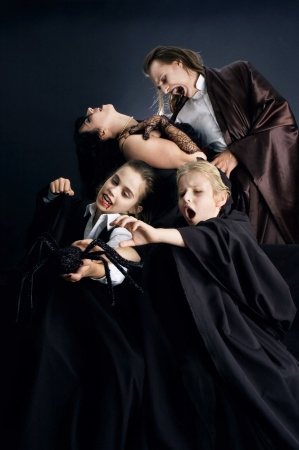 Long before the brothers Grimm wrote about wolves eating grandmothers and witches luring children with candy, parents were telling fearsome tales to their offspring. Scary stories may have played a cautionary role in keeping young ones in line years ago, but you may wonder: Is there still good reason to let your kids read things that frighten them?
Absolutely, says Frank Farley, Ph.D., who believes exposing children to scary stories helps them "become strong, independent, and not inappropriately fearful."
Farley, a psychologist and professor at Temple University and a former president of the American Psychological Association, says fear is one of our most powerful emotions. When we address it with our kids, we help prepare them for life.
Children Get To Be Heroes
Another thing to consider is that scary stories are not just about fear. Often, they are also about courage, problem solving, and the weak triumphing over the strong. Think about Harry Potter overcoming Lord Voldemort or Cinderella, who finds a way to escape from her evil stepmother and stepsisters. Farley says tales such as these empower children by showing positive endings.
Philadelphia-area author Jonathan Maberry agrees. As a child, Maberry suffered abuse, and through fiction he saw that "monsters could be defeated, and weak people could become strong."
A multiple winner of the Bram Stoker Award for his writing, Maberry points to Stoker's famous book, Dracula, as a good example. "Dracula was not a book about a vampire, it was a book about people fighting vampires," he says.
Keep It Age-Appropriate
Still, you may wonder how much of the scary stuff is appropriate for your kids and how you can make sure they are not exposed to more than they can handle. Young children especially are affected by images, which is why many experts caution against exposing them to frightening pictures or movies.
Joanne Cantor, Ph.D., author and professor emerita of communication at the University of Wisconsin at Madison, explains why.
"Kids are not very good at establishing fantasy from reality until around the age of five or six," she says. "Picture books with scary images will be scary even if you say it's make believe."
When it comes to teens and pre-teens, you may have a little more leeway. And if you are inclined to forbid a certain book or video, Maberry cautions against it, since kids often find ways to read "taboo" titles anyway. He believes "kids are much better at self-editing than when they're told what they can and can't read."
Just-So Scary Stories
AGES 4 TO 8
Big Pumpkin by Erica Silverman—A witch, a ghost, a mummy and other Halloween characters struggle to pick a large pumpkin and make a pie.
The Hallo-weiner by Dav Pilkey—Little Oscar isn't wild about the costume his mother made for him, but despite teasing he saves Halloween night for his friends.
Bugs That Go Bump in the Night by David A. Carter—pop-up silly Halloween bugs.
AGES 8 TO 12
Coraline by Neil Gaiman—Like many children Coraline wants to trade her less than perfect parents with ideal ones, until she sees what that really means.
Matilda by Roald Dahl—Dahl is a master at giving children ways to triumph over evil adults.
The Wonderful Wizard of Oz by L. Frank Baum—this book inspired the movie and started a series that includes dozens of books by Baum and other writers.
What Parents Can Do
It's no surprise what the experts recommend for making sure your kids don't become overly fearful when reading scary stories: hands-on parenting. Find out what makes them afraid, answer their questions, and talk with them about the positives in the story. As a guideline, Cantor recommends keeping your discussions tailored to what disturbs your child instead of "listing everything they could be afraid of," which may just let them imagine more scary things.
Cindy Hudson, mother of two daughters, is the author of Book by Book: The Complete Guide to Creating Mother-Daughter Book Clubs (Seal Press, October 2009). Visit her online at MotherDaughterBookClub.com.
More Halloween Articles Articles
7 Tips for Trick-or-Treating with Your Toddler
New Book Encourages Kids to Give Up Halloween Candy
Halloween Activities in Bucks County, PA
DIY Alien Monster Egg Halloween Decoration
Toddler-Friendly Halloween Events in Fairfield County, CT