Check out these great family activities scheduled for the month of August in Fairfield County, CT. Whether you're looking to celebrate the great outdoors, catch a kid-friendly show, or take a spooky tour, we've got all the information a Fairfield County family needs.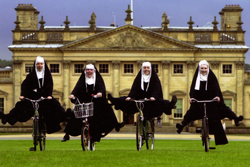 Do Re Mi
Almost everyone knows the words to this classic Rodgers and Hammerstein musical, and for those who don't, there are subtitles so everyone can join in at the Sound of Music Sing-A-Long. Come dressed as your favorite character, participate in pre-movie activities, and receive a free goodie bag. You'll be viewing the film in its entirety, so warm up those vocal chords. August 7. 7-11pm. $20, children 2-12 $12. Stepping Stones Museum, 303 West Avenue, Norwalk. 203- 899-0606. www.steppingstonesmuseum.org.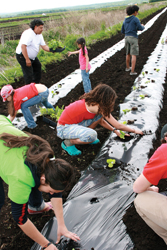 We Are What We Eat
Award-winning producer and Director Catherine Gund produced What's on Your Plate? This documentary follows the adventures of two young friends, Sadie and Safiyah, as they explore the food systems in New York city and the surrounding areas. Meeting with food activists, farmers, storekeepers, families and school lunchrooms, they give us a view of where our food comes from and the current trends to provide sustainable and nutritious meals to communities and children of all economic backgrounds. August 8. 2pm. $10, children free. The Greenwich Audubon Society, 613 Riversville Road, Greenwich. 203-869-5272. greenwich.audubon.org.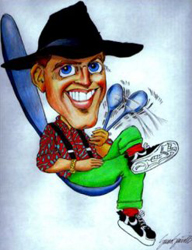 Comedic Cutlery
The Spoon Man gets the whole family laughing, dancing, and making music. (And you thought they were just for soup!) In this performance that mixes music and humor, children can become part of the band. Recommended for ages 3 and up with caregivers. Registration required. August 9 at 2pm. Wilton Library, 137 Old Ridgefield Road, Wilton. 203-762-3950. www.wiltonlibrary.org.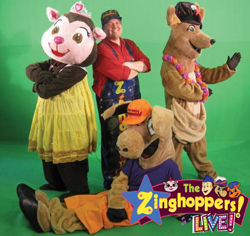 Enjoy the Great Outdoors
Not to state the obvious, but summer is winding down. The days are getting noticeably shorter and school is just around the bend. Before the weather and the evening sky start to change dramatically, why not take advantage of as many outdoor family activities as you possibly can? Here are just a few:
A blanket and a light snack are all you need to enjoy Sunday Evening Pops on the Lawn. Ellen Woloshin and Jim Dawson perform under the stars. August 1. 5-7pm. $10. Bartlett Arboretum and Gardens, 151 Brookdale Road, Stamford. 203-322-6971. www.bartlettarboretum.org.
The Levitt Pavilion in Westport has a whole calendar of outdoor events. Conductor Jack and the Zing hoppers is described as a "foot-stomping, hand-clapping hoot." August 4. 7pm. FREE. The Levitt Pavilion, 20 Jesup Road, Westport. 203-221-2153. www.levittpavilion.com.
Hop aboard the Norwalk Seaport Association ferry with Larry Flynn from the state Department of Environmental Protection for a Bird Watching Cruise. August 5, 7, 19, 22. 7:30am. $22; $12 children. Sheffield Island Lighthouse Dock, Washington and North Water Streets, South Norwalk. 203-838-9444. www.seaport.org.
Gather around the campfire for S'mores and More to enjoy the ultimate summer treat. There will be a scavenger hunt, a visit to the playground, and a stroll to say goodnight to the farm animals. August 6. 6:30pm. $25 one adult/child; $10 per additional family member. Stamford Museum and Nature Center, 39 Scofieldtown Road, Stamford. 203-325-1407. www.stamfordmuseum.org.
The only creatures who shouldn't like bats are mosquitoes, since they get eaten by the thousands each summer night. Bats are now dealing with the devastating white-nose syndrome (WNS) disease, which is destroying thousands of these important members of the ecosystem. Find out more with a Night Hike for Bats and WNS Update. August 6. 7:30pm. $5; $3 children. Audubon Greenwich, 613 Riversville Road, Greenwich. 203-869-5272. greenwich.audubon.org.
Check out tiny creatures in Family Pond Exploration. Equipment provided. August 22. 2:30pm. $5; $3 children. Audubon Greenwich, 613 Riversville Road, Greenwich. 203-869-5272. greenwich.audubon.org.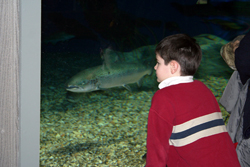 Fish 'n' Art
The Rowayton Arts Center partners with the Maritime Aquarium to present Go Fish with Art, an educational workshop designed to enlighten children in grades 3-8 about marine life through tours and art activities. Paid for by a grant from the Fairfield County Community Foundation. Spaces are limited. August 9 and 16. 1pm. $5. The Maritime Aquarium, 10 N. Water Street, Norwalk. 203-866-2744. www.rowaytonartscenter.org.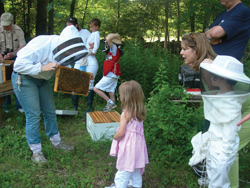 Honeycomb Hideout
There's no need to fear bees, especially when you consider all the delicious honey they produce. Get up close and personal with them in Honey Bee Hive Checks. Take a peek to check on the health and wellbeing of the hive, search for the queen bee, and monitor honey production, getting as close you feel comfortable. August 5 and 19 at 4pm; August 14 and 28 at noon. FREE. New Canaan Nature Center, 144 Oenoke Ridge, New Canaan. 203-966-9577. www.newcanaannature.org.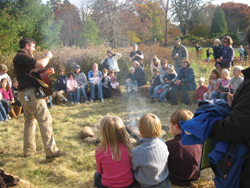 Twilight Twitters
Many creatures come out at night, which you'll discover in a Family Night Hike and Campfire. Make observations by watching and listening to the sky as it goes from dusk to dark. The evening ends around the campfire for marshmallow toasting. August 13. 7pm. $8, children under 3 FREE. New Canaan Nature Center, 144 Oenoke Ridge, New Canaan. 203-966-9577. www.newcanaannature.org.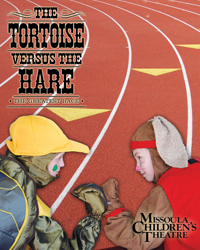 Take Your Time
You may know how the story ends but The Tortoise and the Hare is one of those rare tales that present a teachable moment. Now you can see it live on stage, performed by the Missoula Children's Theatre, the acclaimed professional children's theater company. August 13. 7:30pm. $15. Regina A. Quick Center for the Arts, Fairfield University Campus, 1073 North Benson Road, Fairfield.203-254-4010. www.fairfield.edu.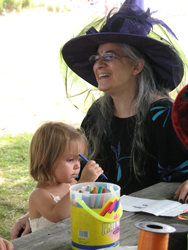 Summer Spooktacular
Ghosts walk the halls of the Sheffield Lighthouse. Sail from the South Norwalk dock to the island for a kid-friendly haunted tour of this historic site, August 14-15. Two rooms are darkened and decorated as a child-friendly haunted attraction. Games and crafts for young visitors are part of this island adventure. Lunch, snacks, and beverages are available for purchase. All activities are free with the purchase of ferry tickets (Ferries depart for the island at 11am, 2pm, and 3:30pm). Reservations advised; call 203-838-9444. All ags. $22; $12 children 4-12; $5 children under 4. Sono Seaport, Washington and North Water Streets, Norwalk.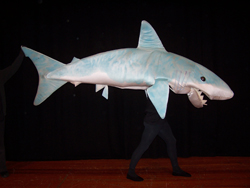 Under the Sea
The Hudson Vagabond Puppets borrow from the traditional Japanese Bunraku style of puppetry, wearing black in order to fade into the background as the puppets they inhabit take center stage. They perform The Silly Jellyfish, the story of a well-meaning jellyfish and his efforts to play matchmaker between a temperamental sea-dragon and a demanding she-dragon. August 18. 7pm. FREE. The Levitt Pavilion, 40 Jesup Road, Westport. 203-221-2153. www.levittpavilion.com.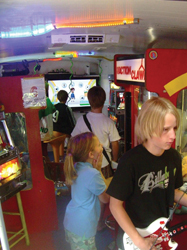 Bus Ride to Fun
This bus is not headed to school, but to fun. You may have trouble pulling your child away from the karaoke machines, video games, arcades and slot machines in the Amazing Fun Bus, which will be parked at the Calf Pasture Beach as part of their Summer Events Series. August 18, 6:30pm. $5 per car. Calf Pasture Beach, 48 Calf Pasture Road, Norwalk. 203-854-7806. www.norwalkct.org/recparkconcerts.htm.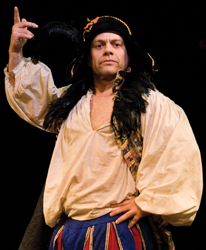 Kiss Me Kate
Come to the town green and enter a large tent for a performance of William Shakespeare's The Taming of the Shrew. The Hudson Valley Shakespeare Festival interprets Shakespeare's words in a way that all ages can understand and appreciate. Limit of five tickets per family. Reservation required. August 21. 2pm. FREE. Ridgefield Playhouse, 80 East Ridge, Ridgefield. 203 438-5795. www.ridgefieldplayhouse.org.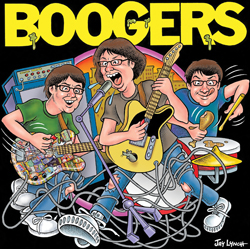 Rock On
Lead singer Paul Crowe, also known as Crusty Booger, has a Ph.D. in developmental psychology and a diverse musical background, having played with the Ramones as well as the Loyola University Jazz Band. He combined these talents to form The Boogers, an anti-Barney, Wiggles' worst nightmare band for the elementary and pre-school set. You can hear them on August 25 at 7pm. FREE. The Levitt Pavilion, The Levitt Pavilion, 40 Jesup Road, Westport. 203-221-2153. www.levittpavilion.com.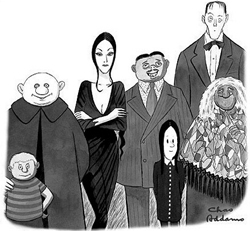 Jeepers Creepers
Charles Addams, creator of the sometimes creepy family that inspired television and Broadway shows, was the artist of a variety of subjects, many seen on the covers of the New Yorker magazine during his 55-year career there. Chas Addams: Favorite Haunts, an exhibit at the Westport Library, offers a diverse selection of his work. August 6-September 30. FREE. The Westport Public Library, 20 Jesup Road, Westport. 203-291-4800. www.westportlibrary.org.
For even more family events in Fairfield County, CT, visit our Online Calendar.