Husband-and-wife team Brian Kaplan and Lambeth Hochwald, parents of 3-year-old Zachary, have found a way to combine family time together with a business that focuses on family togetherness. Their Parent P-L-A-Y hosts weekend events for families with kids under age 5.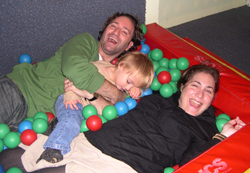 Having a ball . . . Brian, Lambeth and Zachary

And rather than get-togethers where youngsters are in the spotlight and moms and dads on the sidelines, their events are designed so everyone in the family can have fun. A kid area is staffed with babysitters in orange T-shirts, and visiting educators and entertainers lead kids in activities which have included yoga classes, sing-a-longs, Spanish and French classes, and music time. While this is going on, parents can have some down time — which can include spa treatments, talking to an author, or just kicking back with the Sunday newspaper and a mimosa.

Hochwald, a freelance writer, and Kaplan, a public relations executive, use their professional connections to load up attendees with gift bags worth more than the price of admission. In fact, events, which run about $60, are a great deal even without the fabulous swag. Let's say you go to brunch instead of Parent P-L-A-Y. Brunch for two, even at a casual place, is at least $25. Add in a Bloody Mary or two, plus food for your toddler, and you're looking at $50. But at Parent P-L-A-Y, you can also have an hour (or more) of professional babysitting (at least $15). And if one of you gets a free manicure or foot massage, you're making money.

But what Parent P-L-A-Y is really about is everyone having fun. Kids don't have to stay with babysitters, and many pop in and out of the 'adult' space. But most toddlers want to stay and play with the other kids, where there is a colorful mat, new toys, juice boxes and buckets of Goldfish. At the March event at Tribeca Rooftop, parents could try out luxury beds and a putting green, kids could sample a music time or listen to storytime, and there was live music for grooving families.

At last month's get-together, Christie Mellor, author of The Three-Martini Playdate, read from her new book, The Three-Martini Family Vacation. Mellor, an actress and mother of two, said her first book "was about how parents can reclaim their lives, and the second is how they can get out of the house. The book is not a travel guide; it's a tongue-in-cheek look at mommies who are apparently under the impression that if they aren't zealously interacting with their children all day, every day, they are somehow being remiss in their maternal duties." There is some actual travel advice, in chapters like "The Theme Park Vacation: A Last Resort" and "Staying with Friends Abroad: Disaster or Enriching Cultural Experience?" Mellor writes that parents must encourage kids to be self-sufficient, whether at home or on vacation.

Of course, Parent P-L-A-Y events encourage leaving the kids, even if it is just a few feet away, so these are perfect for mothers or fathers who feel a stint in day care is a straight shot to juvenile delinquency. The faintly mellow vibe belies the fact that about 100 people, half of them under 5 years old, are having a great time. Hochwald and Kaplan live in Tribeca, so they have been hosting events at downtown venues, but parents are attending from all over the city.

For more information, go to www.parentplay.com.