If you would vote for Martha Stewart for President and you devour
Bon Appetit
, you're probably also thinking about making braised lamb shanks or individual pots de creme for a weeknight family dinner. But the reality for most parents -- OK, moms -- is that dinner is whatever is closest to the front of the fridge.
Lauren Bank Deen
seeks to up the ante. The author of Kitchen Playdates: Easy Ideas for Entertaining That Include the Kids (Chronicle Books, $24.95) is a Brooklyn mom who cooks with her children, her friends, and their kids -- in playdates that revolve around food, and fun.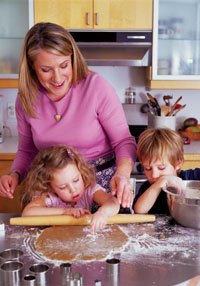 Deen, who lives in Carroll Gardens, produced TV cooking shows and was a chef at Food Network. Wanting to combine her love of socializing with adults with a family activity, her book offers the blueprint. Her playdates have themes -- like a slumber party where you invite people over, encourage them to wear pajamas, and together make breakfast for dinner. For a "spice treasure" playdate, she suggests buying inexpensive spices in bulk, so everyone can make a custom spice rub, then the kids can "paint" with spices. For her "paper playdate", kids can assemble packets of fish in parchment, then make origami.

   The recipes range from simple roasts to rich cakes, and each includes age- appropriate jobs for kids. When children have friends helping, and entire families get involved, cooking is not a chore. And the recipes, tested with Deen's network of friends, really work. Her edamame dip has already achieved cult status in my own home. She also has a menu of "all white food" and another of "all pink", if your kids like just one color on their plate.

   But Deen, who has been doing "playdates" for moms and kids that include a Divalysscious Moms event where toddlers molded chocolate playdough (I took Deen at her word that it was edible; it did smell good) and decorated cupcakes, is not resting on her silicone oven mitts. She is on the executive board of her children's local elementary school, P.S. 58 (where Mathias, 6, is in first grade, and Natasha, 4, is in pre-K), and she is developing The Healthy Family Project. An outgrowth of the new P.S. 58 Wellness Committee, the non-profit will help kids "have a healthy relationship with food and their bodies," Deen says, "by having a better understanding of where their food comes from, how to prepare it and how to enjoy it". Deen offers an after-school cooking class for kids at P.S. 58 and is advising school faculty on curriculum and equipment. She is organizing a "Kitchen Playdate Fundraiser" at local restaurant, Provence en Boite, which will feature a meal from the cookbook and a cooking class; the money raised will fund the Healthy Kid Project.

   Deen already has a "sister" school in Berkeley, CA, which will also start the project. In addition to promoting healthy and tasty food, the project encourages physical activity and education through a partnership with parents, teachers, administrators, and even the school nurse. For more information on The Healthy Family Project, go to www.kitchenplaydates.com.