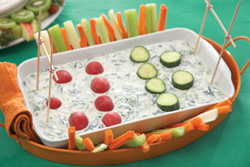 Starting Lineup Spinach Dip
(Makes about 3 cups)
10-ounce package chopped frozen spinach
1 garlic clove or scallion
8-ounce package reduced fat cream cheese
2 cups cooked cannellini, navy beans or great northern beans
2 cups 0 percent or low fat plain Greek yogurt
1 tablespoon lemon juice
1/2 teaspoon salt & pepper (or to taste)
6-8 cucumber rounds, each cut about 1 inch long
5 radishes, trimmed and halved
6 clean skewers or wooden chopsticks and four small rubber bands or pieces of twine (for making the goalposts)
Your choice of dippers: baby carrots, celery sticks, radishes, whole wheat pita wedges and cucumber rounds all work well.
1. Thaw the frozen spinach, then squeeze it well to remove as much excess liquid as possible.
2. In a blender or food processor, pulse the spinach with the garlic clove (or scallion) until coarsely chopped.
3. Add the white beans and cream cheese, pulsing until incorporated.
4. Stir in the yogurt, lemon juice, salt and pepper and pulse until just combined.
5. Spread the dip evenly across the bottom of a 13" x 9" rectangular pan.
6. Place the cucumber rounds and radish halves on your "field" to form the starting lineup.
7. Bind the skewers or chopsticks to fashion goalposts (see photo), and push the bottom ends into cucumber slices or radishes to create a sturdy base for each goalpost. Place the goalposts at opposite ends of the dip.
8. Serve the dip immediately with your choice of cut vegetables or whole wheat pita wedges.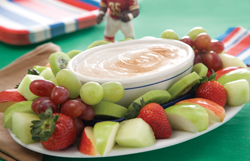 Honey Yogurt Fruit Dip
(Makes about 1 cup)
1 cup 0 percent or low fat plain Greek yogurt
1/4 cup honey (or to taste)
1/4 teaspoon ground cinnamon
Sliced or cubed fresh fruit (apple wedges, pear slices, grapes, strawberries, cubed melons and pineapple chunks work well)
1. In a small bowl, blend the yogurt with the honey and cinnamon.
2. Place bowl in the center of a large plate or platter.
3. Arrange the fruit around the bowl of dip and serve.