When Thomas Kinslow, an entrepreneur from Staten Island, tried his luck at developing a youth sports apparel line, he had no idea that he would end up founding an organization whose mission it is to fight childhood obesity. All thanks to the character he designed for the company's T-shirts: 9-year-old  Dewey Does.
     "People were more interested in Dewey Does than in the apparel," Kinslow explains. The message emblazoned on the front of the shirts, Dewey Does 110%, attracted widespread attention. Shortly thereafter, the
Dewey Does Foundation
began its not-for-profit mission to encourage children to be more active and to give a 110% effort in all their endeavors, in school, sports, and life in general.       
    According to the American Academy of Pediatrics (AAP), obesity among children has become a major public health concern. The Dewey Does Foundation believes obesity and its associated risks must continually be brought to the public's attention, specifically to parents, schools and health officials. Hence the Staten Island-based foundation's message-110% commitment. With ever-increasing health risks to children including heart disease, diabetes and high blood pressure, the foundation believes it is important to deliver the stay fit message in a way children can understand and enjoy. Who better delivers this message than one of their peers?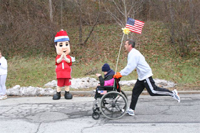 Dewey Does, along with his team of several sports loving fictional characters, has been motivating children in the NY metro area since the inception of the foundation back in 2003. Through free, interactive stage shows in area schools (roughly 200 to date), Dewey's invitation to "Get your sports on!" motivates children from the ages of 8 to 16 to keep moving. The touring stage show called "What Does Dewey Does Do?", offers children tips on healthy food choices, and encourages them to be involved in sports or any type of physical activity. Everyone in the audience receives a free health, fitness, and education patch. "Dewey doesn't have to be perfect at sports," Kinslow points out, "but he gives his best." That is the example Dewey sets for his target audience, he says. "
The foundation has partnered with Harlem Hospital to address youth obesity through a joint PSA campaign and additional stage show performances throughout NYC
, "Kinslow adds.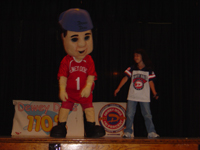 Principal Linda Manfredi, of Staten Island's P.S. 29, gives the foundation and the touring stage show a big thumbs up. "It [the show] tied in wonderfully with our own programs," she says. Manfredi adds that the school has many physical fitness programs of its own, as well as a salad bar. She says kids at her school are shown that they can like vegetables.
    Karen Gubnitsky, a parent coordinator at P.S. 11 on Staten Island, says the stage show deserves "a good grade." Students have not forgotten their day with Dewey, according to Gubnitsky. "We would definitely consider having him return," she adds.
    While staying fit via sports-related activities is a main focus of the foundation, the message to be 110% committed does not end there. In a joint effort with Voices Magazine of Silver Springs, Md., several educational outreach programs are currently in development. Dewey-themed writing contests and books will challenge youngsters to exercise their minds and creativity, too. For example, the 110% Skill Builder Reading Program includes a series of books called "Heroes Start as Kids!", and a writing contest where children are asked to write stories about events in which they have given a 110% effort.         
     What does the future hold for Dewey Does? A line-up of events for later on this year includes a Dewey Does Obesity Challenge (DDOC).  According to the foundation, "The DDOC will monitor 20-24 youth in the metropolitan area for six months. With the assistance of school officials, dieticians and parents, these youth will document all aspects of their eating habits and physical activities in their personal Dewey Does journal." Each participant will have a mentor for support and encouragement.  
    Another plan involves the video-gaming industry, specifically
XaviX Lifestyle System
, a company that has teamed up with Kinslow's organization to design fitness-oriented video games that will encourage kids to work up a sweat. The series is expected to include four different sports games.
    This fall, a Dewey Does television show is being considered by Channel 25 of the NYC Media Group Network.  It will be guest-hosted by nationally recognized athletes, and a segment of the show will spotlight children who give 110%. Viewers will vote for their favorites on
www.deweydoes.com
.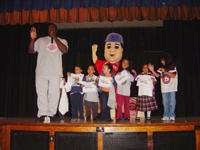 Lastly, a three-day event, Dewey Does Family Day, will run at the Richmond County Stadium on Staten Island from June 5-7.  Dewey and his pals will entertain families with health-oriented activities, prizes and free giveaways.

    For additional information on the Dewey Does Foundation, visit www.deweydoesfoundation.org or www.deweydoes.com.