The New York Botanical Garden has recreated a masterpiece by Emily Dickinson: her flower garden. The exhibit, which is presented with some of Dickinson's personal items and an array of family activities, runs May 1 through June 30.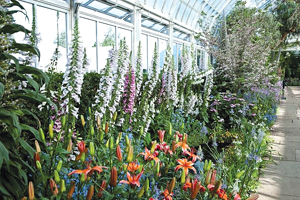 Take a poetic walk through the New York Botanical Garden with Emily Dickinson's Garden: The Poetry of Flowers, a special multi-venue exhibition focusing on the green thumb of an American literary giant.
Born in Amherst, Massachusetts, in 1830, Emily Dickinson stands out as one of the most prolific poets of the 19th century. Throughout her famously reclusive life, she composed nearly 1,800 poems, almost all of which were published after her death in 1886, and forever changed the poetic landscape with her unusual use of lineation, capitalization, syntax, and punctuation. During her life, however, she was better known for her garden at the Dickinson Homestead than for her terse lines and dark subject matter.
Drawing upon her numerous poems, letters, and notes, curators at the New York Botanical Garden have recreated the New England garden that Dickinson herself tended. Full of colorful arrays of her favorite flowers - droves of carefully arranged daisies, tulips, daylilies, jasmine, and more - the exhibit in the Enid A. Haupt Conservatory offers visitors a glimpse into her little known passion for botany as well as the sights and smells that inspired her lyrical work.
Info
Where: 2900 Southern Boulevard, Bronx
When: May 1 through June 30
How much: $20; $8 children 2-12
More info: 718-817-8700; www.nybg.org
The New York Botanical Garden has also designed a replica of the Dickinson family property in Amherst, which in Dickinson's later years, she almost never left. Visitors can stroll through the Homestead, her own home, the Evergreens, her brother William's home, and the wooded pathway that joined the two.
Guests can also visit the gallery in the Mertz Library, where artifacts from Dickinson's personal life are on display. Letters, original manuscripts, photographs, watercolors, and a reproduction of her famous white dress provide viewers a unique perspective on the real person often overshadowed by her poetic persona. Interactive kiosks allow inquiring minds to peruse scanned specimens found in Dickinson's very own herbarium.
The poetry of the show, however, lies not only in the meticulously researched recreations of Dickinson's floral exploits, but also in the Emily Dickinson Poetry Walk in the Outdoor Spring Landscape of the gardens. Over 40 poetry boards and audio messages featuring Dickinson's poems guide visitors through the scenic gardens and provide information on her favorite plants. Read "Nobody knows this little Rose" while walking through the vibrant garden full of little roses, or "I think the Hemlock likes to stand" in front of the hemlock trees at the peak of the spring flowering season.