To be honest, I've never been a Club Med kind of person. I've always been a bit leery of all those organized activities, dinners where others join you to chat, and clubs that take your kids away for long periods of the day (after all, you're there to "bond" together, right?). And, truth be told, I've always been a bit nervous about taking my girls (one of whom has some medical concerns) to Mexico where the water can be iffy and food for picky eaters limited. But I was proven wrong on a recent visit to the remodeled Club Med Ixtapa, on the Pacific coast about an hour north of Acapulco.  From the ease of getting there (quick stop in Houston from LaGuardia) to a bus that whisked us away the minute we passed through customs — complete with a lively staff who gave us our keys with immediate check-in to our rooms as well as bottles of cold water — I was sold. And that was before my family and I even tasted the fabulous food or set foot on the gorgeous 34-acre property.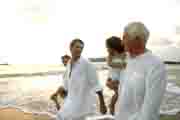 The resort itself, formerly a no-frills (mostly singles) destination, reopened in December 2007 after a $20 million renovation. It is now much more upscale, comfortable, and — most important — family-friendly, with an emphasis on the infant-to-10 set. You have your choice of spacious rooms, all with a mod vibe, flat-screen TVs, refrigerators, Internet access, and in some cases, small play areas with desks and tables. There's also a more pampering tower option with concierge and room service, along with a stretch of private beach. Personally, I don't know that it's worth the extra money as the whole place screams ease and convenience with everything you need at your fingertips, including strollers, cribs, bottled water, and a super-friendly staff that is willing to accommodate (in all languages!). On our recent visit it was stroller heaven with families from all over the U.S., Canada, England and France (making it fun to hear so many accents).   
   Like at all Club Med villages, the resort is all-inclusive, meaning you never have to whip out your wallet. Plus, it boasts an egalitarian atmosphere that encourages socializing between staff and guests, as well as guests and guests. When we were there we met a bunch of other families from the New York area, as well as a grandmother and her granddaughter from Los Angeles. We also met a few people who were vacationing with their extended family who had arrived from different points across the country. It's honestly the perfect vacation spot for all kinds of families, thanks to the GOs (short for
gentils organisateurs
), the young and energetic staff (also from all over the globe) who join you for meals, hang out with you on the beach, and encourage you to try activities you might not have otherwise. It's also a great way for your kids to bond with other youngsters, allowing you and your hubby – or just you—some alone time.
   Despite my initial concerns about Club Med's group mentality, my family liked that there was never any pressure to join. You could relax on the beach (we were in love with the cushioned canopied "beds" that we could lie on), hang out at the pool, or lounge with a book in a hammock, and never feel the intrusion of anyone else. You can't bottle tropical paradise, but this vacation sure came close.
Know Before You Go
   Club Med Ixtapa is located on the Pacific coast, l6l miles north of Acapulco. It lies past the area's hotel congestion in its own little cove, making you feel truly away from it all. Traveling from the East Coast requires a plane change: you fly into Zihautenajo, then take a 30-minute bus ride. The weather is pretty much ideal year-round. 
Kid Kudos
   Club Med calls this location "family paradise reinvented" in its brochure, and it's true: for young families, you can't beat the wealth of well-run activities. The resort clearly loves children and does pretty much anything and everything to make them happy, including offering a vast selection of both kid-only and family-oriented activities. They recently partnered with Crayola to incorporate a Club Med Crayola Creativity program that features age-appropriate arts and crafts for all guests (my kids loved the tie-dying!).   
   The area housing the Baby and Petit Club Meds are clean and airy and look like a gorgeous seaside daycare center, with daily handouts (in three languages) that outline the kids' various activities, including dramatic play, arts and crafts, blocks and more. The group is broken down into Peanuts (4 months to walking independently), Rascals (walking to 2 years old) and Tigers (2-3 years). Each has its own area for outdoor play including a pool and kitchen area.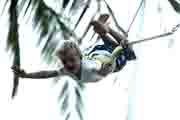 Older kids are broken into tight age groups: 4-5 years (Geckos), 6-7 (Iguanas), 8-l0 (Kid's Club), 11-13 (Juniors), and Teens. How large each group is depends on when you visit; sometimes, they blend the groups, which, depending on the age of your kid, either works or doesn't (if she's on the north or south end, it can be problematic). The day's events are creative and varied, often with a theme (Jungle Day, Family Day, Circus Day, etc.) and the GOs are good with kids of all ages.
   Our only complaint? There wasn't a big l3+ contingency for my girls (13 and 16), giving them little choice but to hang with us. In theory, the teens meet every morning at the Teens Only palapa on the beach for volleyball, and then follow the adults' sports program, deciding as a group what they want to do. There's also an air-conditioned lounge with books, Foosball, and a pool table, and another area with ping-pong, though (for better or worse) no videogames. (All I can say is, thank God for Internet access!)
Getting Oriented
   Most of the action takes place around the main pool and beach area. The sofa beds are the most sought after spaces (and yes, you need to get there early to put your stuff down). We spent most of our time on the beach where lounge chairs are plentiful and waiters appear often to offer beverages. Water sports also kept us occupied (think sailing and kayaking, and Catsy's – smaller sized catamarans for children to learn to sail). There are also plenty of land activities, including what's made Club Med so famous – their climbing wall and Circus School trapeze. At night everyone gravitates toward the shows, which showcase the GOs' talents and include kids of all ages. They're homespun and original and remind me of my kids' school plays (meaning some were more enjoyable than others).
Food Glorious Food
   This was our greatest surprise and pleasure. We loved the food here: the buffet options at the main restaurant, El Encanto, were always varied with something for everyone (including my picky eaters). There were always spaghetti, pizza and pasta (with sauces on the side), along with fresh fish (salmon, tilapia, and even a huge fish a guest caught one night), as well as local flavors, including housemade guacamole, cheese quesilladas, and tacos (some of which were hand-rolled by weathered looking local women who clearly have been doing this for years). It's worth bringing home the house-made white chocolate and dark chocolate bread  (and yes, they package it for you). 
   Overall, the bread is varied and delicious and looks like something you'd find in a French boulangerie. There were also salads, and fruit galore, along with more international flavors of the Mediterranean as well as the Mexican staples of beans and aroz con pollo. We ate the majority of our meals at the club, where you could dine seaside on the covered terrace or inside one of the five themed air-conditioned room (there was also a special area for babies). And again: every detail is well thought out, including offering a water cooler so moms can feel confident about the water their little ones are drinking. There are coffee cups to go (you can make your own cappuccino or latte, thanks to an easy machine), and highchairs and boosters are easy to come by. There's also a beachside restaurant, Miramar, for late breakfast and lunch that turns into a Brazilian grill house at night and offers sit-down service. And Luna Azul showcases fusion cuisine, giving you another nighttime option. I swear I gained five pounds because the food was too tempting to pass up (as were the wine and pina coladas!).
Don't forget YOU
   Aside from the gorgeous beach and pool, don't miss the spa, which gives you the option of relaxing in a robe on the Spanish-style hacienda overlooking the Pacific or in one of the billowing tents on the beach. Let the trade winds calm you while essential oils are rubbed into your now bronzed body during the calming massage known as the Club Med Detox. The spa also features a variety of facial treatments (including one for men) in addition to body treatments, many adapted from ancient Mayan therapies. 
Optional
   As enjoyable as it is to spend all seven days here, it's also fun to get out and see some of the "real" Mexico. The Discovery Center, located at the resort, offers a host of excursions (for an additional fee), from a lobster lunch on secluded Ixtapa Island to shopping and sightseeing in nearby Zihuatenejo. We opted for the Dolphin Excursion, where we got to swim with and touch dolphins. We also enjoyed a catamaran adventure that included snorkeling and spinnaker flying.
For More Information
   Club Meds are reasonable with all-inclusive rates that don't hide unseen costs. A family of four is $1,400 per adult, with kid rates that are often discounted (30 percent of the adult rate, while kids 4-15 pay 50 percent). Register on their website to get news of promotions, as they're always having some kind of deal. Just keep in mind when you make your reservation that many rooms have bathrooms with showers but no tubs. If your kids are bath-takers, make sure you request a room with a tub when you book.
   800-CLUB-MED;
www.clubmed.us
.