If you're looking to combine excellent skiing with charm, Mount Snow is the ticket. The southern Vermont resort has enough varied terrain to satisfy beginning to advanced skiers, and an incredibly helpful, friendly ski staff. When I visited with my three children last winter, the older two, then 13 and 15, decided they wanted to try snowboarding. They were too old for the kids' ski program, but too young, they felt, for the adult program. What self-respecting teen wants to be seen falling down with a bunch of 40-year-olds? We were able to convert their group ski lesson to a private snowboarding lesson, and swap their rental skis for snowboarding equipment.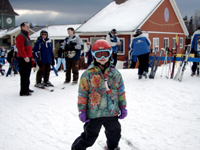 We stayed at one of the Timber Creek condos that surround the Nordic ski area. This is a particularly good deal for anyone planning to cross-country ski; the trail pass is included with condo rental. We dropped our kids off  across the street for their lessons, then spent the day skiing on flatter terrain. The Nordic area also has snowshoe rentals, which make a nice diversion from cross-country skiing.
    The condos have plenty of space for a family to sprawl: full kitchens, living room with TV and DVD player, and maybe a hot tub (if not there's a communal hot tub with a pool, fitness center, racquetball courts and basketball). You can also stay at the Grand Summit Hotel, with outdoor hot tub and pool open year-round, a restaurant and a pub. Outside the hotel, you can take an evening sleigh ride; make reservations at the hotel, even if you aren't staying there.
   Mount Snow is in West Dover, VT. It is just a few miles from Brattleboro, where you can find many cute shops and restaurants, including the vegetarian classic, The Common Ground (which now also serves meat, but still has plenty of vegan and vegetarian choices). 
   For more information, call (800) 245-SNOW;
www.mountsnow.com
.