"Dear Edwina," the Broadway sensation that appeals to preteens and the whole family alike, is back in New York City by popular demand - with an all-new cast, and for a limited run.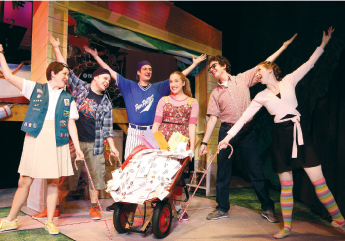 The 2010 cast of Dear Edwina
Edwina Spoonapple...now there's a name worth remembering, right up there with Pippi Longstocking and SpongeBob SquarePants on the fun-to-say-o-meter. And while Edwina may not live in a pineapple under the sea, she does come from what has to be the most animal-friendly, onomatopoeic town in the U.S.: Paw Paw, Michigan.
Edwina, a.k.a the determined 13-year-old heroine of the musical comedy Dear Edwina, is the brainchild of Zina Goldrich (music) and Marcy Heisler (book and lyrics), the duo responsible for turning the adventures of Barbara Parks' Junie B. Jones into a hit kids' musical in 2005. Unlike Junie, however, Edwina didn't arrive on stage with a literary following when she debuted Off-Broadway in 2008 (which didn't stop her show from earning two Drama Desk nominations and several rave reviews, including one in Variety that gave it a major thumbs-up for adults as well as kids, comparing it - humor/sophistication-wise - to You're a Good Man, Charlie Brown).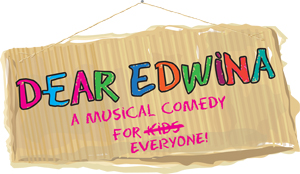 But Edwina (played by Beth Cheryl Tarnow) is definitely a character unto herself: a Dear Abby/Emily Post for the preteen set, with a dedicated entourage of singing and dancing friends who come together every Sunday afternoon to perform - live from the Spoonapple garage - the "Dear Edwina Show," in which letters from a variety of kids are answered through clever musical numbers courtesy of Edwina and company.
This is not to say Edwina doesn't have her share of early adolescent angst. An unabashedly Type A personality who desperately wants to validate her gift of advice-giving gab, she firmly believes she's lived too long in the shadow of her three talented siblings, a math whiz and two musicians who have been hogging prime refrigerator-magnet real estate for way too long. Edwina's goal, you see, is to post a coveted invite to the Kalamazoo Advice-A-Palooza Festival (Kalamazoo being a stone's throw from Paw Paw) on said Frigidaire - a viable possibility thanks to the presence of a festival talent scout at this Sunday's show. Whether or not she achieves her wish is not revealed until the very end...and, thanks to Heiser and Goldrich, the journey is beyond engaging.
In the Beginning
Cast & Creative Team

For the current all-too-limited Dear Edwina run, a versatile ready-for-anything new cast has been assembled:

Beth Cheryl Tarnow (Edwina) Katie Whetsell (Kelli) Judith Dry (Annie)
Noah Zachary (Scott)
Jared Picone (Bobby)
David McDaniel (Billy) Christopher Brasfield (Swing/Dance Captain)
Katy Vaughn (Swing)
Martin Landry (Pianist/Joe Spoonapple)
Robin Lai (Drums/Myron Spoonapple)

As for the creative behind-the-scenes forces, Goldrich and Heisler are thrilled to have the full original team back on board:

Steven G. Kennedy (choreography)
Court Watson (scenic design) Kathryn Furst (lighting design) Theresa Squire (costume design) Joe Kinosian (music director)

According to Heisler, Dear Edwina began as a series of "interstitial shorts a la 'Schoolhouse Rock,' about various etiquette rules," which she and Goldrich pitched around Hollywood to favorable response. "But not really knowing that world, we decided to build a story around them," she says. The transition took a personal turn when the collaborators sought out a name that rhymed with Zina for their title character and dipped into Heisler's childhood for inspiration. As a result, Edwina's group of friends bear a pointed similarity to the playwright's posse growing up on Birchwood Avenue back in Deerfield, Illinois. "People always ask me if Edwina is based on me," says Heisler, "but in truth, I am more like Edwina's little sister Katie."
Still, Edwina is full of traits that are typical to many kids: "She is talented, vulnerable, fun, inclusive, inspirational - filled with the best childhood sense of 'of course!,' if that makes any sense," Heisler says, adding that in her creative approach to problem-solving, Edwina "shares what she loves to do with her friends, appreciating and featuring all their talents."
That probably explains why the woman behind the script describes one number in particular as being very close to her own heart: "Sing Your Own Song," which ends with the lyrics:
"...Hold on tight to who you are
Don't lose that joy to please the crowd
And if they still don't understand
You'll have to sing a little louder
Just sing your own song
Use your own voice
Your voice is not a thing to be afraid of
And when they hear it ring true
There's not a thing they can do
To take away the music that you're made of
Don't let them take away
The music that you're made of."
Does the message get across? Well, not only do parents and kids exit the theater talking about the show's songs and topics, but many of the children follow up with their own letters to Edwina, underlining that the show has an impact that touches young audiences on a very real, very contemporary level.
"I think kids really enjoy it," says Heisler, "and I love it most when parents tell me their kids went home and recreated the songs in their own living rooms. That's what Dear Edwina is all about!"
Get more information on the show, including theater location, ticket prices, and show times


Also see: Our Online Calendar, for even more family events in Manhattan and the New York metro area