San Juan, Puerto Rico's capital, is tropical, picturesque, and loaded with family-friendly options.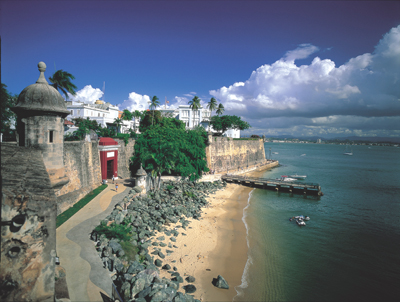 Boasting a unique Spanish-Colonial flavor and culture, plus the wonderful tropical climate of the Caribbean, San Juan, Puerto Rico, is an ideal destination for families. Not only is the island easily accessible from the major hub of New York City, but as a commonwealth of the United States, travel to the picturesque island destination of Puerto Rico comes with limited hassles for U.S. visitors: no need to exchange money, bring a passport, or worry about language barriers (English is widely spoken, especially in the capital region of San Juan). And not only is it easy to vacation here, but Puerto Rico is also budget-friendly - if you plan ahead and think like a local.
A Taste of History
One of the oldest cities in the Caribbean, Old San Juan, founded in 1521 by Spanish explorer Juan Ponce de León, is the only walled city throughout the region. The entire fortification system of San Juan is a National Historic Site and World Heritage Site. Fort San Cristobal and El Morro are especially interesting and convenient to explore, since they have developed exhibits for visitors. Run by the National Park Service, children 15 and under can enter the forts for free; adults ages 16 and above can purchase a one-week ticket to both forts for just $5! Marvelous colonial buildings and restored ancient architecture line the 16th-century cobblestone streets. A must-see is the Plaza de Armas, the city's original main square, once used as military drilling grounds.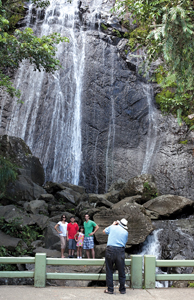 Exploring Natural Wonders
A fun way for families to explore the city is by the free trolley transportation that runs Monday through Friday from 7am-7pm and weekends from 9am-7pm. Just stand at any of the marked trolley stop signs and wait for the next one to come along, then get off at any marked trolley stop along the two routes: City Hall and El Morro. Note that the trolley service is just transportation; there is no tour guide onboard.
For active families with older children, consider booking a tour with locally-owned and operated Rent The Bicycle. Owner Nancy Cruz and her husband guide groups through the sites of the city. A three-hour tour is $27 per person and includes the use of a bicycle with basket, helmet, water, and snacks. It is a fantastic, inexpensive, and healthy way to explore - and the company will even pick you up from your hotel free of charge. Children younger than 12 are not permitted on the tour, and all participants must be able to ride a bike unassisted.
For just a $3 entry price, families can travel an hour east of the city and explore the El Yunque National Forest, the only tropical rainforest in the U.S. National Forest System. Open daily from 7:30am until 6:30pm, the forest covers 28,000 acres and rests in the rugged Luquillo Mountains, more than 3,500 feet above sea level. Every year more than 600,000 visitors experience the beauty of this natural wonder.
Fun in the Sun
Por supuesto, no family comes to Puerto Rico without spending time on the beach, and the island offers more than 272 miles of coastline. Most of the beaches in and around San Juan are free and open to the public. Family favorites include
Isla Verde and Luquillo, both very close to San Juan. As always, lounging in the sun and soaking up rays comes free of charge!
Details, Details
Mealtimes during vacation can be expensive, but eating with the locals means consuming delicious meals of real Puerto Rican cuisine at cheaper prices. Enjoy authentic mofongo, pasteles, tostones, and rice-and-beans at El Jibarito in San Juan for less than $15 per person for lunch. The restaurant, whose name translates to "the hillbilly" in Spanish, was opened more than 25 years ago by a poor local with less than $150 to his name. A favorite seafood option is the regionally-renowned Marisqueria Altantica in Isla Verda. La Placita, also in San Juan, is tucked away in a residential neighborhood and serves up inexpensive authentic fare. Both of these eateries can average less than $25 per person for dinner.
Of course, where does a budget-conscious family stay? One option: family-owned inns called Paradores. Charming and affordable, these inns offer a local perspective, and visitors get to see an authentic hacienda or a family-run plantation. Most have beach access and offer great family rates during the off-season. (Note: While the summer is peak travel time for many destinations, in the Caribbean it is hurricane season. This means a radical drop in prices in hotels and airfare to entice travelers from May through November). For further information on Paradores call 800-443-0266.
For families that prefer a resort feel, it is possible to stay in style without breaking the bank. The San Juan Marriott, with beachfront access on Condado, features 513 rooms and 12 suites, two pools (one with a fun waterslide) and free daily organized activities. Plus, now through the end of the November, with the hotel's Best Family Vacation Ever Package, rates start at $270 per night - a 20 percent savings that translates to about $70 per person. Included are transfers to and from the airport, a night kayaking package, a picnic lunch for four - even milk and cookies at bedtime!
To learn more about what Puerto Rico can offer your family, visit www.gotopuertorico.com.
Jillian Ryan is a freelance writer who lives in Brooklyn and works in New York City. She specializes in her favorite topics: travel, family, and Central Park.
Also see: Warm Weather Vacations for Families
Looking for family activities closer to home? Visit our Online Calendar of Events.