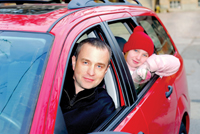 Many families have plans to pack their bags this winter to celebrate the holidays away from home. But with increased traffic and winter weather conditions, parents should take extra precautions to make sure they arrive at their holiday destinations safely.
As a pediatrician, certified child passenger safety (CPS) technician, mother of three, and coauthor of Heading Home with Your Newborn, I offer the following tips to help families safely enjoy their winter holidays.
Sit Safely
In the car, remember to keep your child rear-facing and in a five-point harness for as long as possible-until the child no longer fits within the weight and height limits of the seat.
Make sure you have a car seat that fits both your car and your child properly. Test the seat in your car before purchasing it. I also recommend investing in a car seat that offers side impact protection. Look for features such as an adjustable head support and deep side and head wings made out of energy-absorbent material to minimize lateral head movement in a crash. To see examples of seats with side impact crash protection features, visit www.britaxusa.com.
Get Your Car Seat Checked
It is estimated that at least 80 percent of all car seats are installed and used incorrectly. Have a certified CPS technician check your child's seat. Visit www.nhtsa.dot.gov for a list of child safety seat inspection stations by ZIP code.
Don't Over Bundle Your Bundle of Joy
Although it's important to dress your child in warm clothes during the winter, thick winter coats or snowsuits can significantly loosen the car seat's straps and compromise your child's safety. In order for a car seat or booster seat to function properly, the straps need to remain tight against a child's chest. When placing your child into the car seat, remove his coat or snowsuit, and - after he is already in the car seat - put a blanket, if needed for extra warmth, on top of the baby.
Pack a Winter Travel Safety Kit
During the winter months, these items are particularly useful to have on-hand for any road trip: cell phone, ice scraper, brush, tow rope, cat litter to use as a traction aid, blankets, sweaters, sleeping bags, food and bottled water, spare batteries, first aid kit, candle, flashlight, matches, portable weather radio, and a can of lock deicer. For the little ones, be sure to also pack extra necessities like diapers, wipes, powdered formula, and a couple of books and toys.
Drive Smart
In bad weather, reduce your speed to match the conditions, but make sure you have enough momentum to keep moving. Allow at least three times more space than usual between you and the car in front of you and remember to brake gently on snow or ice. If your wheels lock up, ease off the brake. Turn on your headlights and keep them and your windshield clean.
Fuel Yourself
Not only should you make sure your car has more than enough gas to get you where you need to go (and back), but it's a good idea to take along a day's worth of high-energy, nutritious food for the family in case you get stranded. Also, remember to bring along some extra drinking water and keep it in the passenger compartment (it might freeze in the trunk).
Don't Check Safety at the Gate
For airplane travel, I advise parents to buy a seat for a child under 2 years old - even though it's not always required - and secure him in an FAA-approved car seat to keep him safe not only during takeoff and landing, but in the event of any in-flight turbulence. For infants, travel systems come in especially handy as they can make taking a car seat through the terminal much easier, not to mention offering plenty of extra storage space. You can then simply gate-check the stroller as you board the plane.
By planning ahead and taking a few extra steps, you'll be able to sit back and enjoy the ride. Happy holidays!
Laura Jana, M.D., is a pediatrician, safety advocate, and mother of three. She is also a member of the AAP's Section on Injury, Violence and Poison Prevention and the coauthor of Heading Home with Your Newborn; From Birth to Reality. As a certified child passenger safety (CPS) technician, Dr. Jana has worked to help parents learn to use child seats consistently and properly. Recently, she has focused her attention on raising awareness of the danger of side impact crashes.