A winter wonderland near Stowe, Vermont, Smugglers' Notch has much more to offer families than just spectacular skiing.

Pack up your family's warmest snow gear and head north to the place dubbed "The granddaddy of all family resorts." Smugglers' Notch, located in Jeffersonville, Vermont (just 300 miles from New York City), has been serving up old-fashioned family fun since the 1950s. Affectionately called Smuggs, it is a playground for all seasons - but during the winter, blanketed with an average of 24 feet of snow annually, the resort truly is a winter wonderland. The grounds are flanked by three interconnected mountains and boast 78 ski trails of varying levels. Ski season starts on November 26 and runs through mid-April, so you've got plenty of time to fit in a snowy getaway.
The Resort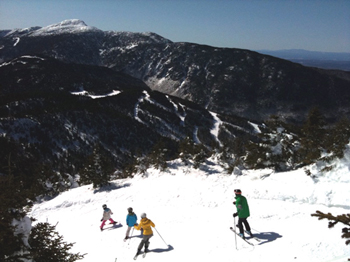 With the largest terrain area in Vermont, Smuggs covers more than 1,000 acres of land. Thirty percent of the resort is patrolled with marked trails and paths; this is where all of the skiing and
snowboarding occurs. No matter what level of skill, there is a trail for everyone in the family: Beginners and mild skiers will be happy that nearly 70 percent of the trails are marked easy or intermediate. More accomplished and fearless snow bunnies get excited when they learn that Smuggs has the highest vertical drop in the state at 2,610 feet; they also love the only triple black diamond at the resort, The Black Hole on Madonna Mountain. Other favorite (and more relaxed) trails are the Garden Path, FIS, Rumrunner, Treasure, and Black Snake.
In addition to the trails, Smuggs has a myriad of fun and exciting learning parks on its property. A family favorite is Sir Henry's Learning and Fun Park. Spanning five acres on Morse Mountain, this park features a tube-sliding area and is near the adjacent Jib and Jump Park on the Log Jam Trail for novice snowboarders. The Birch Run features 1,000 feet of park with modified table tops, rolls, and spines for entry and intermediate level skiers and riders. Another exhilarating park is The Zone, located on the Practice Slope on Sterling; it is the site for Altitude Adjustment events when advanced skiers and boarders show off their stuff with freestyle stunts. Music, prizes, and product giveaways add to the fun.
At the foot of trails is a slopeside village that is the hub of any winter at Smugglers' Notch. Here families can enjoy a variety of restaurants, lounges, and other eateries. There are sports stores and rental and repair shops to make sure your family has top notch (pun intended) ski equipment. Other shops include a massage center, deli, country store, childcare center, bakery, and even a U.S. Post Office. Two teen centers are excellent gathering places for older kids. Also on the premises is the FunZone at SmuggsCentral (featuring a play area for toddlers chock-full of toys and blocks, an array of inflatables to entice little adventurers, a climbing wall, an arcade and gaming area, and more), an indoor swimming pool with hot tub, a lighted outdoor ice skating rink, and The Nordic Ski and Snowshoe Adventure Center, which provides snowshoe and cross country skiing instruction and outings.
Ski School
Smuggs prides itself on its award-winning Snow Sport University. With the strong claim that this ski school can literally teach anyone the basics of skiing, Smuggs guarantees that if every member of your clan doesn't have fun and improve their technique, they will refund the money paid for the lesson! The classes are divided by age, which gives children ample opportunity to make new friends at the all-day ski and snowboard camps: Discovery Dynamos (ages 3 to 5; snowboard camp begins at age 4), Adventure Rangers (ages 6 to 10), and the Notch Squad (ages 11 to 14). Mountain Explorers is for teens ages 15 to 17 and includes two hours of on-slope instruction or a full-day camp during holiday weeks. For beginner boarders, Night School for Boarding is offered evenings twice weekly; private lessons are also an option.
Convenient Childcare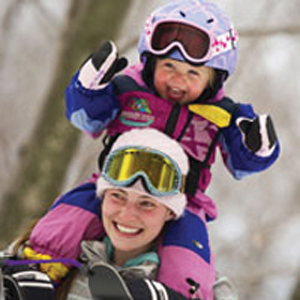 Toddlers won't feel excluded, because Smuggs offers its TREASURES childcare program for children six weeks to 3 years old. If parents wish to enjoy the slopes, for $85 a day per child they can leave their little one in the hands of the state-licensed and fully-certified staff at TREASURES - they are specially trained to deal with the challenges of non-recurring childcare, like helping kids who may have difficulty transitioning to a new environment. The facility includes a private nursing room, one-way mirrors in each age-specific playroom so parents can check on their children without disturbing their play, a kitchen for preparing hot meals, and even an enclosed porch with child swings. The staff also has access to a network of area babysitters that they can recommend for in-lodge evening care.
Lodging and Packages
Smuggs has a wide variety of accommodations for guests, so you can expect a fully-equipped mountainside condominium ranging from a studio to a five-bedroom townhouse, depending on the number in your party. All lodging facilities are located within walking distance of the Village, and the resort provides a daily shuttle schedule to transport guests to the upper mountain lifts.
Throughout the winter season, Smuggs offers families multiple packages. The standard option this winter is "The Base," which includes many of the aforementioned amenities and programs, mountainside condominium lodging, lift tickets, snow tubing, ice skating, use of the indoor pool and hot tub and two teen centers, access to Nordic ski and snowshoe trails, guided Winter Walking programs, and family and adult entertainment. The package starts at $79 per child (ages 6 to 17) and $109 per adult per day. On-slope ski instruction is available for an additional fee.
For further information on booking a package, or to learn more about Smuggs' yearround programming, visit www.smuggs.com.