"Be More Happy" in Baltimore
Along the waters of the Patapsco River and the Chesapeake Bay in Baltimore, Maryland, just 200 miles south of New York City, is a colorful and diverse destination. Only a four-hour drive away, families looking for a friendly city to visit this fall should consider a weekend in this Maryland hub with its more than 130 enriching and fun attractions. Baltimore is not only home to a myriad of kid-friendly museums and sites, but it also comes alive during October with free festivals, events, and special exhibits for the entire family. And with the city's tourism office running a "Bmore Happy" campaign to help you find the happiest places to explore in Baltimore, your trip has never been easier to plan.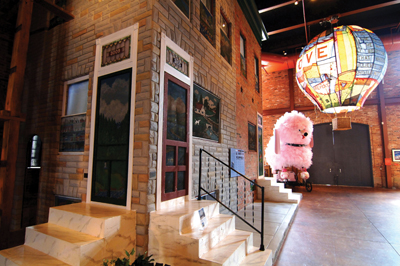 Sharks and Stingrays, Pirates, and Panoramic Views
Famous for its location on the water, a Baltimore highlight is Inner Harbor. One of the first major seaports in the United States since the 1700s, this area of the city became its cultural center during the 1970s as restaurants and shops flourished by the water. Not only is this seafront location known for its sweeping panoramic views, but it is the center of many of the city's attractions.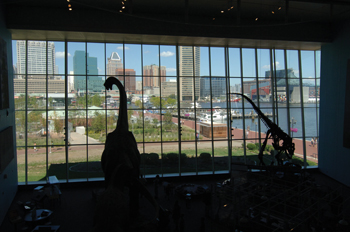 Kids will love the planetarium at the Maryland Science Center, which offers educational and hands-on exhibits. Featured from October through the end of January 2011 is the "Odyssey's SHIPWRECK! Pirates & Treasure" display, which showcases stories of the world's most famous shipwrecks through artifacts and other interactive elements. During Halloween, the museum is also hosting a special pirate-themed celebration.
Also in Inner Harbor is the National Aquarium, home to sharks, rays, tropical fish and 16,000 other sea creatures. Currently on display is the fascinating "Jellies Invasion: Oceans Out of Balance" exhibit which gives families an inside look into the unique and sometimes deadly jelly fish. The aquarium is also known for its famous Dolphin Show and new 4-D Immersion Theater.
Another highlight of Inner Harbor is the Port Discovery Children's Museum, which offers three floors of exciting programs and activities geared to children between the ages of 2-10. Can-do, fix-it kids will be happy to learn that Bob the Builder will be featured in the museum from now until the end of 2010. With his "Project: Build It" exhibit, families of aspiring builders can practice their fixing and building skills with Bob and specially designed kid-smart activities.
Although art museums usually don't sound off the fun alarm for children, the Baltimore Museum of Art does a good job of keeping kids entertained with hands-on workshops and other special activities every Sunday from 2-4pm. Plus, the BMA offers free audio tours for families. From mid-October through mid-January 2011, the museum is exhibiting the famous and colorful works of Andy Warhol; kids might learn to appreciate art through the unique style of Warhol's pop art.
For Little Artists and Athletes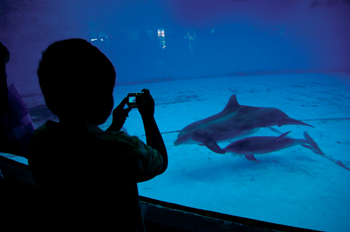 Other fun stops to visit in Baltimore include the Maryland Zoo, which is home to more than 2,000 animals and even has a special children's zoo area. The zoo offers special events, including breakfasts with the animals. Sports lovers should visit The Sports Legends Museum at Camden Yards, which celebrates all things related to Maryland sports, including the Baltimore Orioles and Baseball Hall of Fame legend Cal Ripken, the Colts, and Super Bowl champs Baltimore Ravens. Finally, The American Visionary Art Museum, named by Travel + Leisure as one of the top "10 Places to See Before You're 10," offers a collection of outstanding original works created by self-taught artists, and features a quirky gift shop and sculpture garden.
Seasonal Events
If the slew of interesting museums and other sights isn't enough for your family's visit, the month of October brings many great events. Active families should consider visiting during the 10th Annual Baltimore Running Festival on Saturday, October 16. It features a marathon and a bunch of other running activities throughout the weekend. Free Fall Baltimore, a month-long series of events and activities, is also sponsored by the city in October. During 2009, more than 300 different free programs on dance, history, film, music and more were put on throughout Baltimore. (Note: At press time the 2010 list of events were TBA).
If all of the above attractions and activities aren't enough to entice you to head to Baltimore, visit www.bmorehappy.com. The many and varied "happy" promotions on hand should do the trick: discounts to attractions, chances to win great prizes (including travel outside of Baltimore and tickets to 2011 Orioles spring training), and great hotel packages. For added kid-fun, pick up a Happy Detector which will be help your family decode special clues and codes hidden throughout the city; once the clues are uncovered, your family is entered to win!
For further information on Baltimore and other great family-friendly ideas for your visit to the city, check out www.baltimore.org.
Jillian Ryan is a freelance writer who lives in Brooklyn and works in New York City. She specializes in her favorite topics: travel, family, and Central Park.