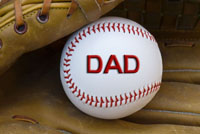 Another tie? A pair of socks? What do dads really want?
   With Father's Day upon us, we wanted to know. So we polled our dads here at Davler Media for their ideas of what makes a great Father's Day. As it turns out, the perfect gift for Dad may be easier than you think.
   Here's what some of the guys had to say…
   As I approach my 28th Father's Day, I am reminded of so many memories of being Sean, Ryan and Mark's dad. As part of the preparations for Sean's marriage to Kate (we're thrilled to be gaining a daughter!), Barbara and I have been sorting through piles of our photos for the video they are designing. In these photos are the many Father's Day pictures of me opening up gifts as the boys smile in anticipation. The homemade gifts were always my favorites. There are also photos of the traditional quiet Father's Day, enjoying the pool while eating barbequed hot dogs and homemade macaroni salad and sipping something cold.  Oh, how I love tradition!
Thomas Hanlon
General Manager
   My best-yet Father's Day was actually a pre-Father's Day about two years ago.  Two weeks prior to Father's Day, our TV went kaput.  My wife snuck out that Sunday morning and came home with an early Father's day gift:  a new flat screen TV and a 12-pack of my favorite beer!  We plugged it in and she took the kids to the movies or somewhere for the day. There I sat all afternoon, guilt-free, watching the Mets game. The only thing that would have made it better would have been if she had stopped off at White Castle and picked up a sack of murder burgers for me.  But I'm not complaining.
    My dream-come-true Father's Day would probably be a sunny, warm day out at Jones Beach sipping Boat Drinks by the ocean.  As the afternoon neared its end, we'd fire up the grill and have us some Cheeseburgers in Paradise, then head over to the Jones Beach Theater to spend the evening in Margaritaville at a Jimmy Buffett concert.  Back home, I'd check e-mail for the Monday workday, only to find one from my boss that says:  "Happy Father's Day, take tomorrow off."
Jim Russo
Senior Account Manager
'Rockland Parent'
For Father's Day, I would like three things:
• To be left alone.
• A great meal.
• Some nice cold beers.
Tony Diaz
Production Director/Senior Designer
   I just want to enjoy a peaceful day. We usually do something outdoors, like go to Splish Spash, the water park. You still need to make your child happy on your day!
Fred Moskowitz
Senior Account Executive
'City Guide' Magazine/'Promenade' Magazine
---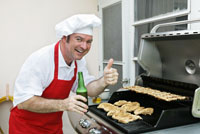 And what better way to celebrate Father's Day than with a delicious meal the whole family can enjoy together! Here's one we think is hard to resist.

Grilled Shrimp from Pescatore Seafood at Grand Central Market

Ingredients
1 lb. cleaned shrimp  (all sizes are acceptable)
1/2 lemon, squeezed
3 cloves of garlic, smashed
Oregano to taste
1 tbs. parsley
Salt and pepper to taste
What to Do
Mix all the wet and dry ingredients in a bowl, rubbing onto the shrimp.
Over medium heat, place the shrimp on the grill and cook three minutes each side. 
  
How to Enjoy
This dish can be eaten hot or cold, and is best with fresh ingredients. The shrimp also taste great with cocktail sauce, which works well for dipping.
Recipe courtesy of Pescatore at Grand Central Market. (212) 557-4466 or www.grandcentralterminal.com.