Related: the best of the rest of the web, mom bloggers, dad bloggers, parent humor, let's panic about babies, grandparents.com, issa mas single mama nyc, jonah mowry, viral youtube videos, goodeoughmother, childmind suicide hotline ,



From our February issue, a selection of thought-provoking, laugh-inducing, and just plain interesting thoughts from the web and the world of parenting.
The Happiness Equation?
"Despite upbeat popular media portrayals of single moms by choice who forgo marriage to bear children alone, actual research suggests that women raising children with their children's fathers are happier."
—according to a new report entitled "When Baby Makes Three: How Parenthood Makes Life Meaningful and How Marriage Makes Parenthood Bearable," released by the National Marriage Project at the University of Virginia, in partnership with the Center for Marriage and Families at the Institute for American Values, based on a survey of 2,870 married men and women ages 18-46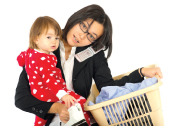 I love it when people refer to 'research' as if that alone will validate claims. As a single mother by choice, who also has a small measure of my child's father's involvement in our lives, I can tell you that it would be infinitely easier if I did this completely on my own. The one weekend a month my son spends with his dad always causes more discord than 'happiness,' and I often wish that I had chosen an anonymous donor. As for married couples raising their children together, if I get told by one more married mom that she 'feels like a single mom' because she does all of the work alone anyway, or if I yet again hear 'if it weren't for the kids I'd get a divorce and make myself happy for a change,' I'm going to start wondering where all of this scientific 'research' actually comes from.
—Issa M. Mas, born-and-bred New Yorker, single parent life coach, fabulous single mom to a 4-year-old boy, editor at www.yoursingleparenting.com, and blogger at Single Mama NYC, in response to the above-mentioned report "When Baby Makes Three."
"Men are clinically proven to be faster diaper changers than women, but women actually do it right."
—from Let's Panic About Babies, now a book and the latest online offering from Brooklynite Alice Bradley, author of another of our favorite blogs, Finslippy and her West Coast partner Eden Kennedy (btw, congrats to Finslippy for being named to Babble's Top 100 Mom Blogs of 2011—weighing in at #5!!)
Not Just for Grandparents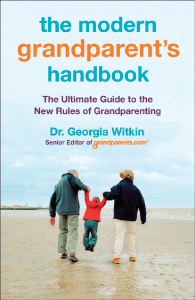 "You think about your grandkids endlessly. You tell everybody you meet—including the supermarket cashier and the cabdriver—how cute it is when they suck spaghetti through their missing teeth. You post pictures of them all over… Is it abnormal? Is it unhealthy? Should you be worried? Whatever 'normal' is, nobody's it."

—Dr. Georgia Witkin (known to her three grandsons as "GG" for "Grandma Georgia"), senior editor of Grandparents.com and professor of psychiatry at Mount Sinai Medical Center in NYC, in her new book The Modern Grandparent's Handbook; we bet her words ring true for a fair number of parents out there, too!
JONAH MOWRY COULD BE ANYONE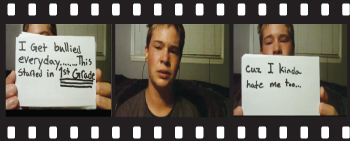 Back in December, a video on YouTube went viral and continues to stir conversation across the web and media months later. In it, 14-year-old Jonah Mowry (pictured above) vividly shares his pain about being bullied every day in school, considering suicide, self-injuring, and more. His video has gotten more than a million hits, and countless others have posted direct responses challenging his honesty, offering support, and echoing the pain of his experience. If you haven't seen it yet, you should.

Somehow we didn't see the coverage on 20/20 or Good Morning, America or read about it on Perez Hilton—rather, we saw it posted on Good Enough Mother, a blog by Rene Syler, who lives with her two children and husband in Westchester (thanks, Rene). Check out her blog to offer your own thoughts and link to the video, and for so much more about her own parental experiences; and go to www.childmind.org/SuicideHotline to read about Facebook's and Google's efforts to partner with the National Suicide Prevention Hotline and offer support to those showing signs for being at-risk.
---
Get Your FREE Indoor Activity eGuide!
---
More BLOGS Articles
Meet the Intern: Emma Rausch
The Best of the Rest of the Web: Paternity Leave, Sleepless Nights, and Escape to Amish Country
The Best of the Rest of the Web: Kids Are Weird, Multitasking, and Work-Flex Benefits
The Best of the Rest of the Web: Max Gamer, an Accessible Icon, and Celebrating Small Milestones
The Best of the Rest of the Web: Sunny Days, Family Vacations, and The Good Mother Myth

Be a good fellow parent and share this with a friend who would be interested
Local BLOGS Sponsors
See Our BLOGS Directory