Lyss Stern has never met a stranger. The Upper East Side mom with the outsized personality makes friends everywhere. Now she has turned this talent into Divalysscious Moms. The company, a network of young (or young-at-heart) moms and their babies, combines old-fashioned playgroups with the height of fashion — like shopping events at Barney's.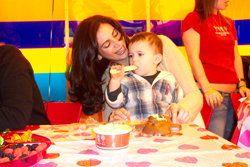 Growing up in Hewlett, L.I., Stern was considered the "go-to girl" for fashion advice, party planning, or the place to be. While there are those who believe in dropping everything once you become a mom, Stern begs to differ.

"You don't have to disconnect from your Sex and the City side once you become a mom," she states. "We live in New York City — the best place in the world. We've got a wealth of knowledge, shopping, museums and so much more. Having a baby is not going to stop us from enjoying it all."

Stern admits, however, that when her son, Jackson, was born in December 2003, her Sex and the City lifestyle was thrown for a bit of a loop.

"Right after I had Jackson, when I still had all that baby weight, I didn't feel like a diva," she recalls. "I didn't feel glamorous, beautiful, or even like Elyssa."

But a year later, Stern was singing a different tune. Instead of sitting back and watching the days go by, she strapped on her stilettos and hit the town running.

Stern's atypical events, which include lunch, free babysitting and goodie bags, are posted on her website, www.divalyssciousmoms.com.

"A Diva Mom is positive, hip, sexy, chic, full of life, and most importantly, proud to be a mother," Stern explains. "It's about getting moms out of the house to have fun with and without baby. And it's about a woman who understands that loving your child doesn't mean losing yourself."

So far, with her go-to girl power and great networking skills, Stern's idea of every mom enjoying life like a diva is really catching on.

Every Wednesday at Dorian's, an Upper East Side restaurant, Stern hosts "Divalunches", where between 15 and 30 mothers gather with their children.

"We utilize the back room of Dorian's with play mats for the one- and two-year-olds to run around, watch the Wiggles on the big flat screen TV, and eat lunch. But these lunches are not just for babies."

Stern decided that each lunch would incorporate something different yet entertaining for mothers and their children. While moms might be learning, for instance, how to make a "crafty" gift with help from Abby Pecoriello of Crafty Mommas, babysitters are on hand to play with the children.

It's not all just fun and games. Singer Dan Zanes performed a special concert at a Divalysscious lunch to raise money for the Tsunami relief effort. In just two hours, the events raised $10,000.

Along with these lunches, Stern's party planning skills are being deployed during her shopping events. Some are for moms only and usually take place after the little ones are in bed. At Dylan's Candy Bar, moms and kids decorated chocolate for Valentine's Day, for instance; guests also got a shopping discount at Dylan's.

" Every event varies, but the response to each is overwhelming," says Stern. "I have well over 7,500 email addresses from the NYC area, although moms from Westchester, Long Island and Connecticut have been contacting me to come to events, too."

"This is definitely a full-time job!" Stern adds. "Between Divalysscious Moms and Jackson, there's not very much 'me' time at all. I try to make time for dinner with my husband, and I try to meet my friends for dinner, or we workout together at the gym."

But this Big Apple party planner wouldn't dream of having it any other way. "You should always do something that you love," she says, "and the fact that I can do my job with Jackson beside me makes this an extremely fulfilling venture."

Contact Lyss Stern for more information: (917) 601-0068; www.Divalyssciousmoms.com.

Divalysscious Moms has several upcoming Halloween events, including its first Long Island Halloween parties, at Sweet Treasures, in Syosset; two parties at Dylan's Candy Bar and a pre-Halloween party at Deb's Family Disco.