"I Gave my Teenager a Credit Card" would make a great title for a horror movie. Most parents shudder at the thought — though surprisingly, one in five teenagers reportedly uses a credit card nowadays. In these times of economic stress, it's more important than ever for families to eliminate rash spending — which, let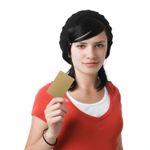 's face it, is what happens when teens get hold of plastic.
So what do you do if you want your teenager to have an alternative to cash, and freedom from the embarrassment of being trailed by Mom or Dad every time they enter RadioShack to buy a new pair of headphones for their iPod?
The answer is a new form of plastic — the prepaid debit card. Discover's recently launched Current card is one example; another is the Visa Buxx or Mastercard's Allow, which have been around for a few years. These cards all work in roughly the same way: parents load the card up from their bank account or credit card (if your teenager has a job, she can load her wages by direct deposit), and your child spends the money but cannot exceed the card amount.
Parents can set daily, weekly, or monthly spending limits or a per-transaction spending limit. You can also block spending at certain types of store. Most usefully, you can track your child's spending online and through email and text message alerts.
Discover, like Visa, markets its card as an educational tool as much as a spending tool. "The Current card is a great option for parents who want to teach teens financial responsibility and gain peace of mind with knowing when and where their children spend money," says Discover spokesperson Mike Boush.
The theory is that by being able to monitor what your children spend, and where they spend it, you can have meaningful conversations with them about wise and not-so-wise purchases, and how allowances can be quickly swallowed up by the odd $8 latte or multiple iTunes downloads.
Brooklyn mother Mary Most raves about the PayPal debit cards she acquired for her children, Skylar (15) and Melody (13). "It suits our needs perfectly," says Most. "They don't have to carry cash and can shop for anything they need, from lunch or a Jamba Juice, to new sneakers. I get an alert if they need to spend more than my specified limit at one location (so no $200 sneakers unless I say okay), but it's flexible, so if I've specified a $40 limit and it comes out to $42, it'll go through — which is convenient. Plus I have a record of everything they've bought, so they know their spending is being monitored."
As Laura Levine of the Jump$tart Coalition points out, whether prepaid debit cards really operate as a teaching tool for teenagers depends on the parents themselves. "Simply giving your teenagers the card and turning them loose is not necessarily going to teach them about money management," she says. "And they're not necessarily 'training' for credit cards, because they don't introduce the concepts of debt, interest, and making payments."
However, Levine continues: "Parents who are already teaching their older kids about money management can use prepaid debit cards to offer the kids some controlled experience in managing their money and making independent decisions."
It's important to remember that prepaid debit cards, like any bankcards, are not free. When shopping for one, look closely at monthly or annual charges, application charges, and loading fees to figure out exactly what your costs will be.
Perhaps in the end though, it's the convenience and freedom from anxiety that these cards offer over cash that makes them so appealing to parents and teenagers alike. The cards tend to offer zero fraud liability, so if it they are ever lost or stolen, the holder is protected.
Says Mary Most, "My kids both commute from Brooklyn to schools in Manhattan via subway, so I'm happy — and so are they — that they're not carrying cash. They love the freedom, and I love the accountability."
KIRSTEN DENKER is a writer and a mother of two who lives in Park Slope.
Tips on Teens and Credit
Almost two-thirds of college undergraduates get their first credit card by the age of 19, and in 2003 it was reported that 45 percent of college students were in credit card debt — by an average of $3,066. The National Foundation for Credit Counseling (NFCC) advises that teens should use prepaid or debit cards wherever possible, but that if they are going to use credit cards they should follow these tips.
• Shop around for the best card, taking into account five things: APR, annual fee, length of grace period, penalty fees, and the method of calculating the balance.
• Set up a budget and keep track of spending, just as if they were using their checking account.
• Never max out a credit card; if possible, use it just for emergencies.
• Be aware of the risk of credit fraud, i.e., be careful about giving out their number, and never lend their card to anyone.
• Explain how important it is to establish and maintain good credit. (Anyone can order a credit report online at www.annualcreditreport.com or by calling 1-877 322 8228).
For further help or to talk to an NFCC-certified credit counselor, call 1-800-388 2227.
— K.D.