Pre-baby, Forest Hills resident Jennifer Kampermann had a busy life in investment banking. Shortly after giving birth to her daughter, Amanda, in 2003, she reached out to meet other moms, both for the camaraderie and to keep her business skills sharp.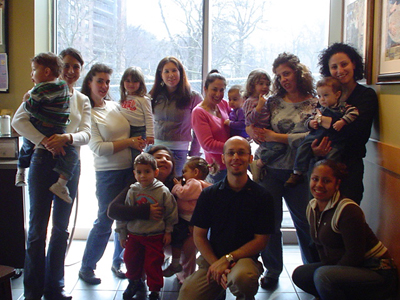 "I joined a Middle Village chapter of the MOMS Club, an international non-profit organization and support group for stay-at-home mothers," Kampermann explains. "Initially I was worried about what would become of the skills I had when I was working. I immediately became very involved, doing their newsletter. I was thrilled."  As that chapter continued to grow, Kampermann started one in Forest Hills in 2005, where she is now president. Membership includes moms from areas including Kew Gardens, Rego Park, Glendale and Ridgewood.

   The group meets monthly at Grace Lutheran Church in Forest Hills. "We try to provide support by offering different daytime activities mothers can do with their children. They include age-specific playgroups, park days, special outings, community service projects, a book club, a knitting group, a moms' night out."  Most of the moms had a career first before having their children. "The makeup of our members are moms who are 30-plus — they're HR directors, lawyers, teachers. Those first few months [after you have a baby], you're in a fog, you're lost. We're here to support children, but we also do what we can to better moms in the community."
 
   And the club keeps Kampermann on her toes, whether it's working at the computer, planning meetings and outings, or helping a new member feel at home. "Every day, I'm very free to think of an idea and run with it. I can post an idea on our e-board and see it grow." It's important to Kampermann, as well as the club's umbrella organization, to give back to the community. In their first year, they raised money for Hurricane Katrina victims with a donation to Save the Children; provided seven bags of groceries for the Forest Hills Community Food Drive; and donated toys to Councilwoman Melinda Katz's toy drive. This year, member Colleen Fitzsimons-Cabral is teaching other members to knit, and they are all knitting baby items to contribute to the charity Newborns in Need in time for the holidays.

   "We thought, rather than ask for money, it would be a great way for our members to either learn something new or rekindle a hobby. I always wanted to learn how to knit, and there were moms whose grandmothers taught them, and they wanted to brush up." Already they have made 65 pieces; their goal is 200. "A.C. Moore in Glendale even donated $50 worth of yarn to help us with our project," Kampermann says gratefully.

   Kampermann, whose daughter is now the oldest in her club, plans to expand it to include moms with preschool children. "Sometimes what I think happens is moms age out of the club, but it doesn't have to be that way. My idea is to keep them in the group, keep it interesting. Every mom needs support."

   For more information on the Forest Hills Moms Club, visit http://momsclubforesthills.tripod.com, or contact Jennifer Kampermann at (917) 699-9684.