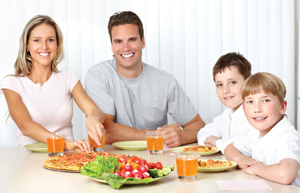 To celebrate the launch of FreshDirect's KidPowerTM, a new line of freshly prepared kids meals, the company has teamed up with the Children's Museum of the Arts (CMA) to present the FreshArt initiative, which invites students in grades three through six to create works of art that show what it means to share a meal with family.
Three pieces of winning artwork-one from each of the participating states (New York, New Jersey, and Connecticut) will be featured large-scale on the sides of select FreshDirect delivery trucks, and $1,500 will be donated to the schools designated by the parents or guardians of the creators of the selected art. A number of art entries will also be exhibited at CMA in the fall.
Entries are now being accepted through June 15. Entry forms and contest details can be downloaded at www.freshdirect.com/FreshArt.
Completed entry materials may be mailed, in a hand-addressed, stamped envelope, to:

FreshDirect FreshArt Contest
P.O. Box 7864
Melville, NY 11775-7864