Start with two friends, a range of talents, and babies born on the same day, and you end up with Mamalu's Play and Munch Ground, a café, indoor play space and market in Williamsburg.  Conceived by two local moms, Mariella Salazar and Maria Laura Quintero, the cheery café is a great place for toddlers to play, and for the whole family to eat.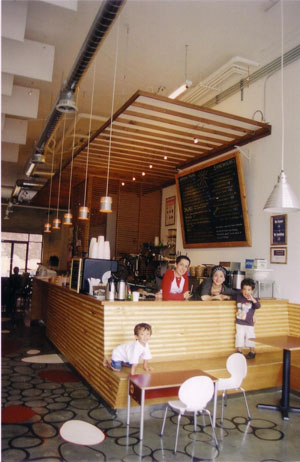 "Our story started when we were pregnant," Salazar explains. Both women had moved to New York from Venezuela; they settled in Williamsburg with their husbands, and got pregnant a month apart.  But Salazar's son, Carlos, was born five weeks early — the same day, as it happens, that Quintero's son, Joaquin, was born.  The two new moms got together often, as new mothers do, and fantasized about creating a place that combined their interests and backgrounds. Quintero had run a catering company, and wanted to do something with food; Salazar had been a teacher and event organizer, and wanted to use her skills.  Mamalu's uses all of these, and then some. The women's husbands helped with the design of the space, and artist friends contributed the artwork.

   Quintero does all the cooking for the café, where you can get homemade soup from a revolving repertory, fresh sandwiches and salads.  Evie's homemade baby food is available for babies who gum their food.  There are plenty of high chairs, and small tables with tiny chairs so preschoolers can sit with their friends.  And, "since it's hard to shop for good treats, we consolidated the healthy snacks for toddlers" that moms want.  You'll find Veggie Booty, easy-to-cook whole grains, organic peanut butter, and a well-edited selection of healthy finger foods that you can stock up on.

   But the big draw, of course, is the large play space in the rear, where kids under age 5 can crawl, run and socialize.  There is a big chalkboard, a book corner, and plenty of space to roam. Using the play space is $3 per child.  On Wednesdays, there is free storytelling.

   Mamalu's has been open for three months and is already expanding its offerings.  There are classes, including Baila Conmigo (a dance class conducted in Spanish), and Music for Toddlers.  And you can rent the space for birthday parties.

   Mamalu's also has wireless Internet access, and a small selection of baby clothes and hand crafted dolls from Argentina.

   Although Salazar and Quintero wanted this place for their own children, Carlos and Joaquin spend much of their time at preschool, or with their shared nanny.  "We are raising them like brothers," Salazar explains.  But the neighborhood has quickly embraced Mamalu's; it is across the street from McCarren Park, and parents are welcome to stop in just to use the changing table.

   Mamalu's, 232 North 12th Street, between Driggs & Union, is open Tuesday–Friday, 9am-7pm; Saturday, 10am-7pm; and Sunday, 10am-5pm For more info, call (718) 486-6312 or go to www.mamalu.us.

Pictured: Salazar and Quintero, with their 'two babies' — their sons and their restaurant.