If you were to look at the predictors of success in the work achievements of Rebecca Matthias, you'd see the obvious markers. She admits that it was never a question of if she should start a business, but which one she should start. The company she created 25 years ago — Mothers Work Maternity — was based on an empty market niche, and the fact that she knew her customer intimately. Six months pregnant with her first child at the time, she says: "I was my own customer. So I understood 'the customer and what she wanted' — and I think that carried the day."
The fact that Matthias now runs a $600 million public company takes her achievements into a whole new realm. But modestly she insists that many mistakes were made along the way, that she learned by doing, and that she could write a book for other moms about growing a business. Which, in fact, she's done. Doubleday published MothersWork in 1999. This was followed by 51 Secrets of Motherhood (Your Mother Never Told You), published last year by Franklin Mason Press. In 1992, Fortune magazine cited Matthias as "America's Smartest Young Retail Entrepreneur"; in 2003, Bloomberg Finance called Mothers Work the best performing stock in the nation, noting its 425 percent annual return.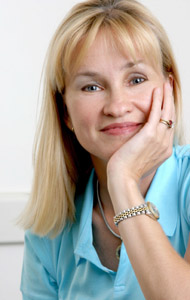 While she calls her three children — a 24-year-old son working in biotech, a 22-year-old son in college and thinking about the arts, and a 17-year-old daughter who's a high school athlete — "my best achievement," her work success is undeniable. Mothers Work owns the clothing lines and 1,100 stores of Mimi Maternity, Motherhood, and the red-carpet-favorite, A Pea In the Pod. Last month, Matthias opened Destination Maternity at 57th and Madison — three floors of maternity clothing and accessories, plus the Edamame Spa that is part of this newest, superstore concept. "It's the biggest maternity store in the world," enthuses Matthias. "It's where pregnant moms can find everything maternity — and other pregnant moms."
Sears and Kohl's sell her lower-priced lines, and in 2003, she joined with MasterCard to launch Futuretrust, which gives purchase rebates linked to a college-savings 529 plan.
This empire was started with a $10,000 investment and a great idea, but most importantly, says Matthias, with a lot of support from her family. A graduate of MIT in engineering, and from UPenn and Columbia in architecture, she had decided to help her husband start up his own business in computers. This required meeting with bankers and investors. But Matthias, pregnant, was feeling unprofessional in the buttons-and-bows maternity clothes that dominated the market in those days. This got her thinking about maternity business clothes. She decided to put out a catalog to test the waters. "I saw that as something I could do from home and that had the potential to grow into a larger business," she recalls.
But how to put together a line when no one was making clothes for expectant businesswomen? "I knew I needed a navy blue suit in the catalog, but I couldn't find one. I had a skirt, but not a jacket. So I found a gray jumper and dyed it navy blue in my bathtub! Then I photographed it and described it as a navy suit. In those days, the catalog was black-and-white."
The orders started rolling in, and Matthias was faced with the next challenge: finding people to sew. For years, this was all done near her home in Philadelphia. "We were a cottage industry for a long time. We made just 12 suits at a time," she says.
Matthias and her husband (who is now her business partner) moved in with her parents to allow them to grow both their businesses. And this, she says, worked beautifully. To this day, her mom lives next door. "I always knew my parents were there for me for childcare. I always knew I could get on a plane at a moment's notice. It gave me enormous peace of mind."
Still, she says, she managed to keep a routine going for her growing family, insisting on being at home for breakfasts and dinners together. "I always had a system," she says. "With kids, you can't be haphazard."
On the Friday we talked, Matthias had arrived at her office at 7:45am, a typical start time. Most of the day was to be taken up with meetings with different department heads in preparation for a review of quarterly earnings. "At this point, I'm working at a different level," she explains. "I look at all the aspects, but as an overview."
The size of her operation has caused her to become an expert at delegation, something that started happening a long time ago. "Letting go is hard for entrepreneurs, but at some point, you have to realize that your company is all about the people you've hired. They become number one."
Lunch was to be an out-of-the-office meeting with members of the administration of UPenn, where she remains an active alumna. She sits on the boards of several companies as well as her own. In the evening, she would be at her daughter's squash tournament, and then back home in bed by 10. "I always am," she admits. "I do sleep a lot!"
She describes herself as always being organized and, to make us all envious, as not feeling the need to compartmentalize her life. "I don't really differentiate between 'work' and 'non-work'," she says, adding that this approach is the one that has worked for her. "I think there is no better way to spend your life — to grow a business and to grow a family at the same time. I just feel you have to do it that way, because both jobs are enormous. At some point, you have to find a way for them to interconnect."
Studying architecture was great training for her career switch, as it turned out. "An architect has to try different things and has to be ready to change. I tell my kids: Just try something and see what it's like; you don't have to be wedded to a certain field at age 20."
And optimism figures highly among her personality traits. "All entrepreneurs have to be optimistic," she declares. "Otherwise, they'd go crazy!"
Full-stop destination
The high fashions and exclusive spa make Destination Maternity seem more like a Madison Avenue boutique than a maternity store. But the new three-story emporium, which is indeed on Madison Avenue (at 575, at 57th Street) offers one-stop shopping for pregnant women. There is an incredible array of clothing, from the perfect nursing bra to Seven for All Mankind Maternity jeans. The Juicy Couture and Diane Von Furstenberg is a far cry from your mother's maternity wear; the store, which combines Motherhood Maternity, Mimi Maternity and A Pea in the Pod, gives moms-to-be so many fashion choices, that they don't have to change their styles along with their body shapes.
If you get tired while shopping, you can relax on a comfy chair with a parenting book, and a free juice, or watch a little TV; if you have a toddler in tow, he can blow off steam in the Kiddie Corral, an enclosed soft play area. And if you really need to relax, the Edamame Spa offers massages, facials and body treatments designed for pregnant women; massages focus on lower back pain, or bloated legs, and facials can help with the dark spots that some pregnant women experience. If you don't have time for the spa, the store also sells a huge array of high quality creams for babies and pregnant women. Other baby items include T-shirts and the softest stuffed animals.
Destination Maternity also has a learning studio, with prenatal yoga and Pilates classes, belly dancing, and financial planning seminars.
For more information/store hours, call (212) 588-0220.