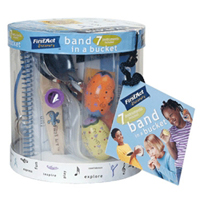 Can You Kazoo?
   Musical kids will jump at the chance to make music (or just noise!) with First Act's Band in a Bucket. The set includes seven handcrafted instruments sized just right for little hands: a wooden kazoo, two hand-painted egg shakers, pro-style tambourine, spirit bell, jingle tap, traditional castanet, and harmonica. The collection comes with a 34-page instruction book so kids can learn the proper way to play each instrument. Storage box included. $24.99. www.firstact.com.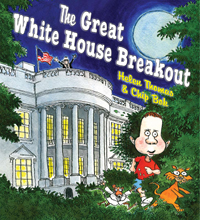 Presidential Escape
   With public figures weighing so heavily in our children's minds, The Great White House Breakout (Penguin Young Readers Group, $16.99) is a fun and informative addition to your child's library. Written by Helen Thomas, dean of White House Press Corps, and illustrated by cartoonist Chip Bok, this read-aloud story invites the reader to join the shenanigans of First Kid Sam. With his mom as President, Sam enjoys a lot of great benefits, like playing in the Oval Office, but it's a hassle for him to be constantly followed by the Secret Service. Along with his buddies, Sam escapes the White House and roams the city, providing a first-rate tour of our nation's capital. Ages 6 and up.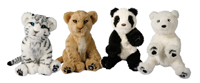 Animatronic Pets
   If your child has been asking for a pet, but you're not quite ready for the added responsibility, you might consider a WowWee Alive Cub. These plush, cuddly cubs feature dynamic facial expressions and sounds that mimic real baby animals. When stroked or cradled, the cubs come to life by blinking their eyes, growling, and purring. Each cub measures about the size of a house cat and enables kids to experience the realness of caring for an animal. The cubs also come with adoption papers and informative facts about each animal. Available in four species: Lion Cub, White Tiger Cub, Polar Bear Cub, and Panda Cub. $59. Ages 3 and up. www.wowwee.com.
Virtual Pets
   Older kids wanting a pet of their own get the chance to raise a pet electronically with the Nintendo DS Petz Video Game Series. The games allow players to create their own furry pet and care for it as it grows. Any child who is an animal lover will enjoy raising entire families of dogs, cats, horses, and monkeys. Kids also get to decide how they will care for their pet, and select looks and personality. Pets grow in three stages: baby, child, and adult. $29.99. Ages 6-14. www.ubi.com.