Our hand-picked list of fun and free/low-cost things to do with kids in Suffolk County, Long Island, this August includes a kids' sailing workshop in Port Jefferson, Bari Koral concert in Bridgehampton, and family-friendly summer shows throughout Long Island.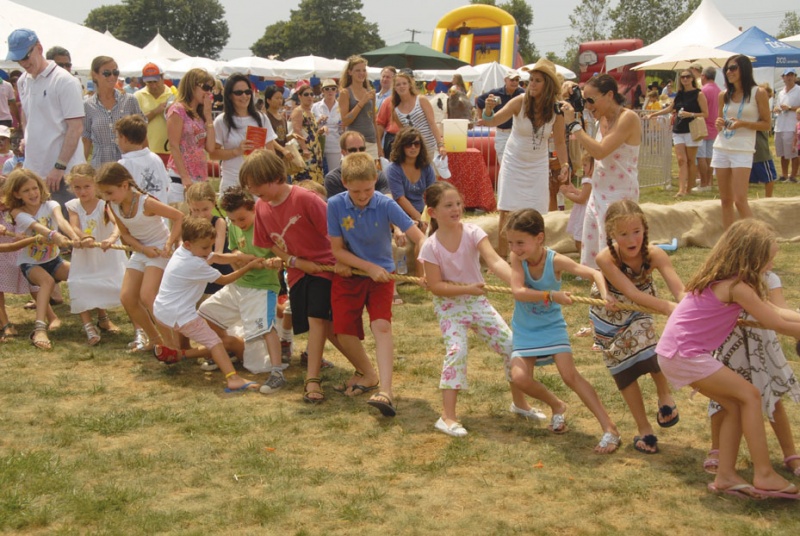 Tug of war is one of the day's
many kid-friendly activities
Aug. 5
Family Day for a Cure
The Ross School in Bridgehampton is transformed into the Wild West for the 23rd annual Einstein Hamptons Family Day, which raises money to fund breakthrough studies on women's health and cancers. Actress and singer Elizabeth Gillies from Nickelodeon's Victorious performs and participates in a meet-and-greet with guests. Basketball demonstrations are provided by The New York Knicks Groove Truck, led by former Knicks player Larry Johnson. There are also pony rides, carnival games, face painting, art activities, and Ga-ga tournaments. Your child may even leave the event with a new Western hairstyle courtesy of Cozy's Cuts for Kids. Contributions to the event help advance cutting-edge research on treatments and potential cures for ovarian, uterine, cervical, and breast cancers at the Bronx's Albert Einstein College of Medicine of Yeshiva University.
Aug. 10
Snakes Alive!
The Common Ground in Sayville's Family Fridays series hosts Erik's Reptile Edventures, a hands-on family program that teaches kids about nature and science by introducing them to a variety of animals from around the world, including snakes. Children learn to cast off their fears of these slithery creatures and respect them as part of our natural world. FREE!
Aug. 10 and 12
All Hands on Deck
Cooking, crafting, sailing, and exploring are all on the agenda in Kids & Rigs Sailing Adventure with LilChefs.com. Kids ages 3-14, along with an adult, set sail from Port Jefferson aboard an 80-foot-long, three-masted schooner to learn how to raise and lower sails, steer the boat, and help the crew haul in specimens to examine. Chef Paul is on board to help kids create a message in a bottle and decorate sea life cupcakes.
Aug. 12
Sweets for the Sweet
Kids can don a chef's hat and learn about the tools and techniques needed to decorate cupcakes and other sweet treats in Crazy for Cupcakes with the Adorable Chef. The workshop, hosted by Darlings & Divas in Amityville, includes a cupcake-scented mini manicure, cupcake-themed glitter tattoos, and, of course, a sweet treat.
Aug. 21
Pop Princess
Kiddie favorite Bari Koral performs her original pop tunes in a concert at the Children's Museum of the East End in Bridgehampton.
Aug. 25
Turtle Toddlers
Professional staff is on hand at the Cold Spring Fish Hatchery & Aquarium during Turtle Hatch Day to answer questions about the hatching of baby turtles. Children can also make a turtle craft and enjoy refreshments.
Throughout August
Summer Showdown
Summer may be winding down, but the stages of Long Island are heating up in August with several productions that will help kids forget that school is just a few weeks away. See the full roundup here.
For even more fun family activities on Long Island and throughout the NYC area, head to our full, searchable calendar of events!