See what new, fun games and books came out from Disney, Nintendo, and more this month for kids...
Life's Treasures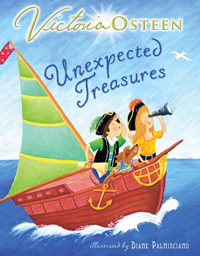 It could be the ideal moment to remind children to be kind when times are trying, which is just what Captain Jon and First Mate Sue do in the new picture book,
Unexpected Treasures
. After Curly Beard and Pirate Fred are rescued from their sinking boat, Jon and Sue teach the grumpy duo about friendship and sharing. Written by Victoria Osteen, wife of Pastor Joel, the book offers a helpful lesson for young and old. Activity and question pages complement the story to help kids reflect about their own lives. Little Simon Inspirations. Ages 3-7. $16.99.
Ferb for DS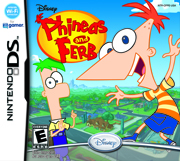 If Disney's popular
Phineas and Ferb
has become a staple of your child's TV time, you might want to check out the new Nintendo DS game of the same name. In it, kids can play as Phineas Flynn, Ferb Fletcher, or Agent P, as they build inventions, collect gadgets that give special abilities, and complete mini games and puzzles. It also includes a D-gamer, which provides access to an online community exclusively for Disney gamers that allows players to create a profile, earn in-game honors, and unlock content. Ages 6-11. $29.99.
The Cat's Meow

 If your child is a fan of felines, get your paws on a copy of
Cat

.
Written by Chappaqua resident Matthew Fleet, with photos by Brian Stanton, this book features 35 real-life house pets photographed specifically for the book. Interactive componentsLife's Treasures
New Movies
Three new DVDs premiere this spring for rainy days spent indoors.
SpongeBob SquarePants vs. The Big One
($19.99)
is a never-before-seen episode and features SpongeBob and his friends and their escapades as they get trapped on a tropical island. They get good advice from surf guru Jack Kahuna Laguna (Johnny Depp provides the voice for this character). DVD also includes six additional episodes.
The Mighty B! We Got The Bee
($16.99) and
Go, Diego, Go!: Rainforest Fiesta
($16.99) are also new to DVD this month. Visit
www.NYMetroParents.com
for a chance to win this set of DVDs.