Looking for ways to keep the kids entertained indoors during a cold winter spell? Snuggle up with these three books and a videogame!
Learning the Laces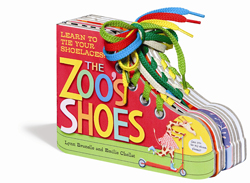 In these modern days of Velcro fasteners, many kids are putting off learning how to tie their shoes simply because they don't have to. The Zoo's Shoes is a new board book for the preschool set, written by Lynn Brunell, Emmy Award-winning writer for Bill Nye the Science Guy. The story follows a group of animals at a zoo who can't tie their shoes, but the hands-on aspect of the book may be even more fun. Each hardcover page has different colored shoelaces attached to it for the specific animal that learns to tie. As the story progresses, and a zoo animal masters the skill, kids can practice with each page turned. Complete with a step-by-step bunny ears tutorial in shoelace tying and a certificate of achievement, this book makes learning the life skill enjoyable for kids, instead of a chore. Workman Publishing. $19.95.
Dogsense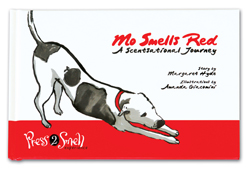 Everyone knows that dogs have an adept sense of smell, but did you ever meet a dog that uses his nose to see? In the charming book, Mo Smells Red, written by Margaret Hyde and illustrated by Amanda Giacomini, the title character (based on Giacomini's real life reserve dog, Mo) uses his sense of smell to find his way around. Each page takes readers through an olfactory journey with the pooch: as he smells flavors, so do you, through a "press-2-smell" technology where scent-dispensing packets are embedded within the pages and last through thousands of "sniffs." Part of the proceeds of the book will benefit Best Friends Animal Society (www.bestfriends.org). Ages 4-8. $17.95. www.mosnose.com.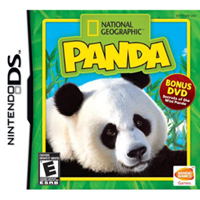 Pandamonia
   Kids love pandas for their cute and cuddly ways, but until now, close interaction with them has been limited. However, through the videogame world, children can learn up close and personal how to care for pandas. National Geographic Panda is a new game that lets kids nurture their very own panda, whose habits change according to how it is treated. Pandas play on a tire swing, seesaw, and slide at Panda Park, where they are joined by (you guessed it!) more pandas. The game also lets users read stories and view pictures of real pandas from National Geographic's archives. The game is rated E for Everyone. $29.99. www.namcobandaigames.com.
A Secret to Peace
   After the vast popularity he achieved from being one of Oprah's favorite authors with his book, The New Earth, Eckhardt Tolle now tries his hand at a kid-sized version of his plan for long-lasting fulfillment. Along with co-author Robert Friedman, Tolle accentuates his comforting message that living in the "now" is the only path to happiness and contentment. In Milton's Secret, a young boy worries about a possible bully encounter at school, until he realizes that he must live in the present and not in the future. Through a heartwarming story, the boy learns how to enjoy each day as it comes along. Ages 4-8. Hampton Roads Publishing. $18.95.