Eerie Journey
   There's nothing like walking through a haunted house for scary Halloween fun — except maybe riding through one! The Matchbox Pop-Up 360 Haunted House Playset enables kids to "drive" through four different haunted house-themed play areas: Flying Ghost, Axe-Wielding Knight, Giant Spider, and Spring-To-Life Skeleton. When the spooky fun is over, the accessories fit inside the playset case for quick and easy clean up. Best part for parents: the house packs up in seconds, and includes enough pieces for creative play but not so many as to cause a big mess! Ages 3 and up. $29.99.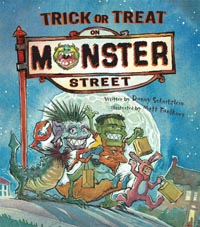 Sibling Justice
   Some say the best way to conquer your fears is to face them head-on. Unknowingly, that's exactly what happens to the boy in Trick or Treat on Monster Street by Danny Schnitzlein. This lyrical, rhyming book tells the story of what happens to a scared boy after he gets separated from his taunting brothers and ends up alone — on Monster Street! It's a great read for the 4- to 8-year-old set, because eventually the tides turn and result in an amusing ending. Peachtree Publishers. $16.95.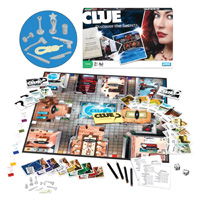 News: Clues
   The newest version of the popular whodunit board game, Clue, is set in a celebrity-style mansion where a crime was committed during a party of the rich and famous. New weapons of choice include a baseball bat and a trophy (of course!). Each character now has a special power to help players discover clues more quickly. Clock cards add a sense of urgency by marking the time since the moment of the crime. On every eighth card drawn, the murderer strikes again. Ages 9 and up. $15.99.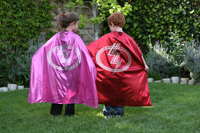 Superhero Dress-up
   What little kid doesn't want to be a superhero? Yet often the choices for superhero accessories are too commercial, or worse, violent. Little Capers hold the perfect blend of supernatural fun. Heart Hero shirts are T-shirts with attached capes made from 100 percent cotton (not the typical flimsy polyester) and available in long- and short-sleeved versions, for infants (without a cape) up to size 8. What older kids will love most are the Big Capes, shiny red capes for kids 4 and up, with sturdy Velcro around the collar. Great not only for Halloween; they may just become a staple of your child's wardrobe. Big Capes $23; Heart Hero shirt $35-$37. www.littlecapers.com.