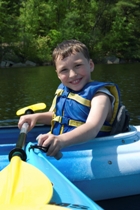 Despite all the bridges crossed, tunnels traversed, and ferries cruised, New Yorkers often forget that we spend most of our time living on an island or alongside rivers and lakes. During the winter, the proximity of water often means unwanted gusts of wind and chillier bites of cold air. But in summertime, the water that surrounds us provides a respite from the sweltering heat of the city and the inescapable humidity of the suburbs. Here are some great activities being held this summer at a watering hole near you.
WESTCHESTER
In Their Own Backyards
People from Westchester don't have to flee their suburban havens during in search of water out on Long Island or down the Jersey Shore. Playland Park in Rye is home to pedal boat rentals and lake cruises as well as a wonderful swimming beach on the Long Island Sound.
The Beczak Environmental Education Center in Yonkers sits on the banks of the Hudson River and hosts exhibits and programs that aim to encourage responsible stewardship of the river. The Center's summer schedule features a variety of activities surrounding New York's iconic river.
Families living in northern Westchester can discover the wilder side of nature in dozens of public parks, such as Ward Pound Ridge in Cross River and Mountain Lakes in North Salem, both of which offer families many water-side activities including fishing (with license) and canoeing.
For More Info
Playland Park, Playland Parkway, Rye. 914-813-7010; www.ryeplayland.org.
Beczak Environmental Educational Center, 35 Alexander Street, Yonkers. 914-377-1900; www.beczak.org.
Ward Pound Ridge Reservation, Cross River. www.westchestergov.com/parks.
Mountain Lakes Park, Hawley Road, North Salem. 914-864-7310;www.westchestergov.com/parks
ROCKLAND
A River and a Lake
Rockland County proudly hugs the Hudson River, so the county's relationship with water activities revolves naturally around the rhythms of the great waterway. Nyack Beach State Park runs along the river shore and is a water-lovers haven in the summer. Families picnic on the beach and try their luck fishing.
Just adjacent is the Rockland Lake State Park, a large green space where families can dip into two Olympic-size swimming pools or rent a boat for some leisurely paddling on the lake.
For More Info
Nyack Beach State Park, 689 N. Broadway, Upper Nyack. 845-268-3020; www.nyparks.state.ny.us.
Rockland Lake State Park, Congers. 845-268-3020;www.nyparks.state.ny.us.
FAIRFIELD
Coastal Connecticut
Connecticut's first state park is still one of its finest. Sherwood Island State Park, on the shore of Long Island Sound in Westport, covers 234 acres of beach, wetlands, and woodlands. People come to the park to hike, bike, ski, swim, fish, study nature, watch birds, fly kites and model airplanes, play volleyball, picnic, or just relax under the trees.
Squantz Pond, in New Fairfield, offers year-round recreation with steep, wooded slopes, and a cool, blue pond.
The scenic waterfalls and splash pool at Indian Well give this park, located in Shelton, its name. The falls and shaded picnic grove at the water's edge make it a great place to spend a sultry summer day.
Situated in historic Black Rock Harbor, Captain's Cove Seaport, in Bridgeport, is home to charter fishing boats, dive boats, and harbor cruises. The boardwalk offers craft shops, restaurants, Sunday afternoon band concerts, and other special events.
For More Info
Sherwood Island State Park, Sherwood Island Connector, Westport. 203-226-6983; www.ct.gov/dep/site/default.asp.
Squantz Pond State Park, 178 Shortwoods Road, New Fairfield. 203-797-4165; www.ct.gov/dep/site/default.asp.
Indian Well State Park, Howe Avenue, Shelton. 203-735-4311; www.ct.gov/dep/site/default.asp.
Captain's Cove Seaport, 1 Bostwick Avenue, Bridgeport. 203-335-1433; www.captainscoveseaport.com.
MANHATTAN
In, On, and Under the Water
The city's parks offer an array of water-related sports and activities. On the northern end of Central Park, local families have known for years that the Harlem Meer is a great place to have a picnic under a tree or cast a hopeful line. Fishing at the Meer is always free and often fruitful, as the water is filled with largemouth bass and pumpkinseed and bluegill sunfish. It's catch-and-release and poles and bait are available until mid-October. Anglers should mark their calendars for June 27, when the Harlem Meer Family Fishing Celebration is held.
Over on the Hudson, you can try your luck from Riverside Park. Park Rangers provide the equipment and helpful tips to anyone interested in casting a line on several weekends this summer.
Central Park is also a great place to get out on the water for some lazy and relaxing rowing. Rowboats can be rented at the Loeb Boathouse and can hold a family of four.
Getting in the water is also a breeze. Uptown, Lasker Pool is open seven days a week and is free of charge.
For adventurous types looking to head out onto the Hudson in a kayak, there are several launch sites in both Riverside Park and Hudson River Park.
For More Info
Central Park Conservancy, 14 E. 60th Street. 212-310-6600;www.centralparknyc.org.
Riverside Park, 72nd Street along the Hudson River. 212-870-3070; www.riversideparkfund.org.
BROOKLYN
Water Water Everywhere
Brooklyn is perhaps New York's most water-centric borough. Throughout its history Brooklyn has relied on the East River for its fishing, ports, and city views, and leaned on its southern coast for beaches and boardwalks.
Prospect Park has several family-friendly water activities. Pedal boats are available for renters and are safe and fun for children interested in exploring the lake ecology. Those looking for an effortless tour of the lake can hop aboard the park's electric boat, Independence, for a 20-minute tour.
Prospect Park is also a great place for catch-and-release fishing, and the park's lake has the largest concentration of largemouth bass in the state. In mid-July the park hosts an annual fishing contest for kids 15 and younger.
For a close look at the East River's creatures families can take part in Brooklyn Bridge Park's seining activities, where participants net for river fish and then indentify them with the help of experts from the Coastal Marine Resource Center.
Of course, no conversation about Brooklyn's water culture would be complete without mention of the beaches of Coney Island, which have been drawing Brooklynites and visitors for generations.
For More Info
Prospect Park, Prospect Park West. 718-965-8999; www.prospectpark.org.
Brooklyn Bridge Park/Empire-Fulton Ferry State Park, 1 Main Street. 718-802-0603; www.brooklynbridgepark.org.
Coney Island beach and boardwalk, Corbin Place to West 37 Street. 718-946-1353; www.nycgovparks.org.
QUEENS
Neighborhood Delights
More than a few beachgoers simply drive right through the borough on their way to the Long Island beaches. However, Queens residents in the know often stay within their own neighborhoods to enjoy the pleasures of living on the western tip of Long Island. The Long Island City Community Boathouse offers free kayaking and canoeing on the East River all summer. Volunteers are on hand to assist newcomers in navigating the quirks of East River currents, and to provide some education on estuary ecology. Boaters can either challenge themselves to an adventure tour or are free to take part in a "chill paddle," where relaxing and taking in the skyline view are the priorities.
Over in Flushing Meadows Corona Park, hydrobikes, rowboats, and paddleboats are available for rental at the Flushing Meadows Lake Boathouse.
Those families who prefer digging their toes into cool sand don't need to head far from home either, as the Rockaway beaches are open to surfers and sandcastle builders as long as the weather permits.
For More Info
Long Island City Community Boathouse, 45-0 5th Street. www.licboathouse.org.
Flushing Meadows Corona Park, Flushing. 718-760-6565; www.nycgovparks.org.
Rockaway Beach. 212-360-1311; www.nycgovparks.org.
WESTERN LONG ISLAND
Keeping Up with Jones Beach
Summer in Western Long Island begins with Jones Beach State Park. Every year, the sandy beaches welcome hordes of local residents, city dwellers, and families from all over desperate for a taste of the salty (and quite chilly!) Atlantic Ocean. In addition to swimming, surfing, and body boarding, the state park is also home to the Theodore Roosevelt Nature Center, were children can learn about the marine habitat and dune environment that surrounds them. The Center focuses on hands-on learning, encouraging children to reach out and touch the back of a horseshoe crab or the shell of a turtle.
Robert Moses State Park in Babylon allows visitors to surf-fish or try their luck from one of the piers.
For More Info
Jones Beach State Park, 1 Ocean Parkway, Wantagh. 516-785-1600; www.nysparks.state.ny.us.
Theodore Roosevelt Nature Center, Jones Beach State Park, Wantagh. 516-679-7254; www.nysparks.state.ny.us.
Robert Moses State Park, Babylon. 631-669-0470; www.nysparks.state.ny.us.
EASTERN LONG ISLAND
Atlantic Air
Eastern Long Island lives and breathes the Atlantic Ocean, and so do most of the people who live or vacation there. A trip out east would simply not be complete without a dip in the water. Plus the area has some of the most beautiful dune beaches on the entire northeast, so it's no wonder visitors are willing to spend hours in traffic just to get there.
Finding a beach that doesn't require a season pass or a hefty entrance fee can be tricky, but there are some that are fairly easy to access. On the north fork families can swim, fish or just relax on the beach at Orient Beach State Park. Way out on the eastern tip of Long Island is Montauk Point State Park, home to the historic Montauk lighthouse, great surf-fishing, and a few families of seals that can be spotted sunning on the rocks offshore.
For More Info
Orient Beach State Park, Route 25, Orient. 631-323-2440; www.nysparks.state.ny.us.
Montauk Point State Park, 50 South Fairview Avenue, Montauk. 631-668-3781; www.nysparks.state.ny.us.