Adults with autism deserve to make their own decisions about where they live. Though they want independence, a reported 77 percent of individuals on the spectrum are expected to require some services—including around-the-clock care—as they enter adulthood. This severely narrows options for these individuals when it comes to alternative housing. What options, if any, will be available to them?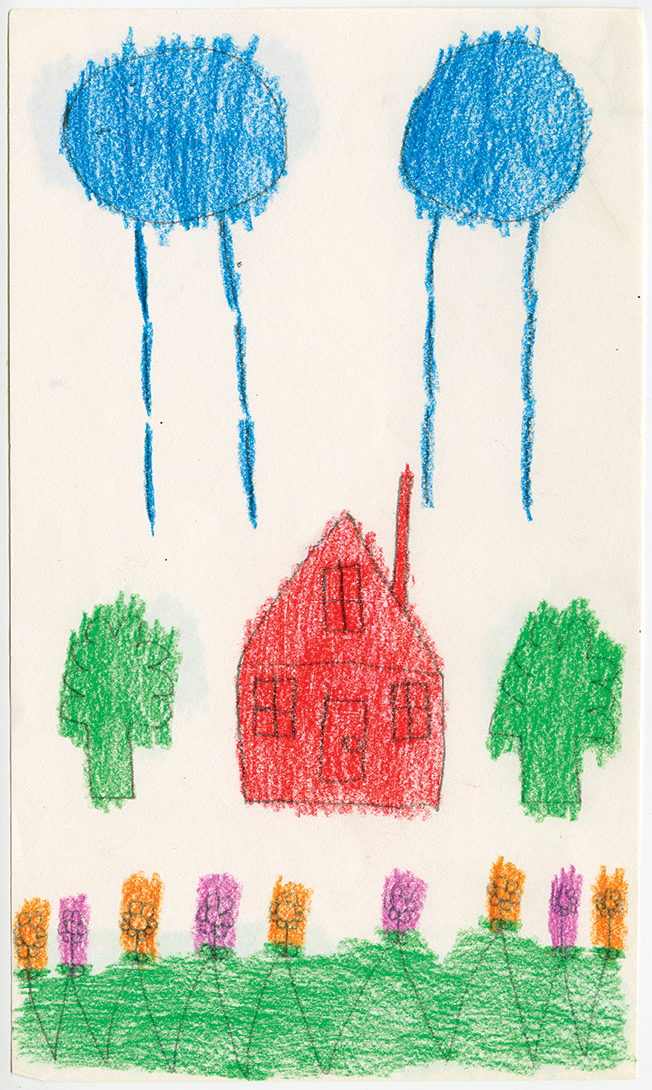 This illustration by Zach Hamm, titled "Zach's House," depicts a house that looks like the one he lives in. For years Hamm, who was diagnosed with autism at age 4, has drawn the same picture—it's always the same. In the wonderful new book "Drawing Autism" (Akashic Books, 2014), Zach's mother shares some of his inspiration for the series, in Zach's own words:
"I don't change. My world doesn't change... And I like it a lot. My house is always the same too. I like me. And
I like my life in my house."
Late last year an unusual ribbon-cutting ceremony took place in Ramsey, NJ. Two new houses designed specifically for adults with autism opened for their first eight residents.
What made the event unusual was that it marked one of the few positive developments in the nation's response to the staggering demand for adult housing and services for individuals with autism. When the houses in Ramsey opened, the waiting list in New Jersey alone for Medicaid Home and Community-Based Waiver supports stood at more than 8,000 people with developmental disabilities.
The Desire for Independence Vs.
The Necessity of Assistance
The prevalence of autism in the United States has grown tenfold over 40 years and now is estimated at 1 in every 88 children, including 1 in 54 boys. An estimated 500,000 of those children will age into adulthood over the coming decade, many of them needing housing, adult services or, in many cases, both. Parents who learned how to cope with getting diagnoses, IEPs, and healthcare during childhood must now face a new set of challenges brought on by adulthood. While many individuals with autism may continue to live at home as they become adults, caring for their needs will become a concern as their parents age.
The aging-out phenomenon raises issues of choice once individuals with autism enter adulthood, as well as an understanding that the need for services can be as critical as housing.
The idea of living in one's own home and community is deeply rooted in the American spirit. Independence and self-determination are fundamental American values that are no less important to people with disabilities. As memories of the nation's Willowbrooks fade into the past, there is growing acceptance that none of our fellow citizens should be denied the right to choose where they live, with whom they live, and how they live because of a disability. Adults living with autism deserve the opportunity to make those choices.
Unfortunately, due to the overwhelming demand for housing within the larger developmental disabilities community and the lack of appropriate support services, individuals with autism and their families are often forced to develop their own housing or wait indefinitely before their adult child can move out of the family home into an alternative housing arrangement.
Because many individuals with autism face significant obstacles to achieving more independence in their lives, these challenges can restrict their options from the start. Some adults with autism have particular safety concerns, support needs, or other health issues that can narrow the possibilities of where they can live.
Survey Reveals Uncertain Future
Housing provides an essential framework for the support services that adults with autism require to live as independent members of their communities. Because the autism spectrum is broad, the range of housing and support options that are available must be similarly broad to fully accommodate this population. But the element of choice should also include the type of housing and community setting in which an adult with autism will live.
Equally important as housing is the continuing need for services. This was documented in a National Housing and Residential Supports Survey released late last year by Autism Speaks, which drew more than 10,000 responses. Most were from parents or other caregivers of children with autism, but nearly 400 people with autism also participated in the survey.
"There are numerous activities throughout the day that do require a base level of supervision and support, and therefore a caregiver is often a constant necessity," the report concluded. "This demonstrates the need for more than just physical homes for the growing numbers of individuals with autism. Support services are critical to allow them to live as independently as possible.
"Families are primarily concerned about the individual's practical and emotional needs being met in their future housing situation. This concern outweighs their preference for the housing style and location. There needs to be a system in place in which residential support staff are trained and qualified to care for individuals on the spectrum so that their caregivers and families feel assured that their loved ones are comfortable and safe."
Among parents and caregivers, 84 percent responded that their child was cared for at home, and 77 percent said anywhere from a few hours to round-the-clock care was required every day. Looking ahead, virtually the same number said the same intensive daily level of support would be needed when their children reached adulthood.
"These caregivers indicated widely that supporting a person with autism is primarily a full-time job," the report said. "The results show that the caregivers in the lowest income bracket were more likely to indicate needing '24/7 support' than caregivers from higher income families."
The most widely required services were healthcare and help with daily travel, using public transportation, managing finances, and safely walking outdoors. Over half the respondents said they needed assistance, but nearly 70 percent said they were receiving none from public agencies or through insurance. Among those who did, most received no more than two hours of assistance daily.
Among individuals with autism who responded to the survey, 60 percent said they continued to live in the family home while fewer than 20 percent lived in their own home. About 30 percent said they needed support services daily; only 14 percent said they required no services. Among the types of assistance they listed were medical visits, commuting to work or traveling to community activities, using public transportation, managing money or making purchases, and housecleaning. More than 100 of the respondents with autism said they needed services but either couldn't afford them, couldn't find them, or no qualified staff were available.
To grasp the scope of the demand for adult housing and supports, consider a report by the Henry J. Kaiser Family Foundation which found that more than 300,000 individuals with developmental disabilities, such as autism, were on a Medicaid Waiver wait list for home and community-based supports in 2011. Yet, according to the Autism Speaks survey specific to autism, more than three-quarters of the caregivers who responded said they had not even applied for their state's waiting list. Clearly, the 300,000 number from 2011 hugely undercounts the population of individuals with autism who will be in need of these services.
Nearly 85 percent of caregivers said they now care for their child with autism at home and nearly half (46 percent) said they hoped to continue that arrangement once the child reached adulthood. Among individuals with autism, however, only 22 percent wanted to live with their family. Nearly 60 percent said they would prefer to live in their own home with a roommate.
In finding adult housing for their child with autism, parents said their primary concern was that the child be treated with care and respect. The ability to pay for housing and afford necessary support services was also among the concerns.
Financial Burdens All Too Real
To help pay for their current care arrangements, the survey found 36 percent of parents receive Medicaid support and nearly a third report receiving some assistance from their families. Other sources were Social Security disability and supplemental income payments, and Medicaid waiver support.
"Only three in 10 caregivers said with confidence that they will be able to help finance the person with autism's future home," the report found. "Despite the funding concerns, just one in four caregivers reported that they are currently saving money for the person's future housing and residential support services. Only 6 percent of the individuals are currently on a waiting list for a rental or housing voucher, another indication of the respondents' lack of awareness of the available services. Only 11 percent of the individuals with autism are currently employed."
Nearly half of parents and caregivers said they were able to contribute less than $500 per month to cover their child's services, indicating a "drastic" need for funding to help connect the individuals with autism to the housing and residential support services they will need to thrive as adults.
The biggest concern expressed by individuals with autism in the survey was the ability to pay for their housing. Most said they would be able to contribute less than $500 per month for housing and $150 monthly for support services.
"The results from the survey clearly indicate the need for greater awareness and better education of families of individuals with autism regarding the steps to take at an early age to ensure access to housing and residential supports for when they reach adulthood," the report concluded. "Seventy-six percent of caregivers reported that the individual with autism is not currently on a waiting list to receive these services. Just one in four caregivers is currently saving for the future housing needs of the individual with autism. These two statistics reflect a lack of preparation in advance by parents and caregivers for securing housing and residential supports despite the significant need to access these services as adults.
"The system must be more transparent, and families in the autism community must be better informed about the work that needs to be done years in advance to access the supports that will allow individuals on the spectrum to live full and independent lives. There is a housing crisis happening right now in the United States, and changes must be made and options must be created to keep it from growing even more out of control.
AUTISM SPEAKS ADULT SERVICES
Autism Speaks is the world's leading autism science and advocacy organization. It is dedicated to funding research into the causes, prevention, treatments, and a cure for autism; increasing awareness of autism spectrum disorders; and advocating for the needs of individuals with autism and their families. The organization aims to provide individuals with autism and their families with all the tools needed throughout their lifespan.
Autism Speaks' Adult Services initiatives focus on resources that impact all facets of adult life including employment, housing, community life, and post-secondary education—making it easier for you to find information about programs and supports that would allow adults living with autism to live as independently as possible. On the Autism Speaks website you will find valuable information about housing and residential supports, autism and employment, adult services grants, and a library of helpful links to resources for adults on the spectrum.
Leslie Long is director of adult services for Autism Speaks. An expert on topics that impact adults with autism, Long has more than 25 years experience supporting adults with autism in areas of employment and housing, and has worked on national initiatives to foster community collaboration with local, state, and federal partners.
Stuart Spielman, father of two sons, one of whom has autism, is senior policy advisor and counsel for Autism Speaks; in that role he is responsible for managing federal government affairs and advocating on Capitol Hill and before federal agencies for research and services that can improve the lives of individuals on the autism spectrum.
Find out more about eligibility for Home and Community-Based Services (HCBS) Waivers in New York and Connecicut, plus how to apply.