GIFTED KIDS — What To Know So Your Child Isn't Overlooked
Get can't-miss family activities sent to you!
Get the Best Family Activities
Sent to You Weekly!
Start by talking with your child's teacher and sharing your thoughts, says Dr. Palmer. Parents and teachers are a child's most important allies and they need to keep each other informed and up to date. Each sees the child from a different perspective and each has a particular insight into a child's learning needs. As a parent, you've watched your child's development since birth. You've seen him at home, at play, with friends, and with family. You're in a good position to truly understand his specific interests, temperament, unique gifts, strengths, and limitations. The teacher, on the other hand, has had an opportunity to evaluate your child's learning style, academic skills, and social and cognitive development in comparison to a large number of other children of the same age. It doesn't take long for most experienced teachers to develop an intuitive sense of their students' strengths and needs — to evaluate how quickly they learn, the type of instruction they respond to best, and their attitudes toward school. The teacher may also help you to better understand your district's gifted education program and how it's different from what your child is already receiving.

Together, you should be able to get a more complete, objective view than either of you had on your own, Dr. Palmer points out. Maybe you'll come to realize that your child would be better off in a general education program, since his learning style would not mesh with the type of curriculum being used in the district's gifted program. On the other hand, in light of the extra information you have given her, the teacher may recommend to the district administrator in charge of gifted placement that your child be tested further, maybe with an individually administered IQ test.

If you've already talked with the teacher and you still feel that your child's needs are not being met, then consider following up on your request with an administrator, says Dr. palmer, who advises: Find out through conversations with other parents, or by a phone call to the district office, who is in charge of the gifted program selection process at your child's school. Then write a politely worded letter stating your concerns. Also consider sending a copy to the district's coordinator of gifted education, the school principal, and the teacher.
ABOUT I.Q.
Remember, IQ tests are best seen as predictors of academic achievement. An IQ score only tells us how a certain child has performed on a certain test at a certain time, and says little about that child's true potential. Children can be gifted in many ways that are not measured on an IQ test.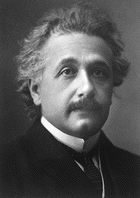 THE BRIGHT LATE BLOOMERS
Many high-achieving or gifted adults show few signs of giftedness early on in life. Albert Einstein didn't exactly shine in childhood. It's commonly known that he learned to speak at a late age and didn't read until he was 7. Thomas Edison, Isaac Newton, and Winston Churchill also had trouble early on in school. Countless others, famous or not, have been misperceived as "slow" or worse in childhood, only to go on to accomplish amazing things later in life. How can we explain this? We can't always. It may be that these late bloomers were products of uneven or delayed neurological development - their brains took a little longer to get all the "wires" connected in just the right way. Or it could be that the signs were always there but were masked by other aspects of giftedness — such as distractibility or nonconformity — which made it difficult for adults to see beyond to the child's true talents.