We 21st century parents push our kids in strollers, baby joggers and infant transport systems, not 'buggies'.  So in naming the charitable organization she founded in 2001 Baby Buggy, Jessica Seinfeld, the Manhattan mother of three and wife of comedian Jerry Seinfeld, was alluding to an old-fashioned community-mindedness, where New Yorkers assist their less fortunate neighbors.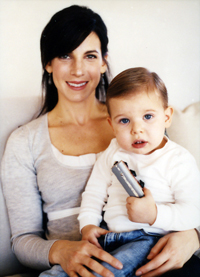 Baby Buggy enables local parents to help those in need in all five boroughs by collecting gently used baby gear and clothing, and passing it on to 83 social service partners around the city.  As a central clearinghouse, Baby Buggy connects donations to those in need more effectively than each smaller group that relies on the largesse of its more immediate neighborhood.

   Claudia Fleming, executive director since 2002, says Baby Buggy occupies a unique niche, providing "resources as a supplement to the social services" that its partners offer.  The organization recently tweaked its mission. Its old model, Fleming explains, was, "We give what we have."  But since there wasn't always a match between supply and demand, Baby Buggy is now committing to purchasing "required critical gear in a timely timeframe."  This means that if, for instance, a family is at risk of losing children to foster care because they don't have the requisite safety equipment, such as window locks or gates, Baby Buggy will buy the needed items. 

   Fleming says the organization buys the "lowest cost, highest quality goods when we don't have supply in inventory."  The group is also working with manufacturers to obtain donations of overstock baby gear.  A successful stroller drive with Maclaren and one with diapers led to huge donations of these important items. "Diapers are a two-and-a-half-year expense, and you can't use food stamps to pay for them," Fleming points out.

   Interestingly, when the organization considered its next drive, it had to change course.  Since infant formula is so expensive, Baby Buggy thought a formula drive would be appropriate.  But, Fleming recalls, "We heard unanimously, 'Please don't!' Breastfeeding is best, leading to better bonding — and it's less expensive."  So now, she continues, Baby Buggy is doing "everything we can to supply breast pumps."

   In 2005, Baby Buggy launched a crib drive in response to a dramatic increase in infant suffocation deaths that occur when babies don't have safe sleep environments. The drive provided 500 cribs and bassinets to families in poverty. Following up, Baby Buggy is now conducting Project Safe Sleep, to be inaugurated at its Bedtime Bash party on May 22. Its goal is to raise awareness of safe sleeping conditions, and to create 3,000 "safe sleeping places". The family benefit, to be held at Waterfront on 11th Avenue, revolves around getting ready for bed, with crafts, bedtime stories, and milk and cookies.  Ticket prices are $150 for adults, $75 for children; funds raised will be used to purchase cribs and bassinets.  

   "For a mother in the city who has children under 5, the most immediate gratification is to donate gently used clothing and gear," Fleming says. Volunteers, from mothers' groups to book clubs to families and individuals, help sort and organize contributions. Baby Buggy works with Citibabes; a "patch while they play" program fixes up damaged clothing. It is also starting a partnership with Kidville.

   Donations can be dropped off at Baby Buggy's headquarters, 520 Eighth Avenue, at 38th Street; pick-ups of large donations can also be arranged.  For more information, call (212) 736-1777, or go to www.babybuggy.org.