Hosting a goodbye-to-grades celebration doesn't require a lot of pomp and circumstance. Choose a theme for the party, such as "Forever Summer Vacation" with a luau, "Welcome to the Jungle" with a rainforest motif, "Smooth Sailing" with a nautical touch, or "Show Me the Money" with a financial angle. Then follow these easy tips to make your graduation celebration a "class" act.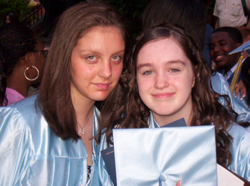 Grade A Invitations
-Write the party details with a calligraphy pen on white parchment, then roll it up and tie with a ribbon using school colors.
-Make mortarboard (graduation cap) invitations from black cardstock tied with a tassel, and write details in silver ink.
-Create a fake "Final Exam" for your invitation, and ask multiple choice questions such as, "At Rebecca's Graduation Party, you want: a) lots of food, b) a DJ, c) a toga party, or d) all of the above."
-Make personalized report cards with party details included —and give everyone straight As in "Partying 101".
-Include a kindergarten picture of the graduate, along with their senior picture, for a "Before" and "After" invitation.
-Ask guests to come dressed as school stereotypes, such as cheerleader, jock, nerd, skater, teacher or principal.
-If it's a surprise party, blow up pictures of the faculty, attach them to large craft sticks, and write the party details on the back. Then have the guests hold them over their faces when they yell "surprise" to the unsuspecting grad.
Intro to Decorations
   Tape up banners, garlands, and "Class of …" signs in school colors. Tape a mortarboard to the top of bundles of helium balloons and let them float from the ceiling as if they're flying through the air. Decorate the room with school mementoes, such as saved dance tickets, corsages, prom programs, textbooks, old reports, beat-up binders and pictures from the yearbook. Give the guests grad caps to wear and megaphones and clappers to use at the party. Rent movies such as Napoleon Dynamite, National Lampoon's Animal House or Ferris Bueller's Day Off to play in the background. 
   Cover the table with the newspaper want-ad section, and circle some of the more bizarre "Help Wanted" ads. Collect job applications from fast food restaurants and gas stations and use them as placemats. Or blow up pictures of the faculty and use them as placemats. Have a replica of the school mascot serve as a centerpiece.
Grad Games and Activities
Teacher Test
   Write the names of teachers on sticky labels, place them on guests as they arrive (be sure they can't see what professor they've been given), and have players ask yes/no questions to find out which professor they are.
Whatever Happened to…
   Write funny predictions about guests, such as, "Matt Warner, captain of the football team, now has his own chain of drop-in brain surgery clinics."  Insert them in balloons and inflate the balloon, write the names of the guests on the balloons, then have them pop the balloons to find out their funny futures.
Autograph Hound
   -Give guests autograph bears, dogs, caps or books to sign.
School Scrapbook Memories
  -Set out scrapbooking materials and have the grads make their own memory books.
After-School Snacks
   -Have "cafeteria helpers" wearing aprons and hairnets serve classic cafeteria food (only better!) on plastic trays. Give each dish an "appetizing" name card, such as "Meat Surprise" or "Broccoli Jell-O."
    -Offer popular school foods, such as pizzas, hamburgers, chips, and sodas. Serve them from lunch boxes and pour drinks from thermoses.
Grad Gifts and Party Prizes
    Give your graduate a scrapbook to safeguard school memories, a personalized engraved pen set, a keychain with a "key to the future," an autograph book to collect good wishes from the guests, a cartoon lunch box, personalized business cards, a new wallet, a name plate, or a nice briefcase filled with want-ads or job applications.
    Send the guests home with grad hats, clappers, and megaphones, "Class of …" photo frames with group pictures, pens engraved with the school name, or autograph books.
PENNY WARNER, of Balloon Time, producers of consumer helium balloon kits, has over 25 years experience as an author and party planner. She has published more than 50 books, including 16 specific to parties. Warner wrote a weekly newspaper column on family life for 11 years, penned a column for Sesame Street Parents magazine, and has appeared on regional and national TV morning programs.
Balloon Time kits feature a helium-filled tank, latex or foil balloons and ribbon, and are available at mass merchant, party goods and grocery stores nationwide. www.BalloonTime.com.