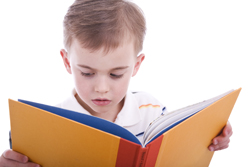 Thinking about sending your child to preschool for the first time can be both scary and exciting.As the mother of a preschool-bound child, I find myself with concerns about his first school experience and think about all that I can do to nurture, engage and prepare him.  As a reading specialist, I recognize that there are a few simple things I can do to help him move into the world of school as prepared as possible.
   But first I need to clarify what I mean by "prepared." I do not mean that I want him reading, counting backwards from 100, and writing short stories on his own at the age of 3. I want my son to be confident and courageous, willing to take risks and learn new things.
   So, what can you do to help your child enter preschool "prepared?"
Read to your child often
   Teach your child that books are special and reading time is a gift, not a chore.  Before you sit down with a book together, tell your child how excited you are, and talk about the reading you do in your own adult life.  This will show your child that reading is something that happens outside of school, in "real life," as well as prepare him for many school-related literacy activities.
Help your child cultivate an image of himself as a reader 
   With a pre-preschool child, this means looking for the seemingly small literacy-related things that he can do and bringing them to his attention.  We often see children new to preschool hold a book upside down, turn the pages and make up a story completely unrelated to the text.  The good news here?  This child understands that books contain stories and he knows how to access those stories – by turning the pages.  We also see children who make up elaborate stories based on pictures; these children understand that pictures and words in a book carry meaning.  Each time you see your child engage with text, praise what you see him doing specifically and clearly.
Play with language
   Challenge your child to find rhyming words and to play with rhythm in stories.  Often, we see children entering preschool able to recall the words to many of their favorite books.  Often, these books rhyme and the words children are most likely to recall are those that rhyme with one another.  To foster this wordplay, see who can come up with words that rhyme with, say, "cat" or "mad," or sing along with songs and see who can hear a rhyme first.
Love letters
   Children naturally become interested in the letters they see all around them.  Capitalize on this, and point out letters that hold the most inherent interest – the letters in your child's name.  My son, Ethan, loves to find words that contain the letter "e" and loves when I point out the other letters in his name.  He knows that the letter "o" looks like a circle (and the Target logo) and gets excited when he sees it.  He's starting to associate sounds with the letters he loves, and he becomes interested in new letters on a regular basis.  Rather than push him to learn letters in some sort of order, I'm following his lead and nudging him only when it seems appropriate.
Connect literacy with all aspects of life
   Recounting your day, using your imagination, drawing and labeling your child's pictures, reading store signs and box labels – these are all ways you use reading and literacy skills in real life.  Share these things with your child as often as you can.  Read street signs out loud; talk about your day and give your narrative a beginning, middle and end; think out loud as you label an illustration or write a shopping list.
   Most importantly, always remember that reading success is not about reading early; it's about loving to read.  We want our preschool children to get excited when it's time to sit down in a circle to hear a new book, not because there will be an art project that comes after it (though that's okay, too), but because with a new book comes a new adventure or a new idea.  Reading should always, always be a pleasure. 
 JENNY RICH, a former teacher in the New York City public schools, received her Master's degree in reading and literacy from Bank Street College of Education, where she later worked as adjunct faculty.  She now stays home with her son and runs www.ethansbookshelf.com, a children's book review website.