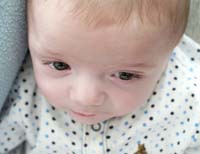 Karen Mullarkey, a photo editor and consultant for Photobucket.com, offers these simple tips for making family photos better.
• Step in. Digital cameras do not handle distance well. Step toward your subject to get closer. Your eye and brain can compensate for the distance in a way that a "point and shoot" camera cannot.
• Frame your image. Most digital cameras "center focus," so shoot your pictures so that your subject is slightly off center. You will create a more interesting photo.
• Less is always best. Simplify everything in the frame. Less clutter makes a more striking image.
• Give a camera to a child. Cameras are great for children. Let a brother or sister take photos of a new baby sibling. It will teach them that cameras are not scary, and you'll get some unexpected shots.
• Only take one picture of a child with food on her face! Two photos are repetitive, and when your child grows up, she will hate them!
• Set your camera correctly. Make sure the date stamp is turned off before you shoot, or ugly dates and times will appear on your printed photos.