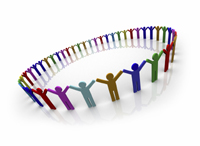 Even though Rockland is a large and growing county, one of the qualities that helps it retain a wonderful small town feel is the number of individuals and businesses who are willing give back to the community.
   One such person is
Brandy Seltzer
of The Little Gym in Spring Valley. Seltzer says she grew up with a strong tradition of community service, so it was only natural when she became a business owner to find a way to pass it on. When Daniel, one of her gymnastics students, was diagnosed with juvenile diabetes, she knew she had found her cause. So every year, The Little Gym sponsors a walk-a-thon with all the proceeds going to Juvenile Diabetes Research. Last year, more than 1,000 people — from infants in carriers to senior citizens — participated, and raised $5,000. Seltzer hopes to double that money with this year's walk-a-thon, scheduled for October 14. "To quote the Superman movie, 'With great power comes great responsibility,'" says Seltzer, a New Hempstead native. "When I went into business for myself, I wanted to find a way to give back. I felt such an emotional connection with Daniel when he was diagnosed, I knew I had found my cause."
   Besides the walk-a-thon, Seltzer also hosts jewelry parties and Parents' Night Out (babysitting while mom and dad get a chance to be on their own) — with the proceeds going to Juvenile Diabetes and St. Jude's Children Center.
   Another business owner who believes in giving back is
Debi Klein
, who has operated Debi's Dance Shop for 31 years in Monsey.  Her students put on shows at nursing homes and other community events. Klein says the students and the audience "get such a kick out it" and she's always looking for ways to make more of a contribution to the community.  
Douglas Staley
of Pet Palace in New City also volunteers his time — as a mentor. Since 1995, he has run the "Palace Pals Program" which allows kids aged 12 and older to volunteer at the pet store. "This gives them a chance to learn responsible pet ownership and to work together as a team," says Staley.  "I was blessed with a mentor when I was 15 and working at a small hardware store. This is my way of repaying that kindness." It's been such a positive experience for many of the volunteers that they go on to become paid employees of the store.  Four college-aged students who'd once been volunteers were working at the store over the summer.   
Jill DeRosa
of Jill's Ceramics in West Nyack gives voice to a common theme for all of these community-minded business owners. Says DeRosa, "I get much more back than I ever give. It gives me great pleasure to pass on my knowledge."  For more than 30 years, DeRosa has been helping people with special needs paint and glaze ceramics. Last year the Rockland Association of Retarded Citizens honored her for her many years of volunteer work.