Kids across the country are dragging their parents around the stores (or are parents dragging the kids?), talking them into pencils, erasers, binders and snow-white paper-filled notebooks. Indeed, more than 14 billion pencils are manufactured every year — enough to circle the globe 62 times. Add in highlighters, pens, crayons and other paraphernalia that students need to go about the business of learning, and you've got a lotta stuff. But is there a better way? A greener way to stock the lockers of America? You bet there is. You just need to look for it.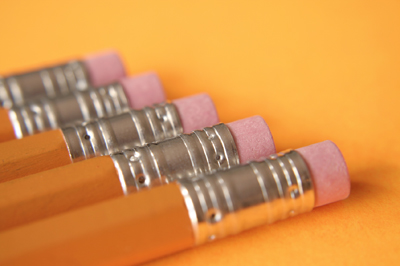 Start by purchasing wood pencils certified by the Forest Stewardship Council (or FSC for short). FSC wood comes from forests that are managed in a responsible and sustainable manner. Dixon Ticonderoga makes HB pencils out of FSC-certified wood and they're widely available. The company also produces colored pencils. Paper Mate makes recycled pencils called EarthWrite that are available at most office supply stores. Or check out www.greenearthofficesupply.com, a site that sells exclusively eco-friendly stuff.

    Look for paper that is at least 30 percent post-consumer content. You can find it easily. Harder to find but better still is 100 percent post-consumer content. Check out your local Kinko's. Or for novelty's sake, try Green Earth's "Tree Free Sampler Pack", with paper from wheat straw, banana fiber and kenaf/cotton.

   To hold your paper, Office Depot boasts binders made of 100% recycled materials. Office Max and Staples both stock notebooks made from varying percentages of post-consumer waste.

   Kids can cut with recycled stainless-steel scissors with handles made from 30 percent post-consumer plastic — check them out at Office Depot. 3M's ubiquitous Post-It notes are also available in 100% recycled versions.

   What can you use to carry your green gear? Look for pencil cases of unbleached cotton or hemp. And stuff it all in a backpack made from recycled rubber or hemp. Whatever pack you choose, make sure it will last so you aren't replacing it every year. And steer clear of polyvinyl chloride, better known as PVC or just "vinyl". Manufacture of PVC creates a long list of eco-sins — suffice to say it is considered a probable carcinogen by the U.S. National Toxicology Program. No vinyl and that's final, as environmentalists say. While your child might beg for the latest, must-have, back-to-school products — like a vinyl backpack that features Dora the Explorer or Spider-man — kids are surprisingly savvy. Explaining that some materials create air that's bad to breathe and water that can make sea animals and sometimes humans sick is generally enough to have them turn up their noses at the toxic versions and embrace eco-ideals. Indeed, kids appreciate the need to care for the planet better than many adults.

    And if you've got rulers, erasers or pencils lying around unused, check with your local Ten Thousand Villages store. Many of the store's 80 American locations collect supplies to send to needy children around the world.

LESLIE GARRETT is a syndicated columnist of The Virtuous Consumer and The Virtuous Traveler and mother of three young children. Visit her at www.virtuousconsumer.com.