HAVE A GREEN HALLOWEEN: RECYCLE YOUR KID'S COSTUME BY PARTICIPATING IN NATIONAL COSTUME SWAP DAY
Related:
green Halloween
,
national costume swap day
,
childrens costumes
,
kids costumes
,
costume swap
,
halloween costume
,
recycle
,
used costumes
,
green costumes
,
With Halloween just around the corner, you might be stressing about getting your kids a new costume at an affordable price. Why not save some money, help the environment, and get rid of old costumes of Halloweens past by participating in National Costume Swap Day on October 8. Read on for details.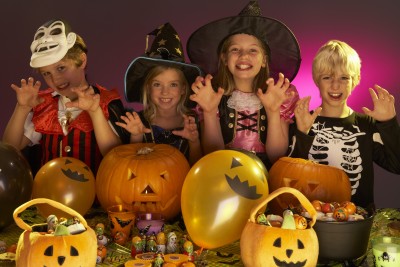 Do any of the following sound familiar? Your little one refused to remove her princess costume for most of last October, but now, pink just "isn't her color." The oversized vampire costume you purchased last Halloween now looks like a better fit for a GI Joe figurine than your son. Between the pricy getup, the mask, and various spooky props, you can't afford to buy your child another brand new costume.
If so, your family should consider participating in National Costume Swap Day on October 8. The event encourages people across the country to organize costume swaps with neighbors, friends, and community organizations. Costume swaps not only conserve resources and reduce waste from buying new and tossing old costumes each October, they also afford kids the opportunity to wear something different while saving parents money. For more information on planning a costume swap or attending one in your area, visit www.greenhalloween.org/costumeswap.
Also see:
Harry Potter-Inspired Halloween Costumes and Recipes
How to Go Green this Halloween: Help the Environment
More Halloween Articles Articles
7 Tips for Trick-or-Treating with Your Toddler
New Book Encourages Kids to Give Up Halloween Candy
Halloween Activities in Bucks County, PA
DIY Alien Monster Egg Halloween Decoration
Toddler-Friendly Halloween Events in Fairfield County, CT