As a child, Audrey Kaplan couldn't get enough of Broadway show tunes. She started Broadway Babies/Superstars to introduce children to that very music. Kaplan's goal to create new generations of theater-lovers has succeeded far beyond her wildest expectations, with each semester enrolling roughly 900 students for classes.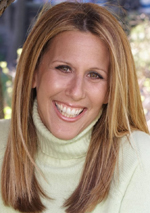 Kaplan, a former actress who appeared on
All My Children
, and now Broadway Babies/Superstars' founder and artistic director, began her program with a partner in 1995 while she was teaching at PS 6 in Manhattan. In the beginning, the two taught all the classes on weekends, working primarily with older kids. But by 2000 Kaplan was a new mother and looking for music classes for her own baby that appealed to her passion for theater and show tunes. With nothing available, she created her own program.  Now the company's sole owner, Kaplan's program boasts two locations in Manhattan, one in Westchester, and one on Long Island.
   "I was an actress and growing up I went to a place called Stagedoor Manor (a performing arts summer camp)," Kaplan says, recalling how the idea for her business came to life.  "As an elementary school teacher, I started doing shows with my classes each year. I was the teacher everyone counted on for the big production."  When parents began to encourage her to take her talents to classes outside of the school, a star was born.
   Broadway Babies/Superstars supports three divisions: ages 0-5, where children are introduced to the music from popular musicals and encouraged in developmental play; ages 6-12, where children are engaged in the performing arts; and 10-18, where children are immersed in intensive four-hour weekend workshops for professional study. A wide range of classes are available, from Introduction to Musical Theater to the more serious pursuits of technique in drama, comedy, acting, singing and dancing as well as auditioning how-to.
   All of the instructors at the school are professionals with national credits to their names – either on Broadway, Off-Broadway or on national tours. Barry Anderson, currently in
Legally Blonde
, is musical director for the highest level students; Dana Steingold, who will appear in the revival of
Godspell
, instructs dance.
   Many of Kaplan's graduates and current students are working in television, film and on Broadway. Four former students are now instructors in her program. Her students are appearing now in
Rent, Spring Awakening,
and
Jersey Boys
.
   Although her son, now 8, is no longer a Broadway baby, having gone baseball crazy, he still loves to attend her showcases, which are popular with talent scouts as well, Kaplan says. "We are called regularly by the shows, asking for kids to audition. It's definitely a feeding ground – whether it's a new show,
Thirteen, Mary Poppin
s or
The Lion King
."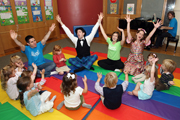 But the real success of her program is measured by the new generation of children who grow up to support theater. "The mission of the program is to expose children to Broadway so that they will grow up to be theater arts lovers and support the theater so that it continues to grow and thrive," Kaplan says.