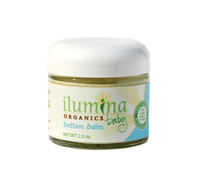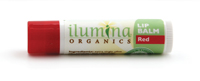 Green Skincare
   Illumina Organics goes the extra step in its mom and baby skincare line.  Not only are its natural body washes, lotions and shampoos organic, but they are packaged in BPA-free bottles.  The belly balm, for itchy pregnant bellies and stretch marks, and the nursing balm are also vegan. Reasonably priced from $4.99 for lip moisturizers to $17.99. www.illuminaorganics.com. 
   She Essential Beauty combines natural and organic skincare with traditional Chinese medicine. Body scrubs ($40) use natural sugars, organic oils, and Chinese pearl, and Washing Grains ($30) detoxify the face with oatmeal, lavender, and green tea. At www.sheessentialbeauty.com.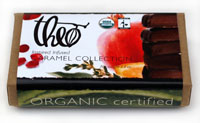 Eco Sweets   
   Organic and Fair Trade chocolate bars by Theo now carry Jane Goodall's seal of approval. Theo promotes biodiversity and conservation in tropical rainforests.  The 70-percent dark chocolate and 45-percent milk chocolate bars are, of course, delicious to boot.  $3.99 for a three-ounce bar.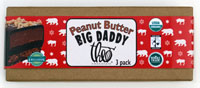 Also new: Big Daddy chocolates. The marshmallow is like a s'more, with marshmallow, caramel and graham cracker all smothered in chocolate.  The peanut butter version substitutes peanut butter for the marshmallow, and is topped with peanuts. $9.99 for a box of three. At Back To Earth, New City; Mrs. Green's Natural Market, Mount Kisco; Chamomile Natural Foods, Danbury; Vitality and Health, Astoria; Perelandra Natural Foods; Whole Foods Market or at www.theochocolate.com. 
   Better Bakes has organic dough that you bake at home, for cookies with no trans-fats, high-fructose corn syrup, bleached flour, or hormones in the milk and eggs.  Kids can help bake their own cookies and parents can indulge; each cookie has only 70 calories. In five flavors: chocolate chunk, triple chocolate chunk, vanilla sugar, peanut butter, and oatmeal raisin. $3.49 at RP, QP Shop Rite WP, FF: Whole Foods or BAP, BK Fairway. www.immaculatebaking.com.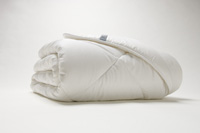 Sleep Better
   Allergic to down and don't want a synthetic comforter?  WÜL SleeperKeeper comforters in crib, twin, full/queen and king sizes are made from pure merino wool.  They are hypoallergenic, flame resistant and all natural.  They are also machine washable, so no chemical cleaning is required. $160-$450 at www.WULusa.com.
   Serena & Lily has new organic crib linens, made with formaldehyde-free dyes.  There are four patters, from the retro Maggie to the outdoorsy Dylan. A crib set includes crib sheet, skirt and bumper, for $589 at FF - Wendy Gee! 2,  Greenwich WP – The Kids' Room, Scarsdale QP – Petite Pram, Cedarhurst BK – Living Quarters BAP – Kid's Supply Store www.serenaandlily.com.

A Change in Changing Pads
   You may use cloth diapers, organic emollients on your child, and green cleaning products throughout your home, but chances are, you have a plastic coated changing pad.  Baby OHM seeks to change that. The yoga-inspired mat is made of biodegradable, non-toxic organic cotton, with no PVC, latex or chloride.  In pink or blue. $19.99 at www.zo-li.com.
Safer Bottles
   BPA and phthalates in plastic baby bottles have inspired a return to glass, but glass is breakable. Silikids has silicone sleeves that slide over bottles and protect them from breakage. The dishwasher-safe sleeves also allow baby to get a better grip. $6.95 for a four-ounce bottle and $8.95 for an eight-ounce bottle. www.silikids.com.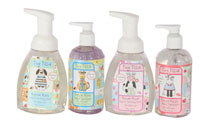 Clean and Green
   All-natural bath products for kids can be fun.  Tiny Tillia has Head to Toe Foamy Wash ($4.99), a cucumber and mango based cleanser that has no parabens.  There are also bath gels ($.99) and animal-themed bath mitts and sponges ($4.99).  And for those who like a dose of celebrity with their eco hand sanitizer ($4.99), Tillia founder is Tiffant Lerman, daughter of Jackie Collins. At Kitson or Target, or at www.shoptillia.com.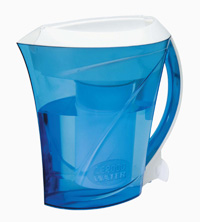 Zero Chemicals
   Tired of a growing carbon footprint with plastic water bottles?  ZeroWater has a gravity fed filter that fits in its own pitcher and removes all chemicals from treated water.  This makes tap water as pure as bottled water, with no lead, chlorine, or mercury.  The ZeroWater Pitcher comes with a tester so you can measure the safety of your water.  When it rises above zero, it is time to change the filter (the filter lasts a varying amount of time, depending on how clean the water was to start). The pitcher is $39.99 and two replacement filters are $29.99 at Home Depot or www.zerowater.com.