ALL IN THE FAMILY: GREAT GROUP HALLOWEEN COSTUME IDEAS
Related:
family halloween costumes
,
costumes for parents and kids
,
costumes for moms and dads
,
family costume ideas
,
October 31st isn't just for kids; parents can get into the Halloween spirit with these fun group costume ideas. Coordinate with your children's costumes to turn trick-or-treating into a memorable activity for the whole family.
The Addams family isn't the only brood turning Halloween into a family affair. Whether you each choose costumes to go with one theme or dress up in pairs, there's no reason why parents can't get in on the Halloween fun with their children. Dressing up together makes for a great visual when you escort your kids down the street for trick-or-treating, and it's a fun way to get kids even more amped about their getups. Father-son and mother-daughter pairings are always popular, but don't let that stop you from any other combination you might dream up.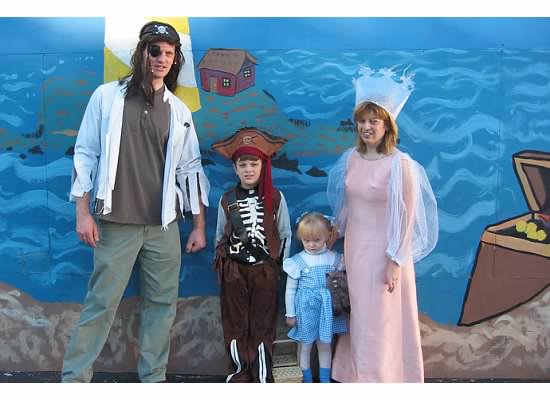 Image courtesy Annene Guertin.
Queens mom Annene dressed up as Glinda to 3-year-old Ginelle's Dorothy (complete with stuffed Toto!) and dad Leo deconstructed an old shirt to match pirate Rick, age 7, in 2005.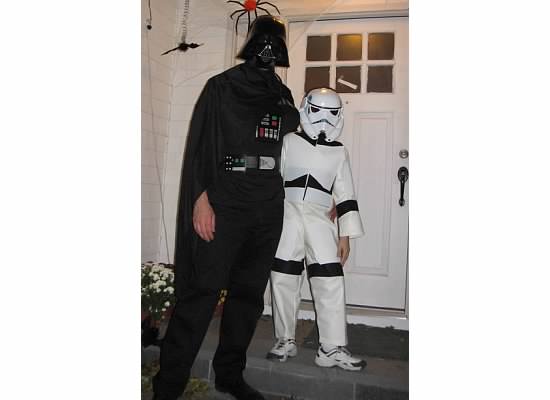 Image courtesy Annene Guertin.
Rick and Leo teamed up as Darth Vader and a Storm Trooper in 2006.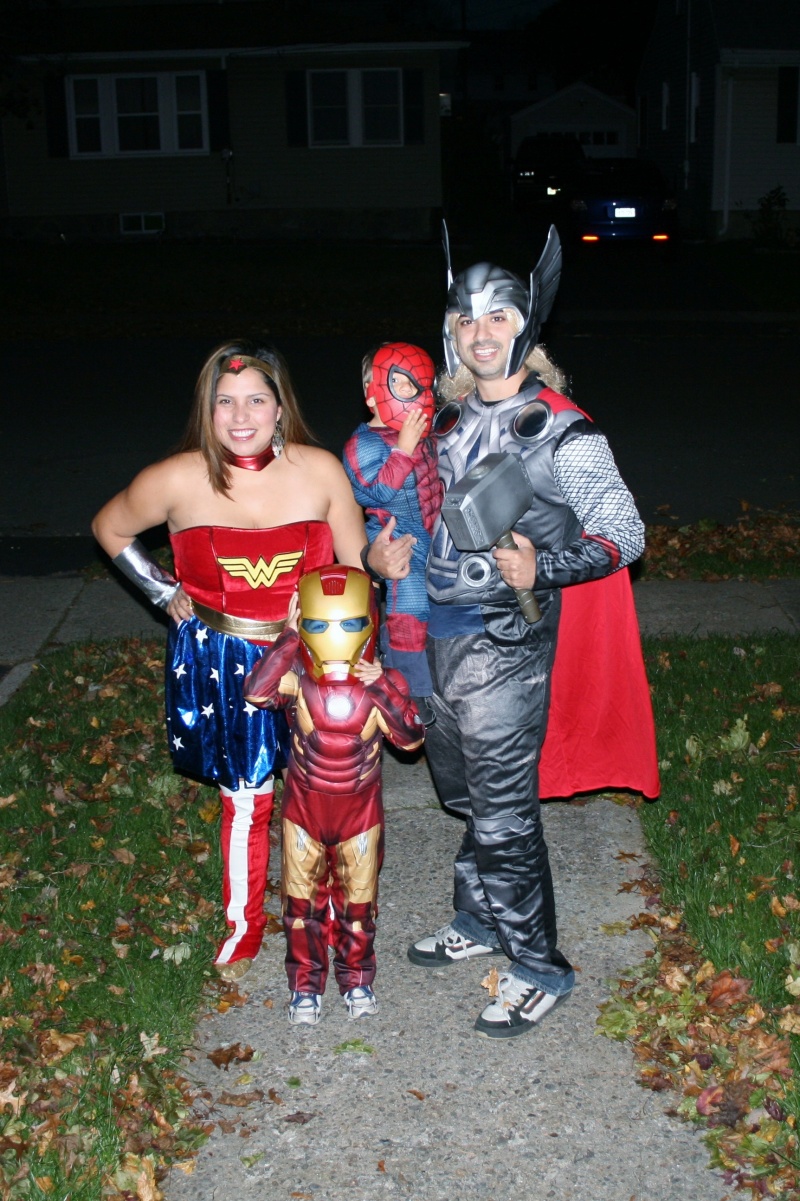 Image courtesy dancinghotdogs.com.
"The most memorable family costumes are the ones with the most imagination and lots of fun!" says mom Divina Rodriguez of Dancing Hotdogs. As Wonder Woman to husband Eddy's Thor, 1 year-old William's Spiderman, and 4 year-old Thomas' Iron Man, she tackled Halloween with a super spirit in 2012.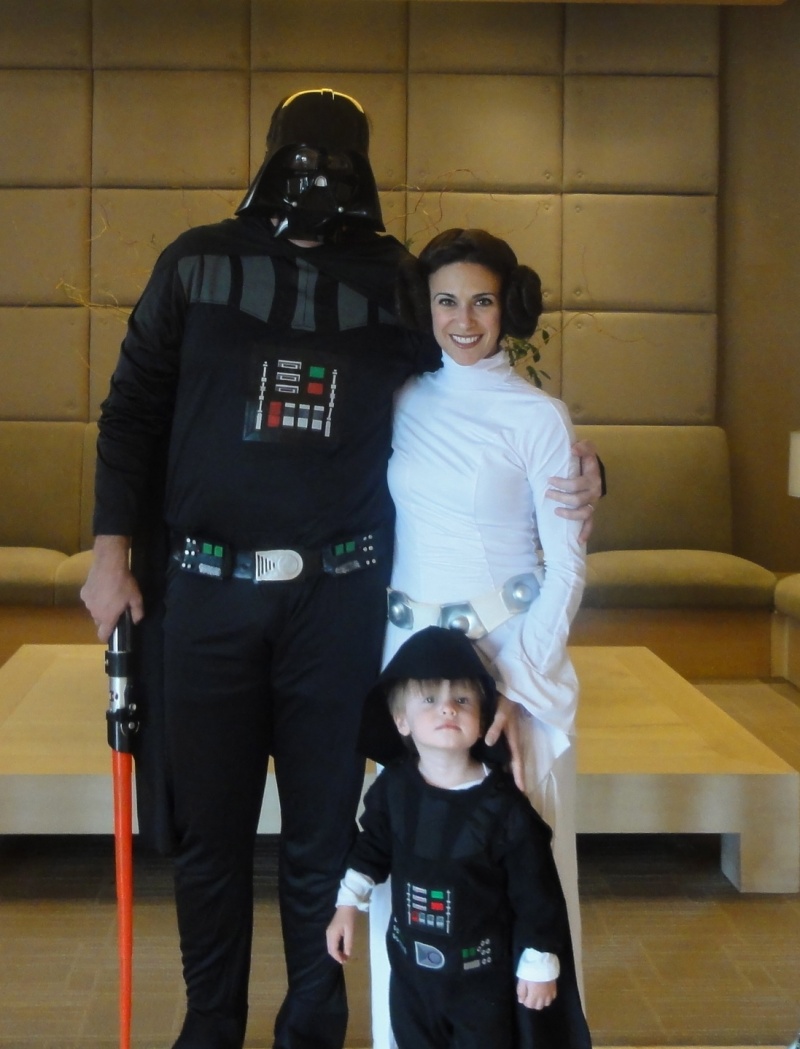 Image courtesy yourartsy.com
New York City mom Rosie of Your Artsy shared this photo of her friend Vicki, whose mini-Darth Vader son had a Princess Leia mom and Darth Dad to match his costume.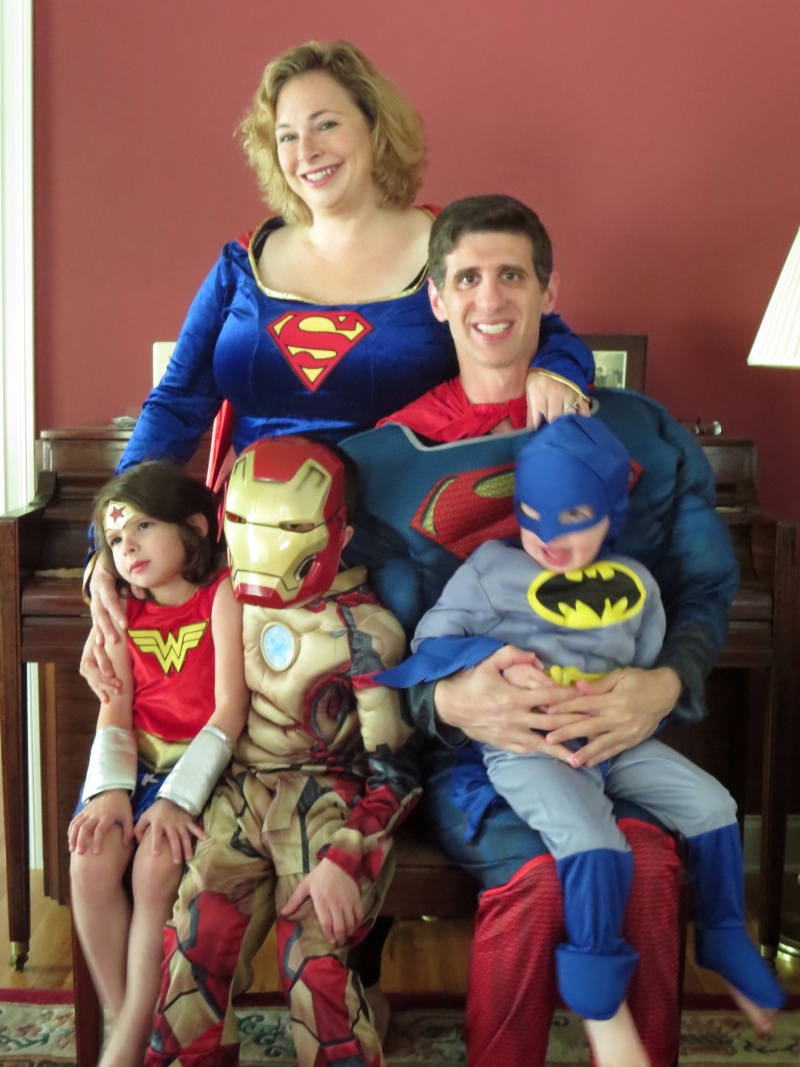 Image courtesy themamamaven.com.
Superfamily! Queens-based Mama Maven Nancy teamed up with her gang of crime fighting crusaders in 2012. (Their mild-mannered alter egos are Allegra, Ben, Skylar, and dad Eric.)
Fathers and sons can dress up as the crime-crushing Aquabats ($24.99-$29.99) with these costumes from costumeexpress.com.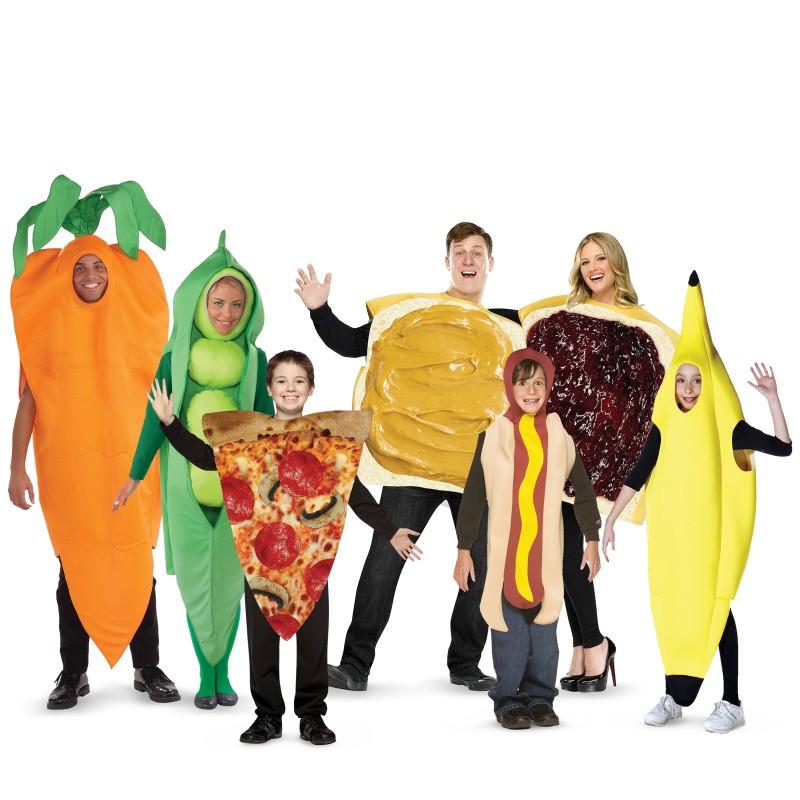 Candy might be the most popular food group on Halloween, but it doesn't have to be! From twin peas in a stroller (er, pod) to parents who go together like peanut butter and jelly, these silly foodie costumes from Costume Express (starting at $19.99) are sure to whet your appetite.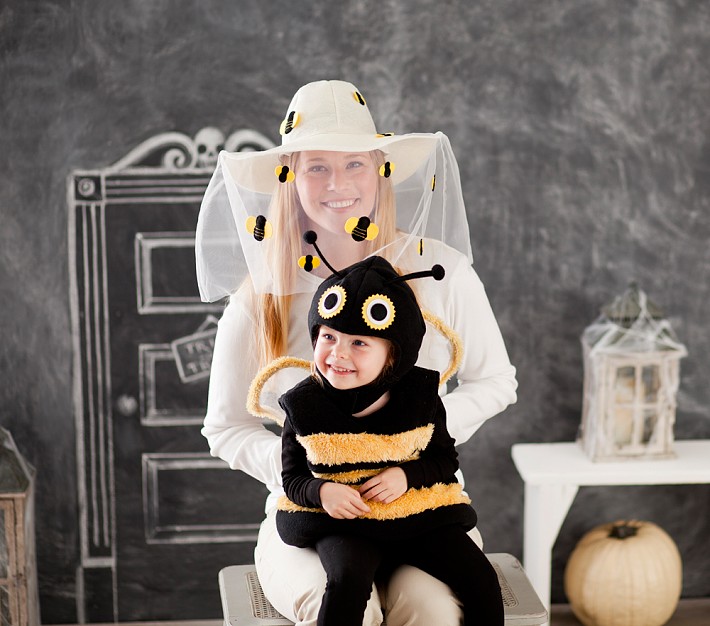 We're sweet on this bee and beekeeper pairing ($39-$59) from Pottery Barn–perfect for you and your honey.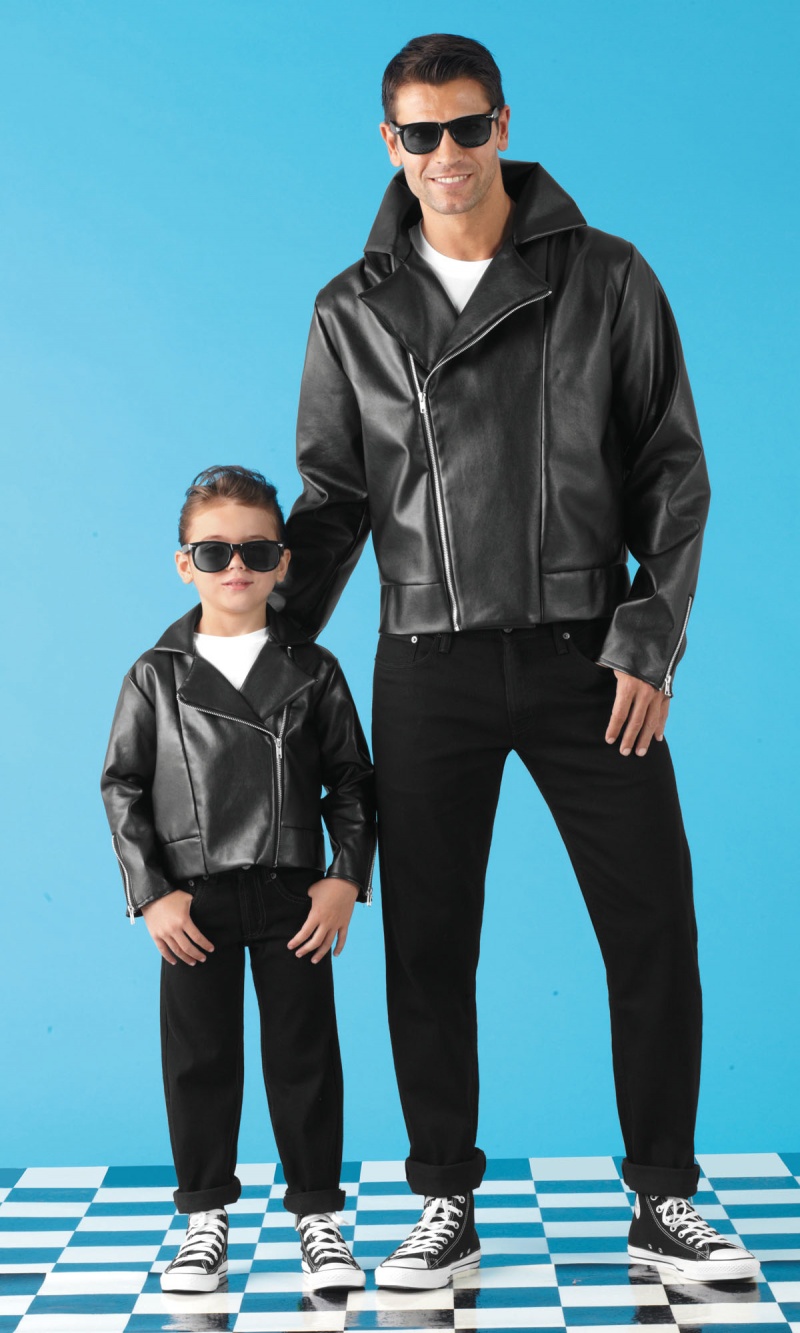 Prepare to race down Thunder Road as crazy cool T-birds ($34.50-$44.50) from Chasing Fireflies.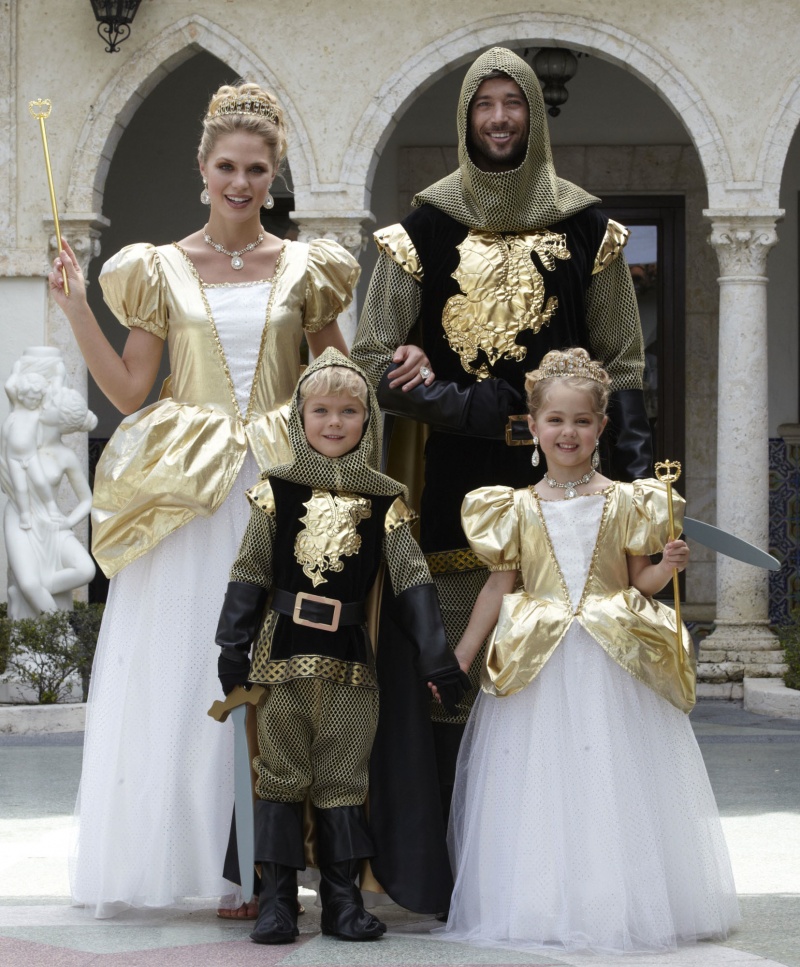 My kingdom for a piece of candy! Dress as the fairest family in the land as golden princesses and brave gold knights ($69.50-$99.50), available at Chasing Fireflies.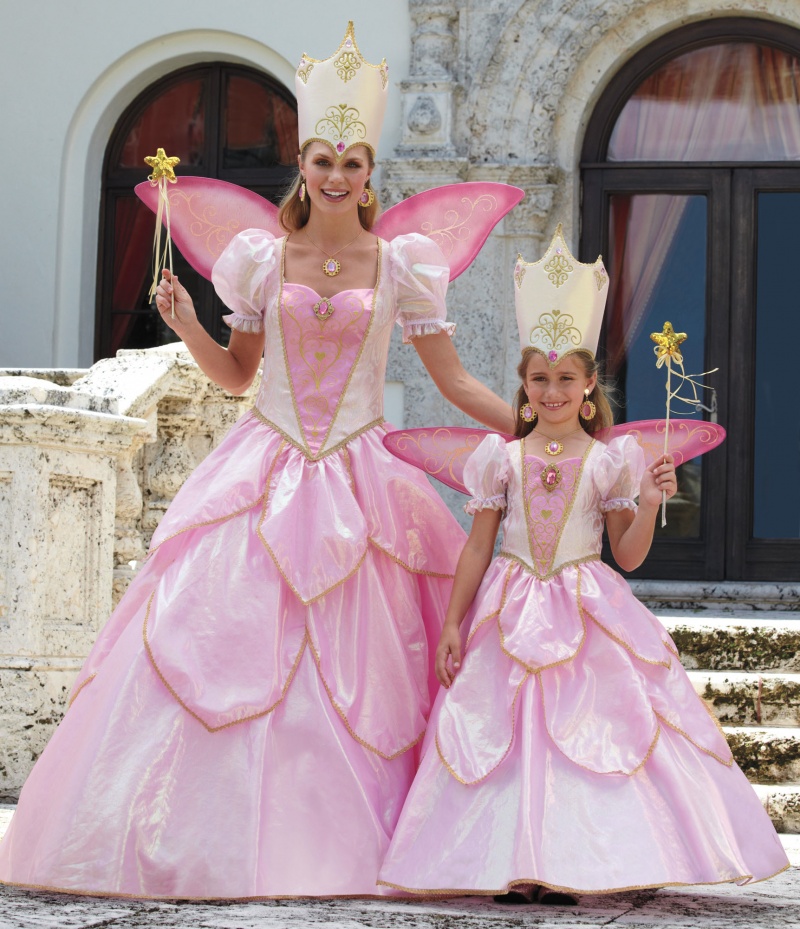 Chasing Fireflies' fairy godmother costumes ($89.99-$199.50) make for a pretty-in-pink mother/daughter duo.
More Halloween Fun
For more Halloween recipes, plus costume ideas and spooktacular DIY projects, go to nymetroparents.com/halloween.
---
Get Your FREE Indoor Activity eGuide!
---
More Costumes Articles
Literary Costumes Your Bookworms Will Love
Easy DIY Halloween Costumes from Local Moms
6 DIY Halloween Costumes on a Budget
DIY: Tiger Mask and Owl Mask from 'Petit Collage'
All Aboard for a DIY Train Halloween Costume