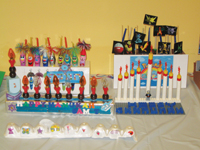 Take a look at some family and kid-friendly Hanukkah events happening in Nasasu and Suffolk Counties, Long Island, this holiday season!
NASSAU COUNTY
The Klezmatics
The Grammy-winning Klezmatics perform a concert inspired by gospel, punk, Arab, African, and Balkan music, in celebration of the beginning of Chanukah's Festival of Lights. December 12 at 8pm. Age: YE, TW, TE, AD. $30. Landmark on Main Street Theater, 232 Main Street, Port Washington. 516-767-6444; www.landmarkonmainstreet.org.
Friedberg JCC Chanukah Party
Families celebrate Chanukah with crafts, holiday food, entertainment, and a menorah lighting. Call to sign up. December 13 at 11am. All ages. $20 per family (up to 4 people); $6 each additional person. Friedberg JCC, 15 Neil Court, Oceanside. 516-766-4341; www.friedbergjcc.org.
Lilchefs.com Special Events' Annual Gingerbread Decorating Workshop
Children decorate their own Christmas or Chanukah Gingerbread House in a cooking workshop that involves all five senses. With the smell of gingerbread in the air, they'll listen to candy-inspired music, taste and touch the gingerbread, and watch as their creations take shape. They'll also personalize a chef hat and apron and design a gingerbread bead necklace. Afterwards, all chefs pose for a commemorative photo of their finished masterpiece, enjoy refreshments, and receive a personalized certificate of accomplishment. Registration required. Contact Chef Paula. December 13 at 10am, 1pm. Age: TOD, YE, TW, TE. $30 per child with accompanying adult. Landmark on Main Street, Parent Resource Center, 232 Main Street, Lower Level, Port Washington. 516-338-0552; www.LilChefs.com.
Delicious Holiday Cooking at Its Best
Kids decorate a gingerbread house and make lots of latkes, along with gingerbread family cookies and chocolate eggnog. They'll hear a special story. December 14 at 12:30pm and 5pm; Little Chefs, 33 Jackson Avenue, Syosset; 516-496-0754. December 15 at 9am; Soundview Market Place, Port Washington; 516-767-7633. Age: TOD: YE; TW. Call for pricing. [email protected].
2nd Annual World Series of Dreidels
This Chanukah celebration for families includes pizza, salad, and snacks before spinning dreidels. Each family member will receive gelt, and the winner will receive a trophy and a grand prize. Afterwards, enjoy a community menorah lighting at 7:30pm. December 14, 5:45-7:30pm. Registration required by December 11. All ages. $12; $10 per child; $36 max per family. Mid-Island Y Jewish Community Center, 45 Manetto Hill Road, Plainview. 516-822-3535 x332; www.miyjcc.org.
SUFFOLK COUNTY
Hanukkah Family Night
Kids watch a unique Hanukkah performance by madcap balloon artist Allynn Gooen, who uses balloons to create Hanukkah characters. Afterwards, families can enjoy a Menorah lighting, Hanukkah latkes, and crafts. Please bring a new, unwrapped toy to be donated to needy families in the community. Pre-registration suggested. December 13 at 1:45pm. All ages. $10 per family in advance; $15 at the door. The Suffolk Y JCC, 74 Hauppauge Road, Commack. 631-462-9800; www.suffolkycc.org.
Gingerbread University
Jumbo gingerbread houses, gingerbread men, and other 9-12 inch gingerbread cookie concoctions in tree, soldier, dreidel or other holiday-themed shapes are available to decorate. Families receive a complete candy kit and patented icing to help get started, and sample freshly baked ginger bread bites. "Gingerbread Fred" reads children a story. All ages. $9.95-$27.50, depending on the size of the gingerbread piece. Reservations recommended. Ongoing through December: Mondays-Thursdays, 11am-5pm; Friday and Saturday, 11am-6pm or 7pm. See Web site for schedule changes. Gingerbread University, 3225 Sound Avenue, Riverhead. 631-727-7309; www.gingerbreaduniversity.com.