Get a sneak peek here of The Wizarding World of Harry Potter, set to open June 18, plus tips on where to stay and how to get the most out of your Universal experience.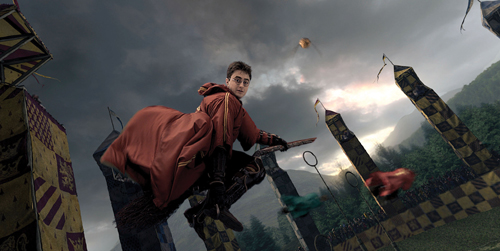 Got kids? Got vacation? Want to be a mom/dad superhero?
Two words: Universal Orlando.
If ever a theme park was attuned to cutting edge, family-friendly entertainment, it's the mind-blowing Mecca known as Universal Orlando Resort. A proving ground for creative movers and shakers, Universal continues to soar above the curve when it comes to bringing cinematic blockbusters, iconic animated characters, and literary classics to - OMG! - virtual life.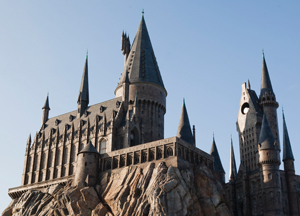 Home to two theme parks-Universal Studios Florida and Universal's Islands of Adventure - the options are almost endless, regardless of one's age and attention span. At Universal Studios, for example, mini family members can frolic with Barney, BJ, and Baby Bop during A Day in the Park with Barney (post-show photo op included!); hit Seuss Landing (The High in the Sky Seuss Trolley Train Ride gets two thumbs up); and get their fill of ogre-fun in Shrek 4-D. (Worth noting: the newest film in the series, Shrek Forever After, is set to debut in movie theatres May 21st).
And then there's The Simpsons Ride: hilarious pre-ride videos and posters topped only by the experience - no exaggeration - of being in the middle of a way wild Simpsons cartoon, "swooping, soaring, and smashing your way through Krustyland!"
Still, if you and your Muggle clan are like most theme park aficionados, the ultimate reason for visiting Universal this summer and beyond is most likely The Wizarding World of Harry Potter, the newest, most anticipated, most technologically thrilling attraction to hit Orlando so far.
Premiering June 18th at Universal's Islands of Adventure, the three-tiered experience (Harry Potter and the Forbidden Journey, the Flight of the Hippogriff, and Dragon Challenge) is, as Ron and Harry would say, "Brilliant!"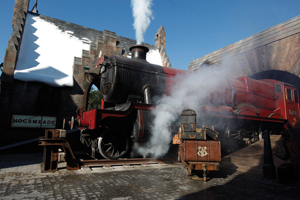 "We have created an entirely new way to place our guests into the heart of one of the most compelling stories of our time," says Mark Woodbury, president of Universal Creative. "What we have done will forever change the theme park attraction experience."
The key component of the experience-the one that not only presents its own storyline along with a myriad of Potter-esque locations, props, and characters, is Harry Potter and the Forbidden Journey, featuring the "first ever combination of live-action, advanced robotic technology, and innovative filmmaking."
With Hogwarts Castle as the key setting (a jaw-droppingly accurate physical recreation), this is an attraction where the queue is almost as important as the ride itself, touching on such must-sees as Dumbledore's office, the Room of Requirement, talking portraits like the Fat Lady, and the Sorting Hat.
And, once the ride takes off, get ready to take part in a Quidditch match, narrowly escape a dragon attack (and a whomping from the Whomping Willow), and meet up with Harry, Ron, Hermione, Dumbledore, Hagrid, and Draco Malfoy (featuring likenesses of the actors from the films). The duration of the ride, including the queue, is about one hour.
For a preview, visit the attraction's official website: www.universalorlando.com/harrypotter.
P.S. Keep in mind, the theme parks are only part of what makes Universal Orlando a killer vacation destination. City Walk, linked to the parks, is a cool place to hang, dine, shop, and catch a film or, even better, a performance of Blue Man Group.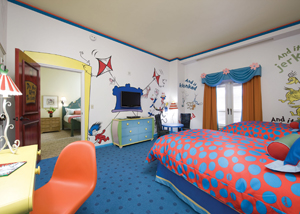 Where to Stay:
The Loews Low-Down
Aside from the fun/excitement factor of a Universal Orlando Resort vacation, there's also that annoying tick-tock factor to consider. Maximizing the family's time-in the parks, around the pool, meals, even shut-eye-can be as big a challenge as the economics of the trip.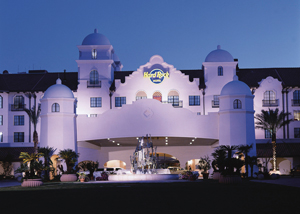 Fortunately, at Universal, there are three exceptional hotel properties "on campus" designed to help you get the most out of your time-and your budget: Loews Portofino Bay Hotel, the Loews Royal Pacific Resort, and the Hard Rock Hotel. And all provide the following priceless perks:
Top Pick: Universal Express. You present your hotel room key card at a ride and bypass the regular attraction lines. (I tried it both ways and saved 45 minutes at The Simpsons ride alone.)
RE: Harry Potter. Special arrangements have been made to accommodate those staying at the three on-site hotels: Early park admission (one hour early to the Wizarding World of Harry Potter). In addition, the Universal Express benefit will be available from opening day for Dragon Challenge and Flight of the Hippogriff, and sometime in the future for The Forbidden Journey.
#2: Complimentary on-site transportation, including water taxis connecting the hotels and theme parks. Very civilized and very dependable.
#3: Club level rooms providing beverages throughout the day, continental breakfast, afternoon snacks, evening hors d'oeuvres and a sweets hour later in the evening. Yes, there's an extra charge (check websites www.UniversalOrlando.com and www.LoewsHotels.com , but these perks can help you control your overall food budget.
#4: These are not only "themed" hotels, they have special rooms and restaurants that cater to kids and teens-nice for them, less angst for you.
For more information: www.UniversalOrlando.com and www.LoewsHotels.com.