HOW TO HAVE A HARRY POTTER HALLOWEEN: RECIPES & COSTUMES
Related:
How to
,
Harry Potter
,
Halloween
,
costumes
,
recipes
,
Hogwarts
,
J.K. Rowling
,
the Sorcerer's Stone
,
cake
,
french onion soup
,
To jump-start your own Harry Potter-inspired Halloween revelry, we've got two recipes for meals drawn straight from the series that would even make Mrs. Weasley proud! Plus, take a look at these costumes of your favorite Hogwarts wizards!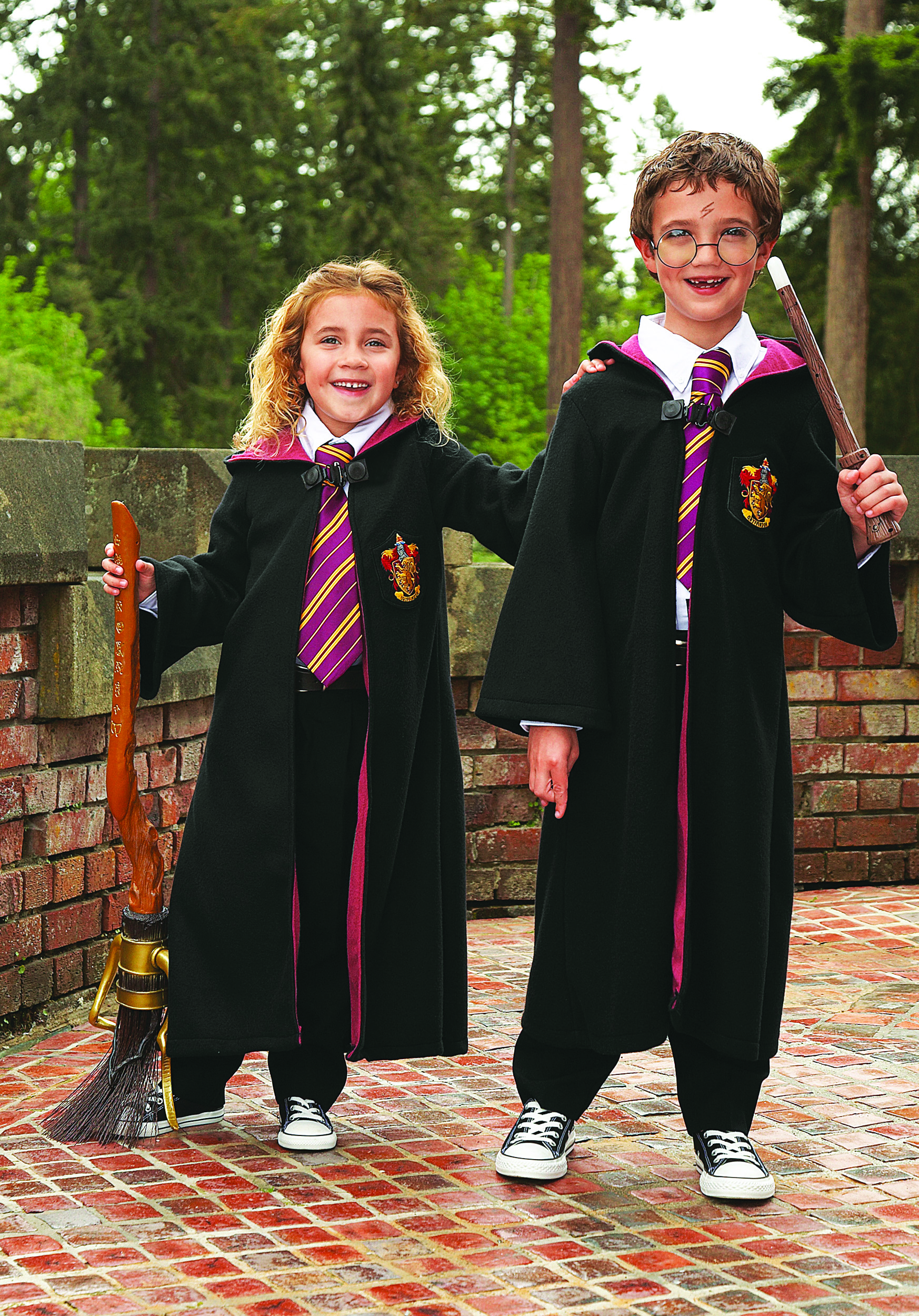 For your little Harry or Hermione, a fleece hooded robe just like the one wizards-in-training wear at the Hogwarts School is a great option this October
(Gryffindor Robe Costume, $38; broom and other accessories sold separately on website; www.chasing-fireflies.com)
From a Giant and an Elf
Hagrid is the bravest person Harry ever knew, and even if he's an awful cook, you have to admire his adventurous spirit in the kitchen. Foods that even experienced cooks leave to professionals don't daunt him. He's not afraid to try his hand at treacle fudge (true, it will glue your teeth together) or even twice-raised Bath buns.
Hagrid, the Hogwarts gamekeeper, lives in a small one-room wooden hut near the outskirts of the Forbidden Forest. He is enormously proud of the two important tasks he's been entrusted with: delivering Harry to the Dursleys after his parents are killed, and returning him to Hogwarts when he reaches school age. Hagrid takes a special interest in Harry, and a friendship springs up between them (read Harry Potter and the Sorcerer's Stone).
Harry and his friends often visit Hagrid for tea, where they learn that experience in cooking does not guarantee good results. They pretend to enjoy Hagrid's rock cakes, which break your teeth, or beef casserole with a talon mixed in. Have no fear: the recipes that follow, unlike Hagrid's, do yield excellent results, but if you have real Harry Potter spirit, follow the special instructions to make them turn out like Hagrid's.
Rock Cakes
This treat, if the word may be applied to something Hagrid made, is often found in his pantry, as it's mentioned no less than three times in the Harry Potter series in relation to Hagrid. Although Hagrid's rock cakes were nothing to write home about, you'll find these to be quite tasty (see Harry Potter and the Sorcerer's Stone, Chapter 8; Harry Potter and the Goblet of Fire, Chapter 3; Harry Potter and the Half-Blood Prince, Chapter 11).
2 cups all-purpose flour
½ cup granulated sugar
1 teaspoon baking powder
½ teaspoon cinnamon
¼ teaspoon salt
1 stick (8 tablespoons) cold butter, cut into chunks
1 large egg

1/3

cup whole milk
1 cup raisins
1. Preheat the oven to 350°F and grease and flour a large cookie sheet. Combine the flour, sugar, baking powder, cinnamon, and salt in a large mixing bowl. With your fingertips, rub the butter into the dry ingredients until the mixture reaches the consistency of wet sand.
2. Beat the egg together with the milk and pour it into the flour-butter mixture. Fold it together using a spatula to form a stiff dough. Fold in the raisins. Drop dough by rounded tablespoonfuls 2 inches apart on the prepared cookie sheet.
3. Bake for 25 minutes or until bottoms are golden, rotating the pan midway through baking.
Makes 12
For rock-hard cakes like Hagrid's, just bake them for too long and eat them a week later at your own risk!

Kreacher's French Onion Soup
Giving Kreacher Regulus Black's locket was a good move: Harry has never tasted better French onion soup (see Harry Potter and the Deathly Hallows, Chapter 12).
4 medium onions
½ stick (4 tablespoons) butter, melted
1 baguette
½ cup grated Parmesan cheese
1 teaspoon salt
¼ teaspoon freshly ground black pepper
¼ teaspoon sugar
1 tablespoon all-purpose flour
6 cups beef or chicken stock (beef preferred)
Additional grated Parmesan, for serving
1. Preheat the oven to 350°F. Peel the onions, cut them in half from pole to pole, and slice as thinly as possible. In a heavy soup pot, heat the butter. Remove the pot from the heat.
2. Remove one end of the baguette and slice six 1-inch-thick slices for the croutons. Cover the cut end of the bread and save for the end. Dip a pastry brush into the hot butter that is in the pot and brush one side of each slice with butter. Place the slices butter-side up on a baking sheet and sprinkle with cheese. Toast the bread in the oven for about 10 minutes or until browned.
3. While the bread toasts, return the pot to the heat and add the onions. Season with salt and pepper. Stir in the sugar and continue to stir over medium-high heat until the onions have browned, about 15 minutes.
4. Blend in the flour. Gradually add the stock while stirring and bring the soup to a boil. Reduce the heat to a simmer and cook uncovered for 30 minutes.
5. Ladle the soup into warmed bowls and float a cheesy crouton in the center, then sprinkle cheese around the crouton.
Serves 6
To make French Onion Soup with Gruyère, preheat the oven to 325°F. Ladle the soup in heatproof cups. Sprinkle in 1 tablespoon of slivered Gruyère and ½ teaspoon grated raw onion per cup. Float a piece of buttered toast on top and sprinkle with a scant ¼ cup of grated Gruyère. Bake for 20 minutes or brown under the broiler.

From "The Unofficial Harry Potter Cookbook," Copyright © 2010 by Dinah Bucholz.
Used by permission of Adams Media, an F+W Media, Inc. Co. All rights reserved.
For more recipes, fun food facts, photos, and more, check out unofficialharrypottercookbook.com. Purchase the cookbook ($19.95) at
Barnes & Noble (bn.com) or amazon.com.
Want More Potter?
Good, because we got the scoop on J.K. Rowling's new website!
---
Get Your FREE Indoor Activity eGuide!
---
More Recipes Articles
Easy Holiday Dessert: Frozen Pumpkin Pie with Graham Cracker Crust
DIY Alien Monster Egg Halloween Decoration
Witches Brew Recipe for Halloween by MOMables
Halloween Treats: Eyeball Cake Pops, Monster 'Toes,' and 'Rotten' Apple Punch
Easy Recipe for New Cooks: Creamy Tomato and Rice Basil Soup