Parents need to be aware that with the advent of video iPods, portable game players and Internet-ready cell phones comes the danger of mobile pornography. According to a recent article in The Washington Post, the research firm Yankee Group predicts that the portable porn market could earn $200 million in the U.S. by 2009. In Europe, adult entertainment for downloading to cell phones is already a multimillion-dollar business.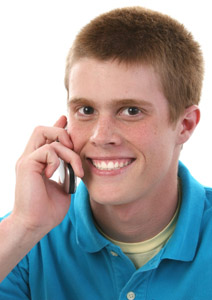 Last November, the Cellular Telecommunications and Internet Association (CTIA) created a set of voluntary guidelines for mobile carriers to screen, label and filter adult materials. The CTIA has also asked its member companies to create and distribute "Internet content access control" technologies that can block access to adult content on their devices, and to hold off offering restricted content until they have these filters in place. Parry Aftab, founder of www.WiredSafety.org, the largest Internet safety and help organization, told me that eventually CTIA will offer a variety of tools to ensure safe use across all systems. But even though Cingular Wireless was reported in November to have introduced tools for parents to help block porn from cell phones, when I called, posing as a potential customer concerned about mobile porn, neither the sales rep, nor her supervisor or trainer, knew anything about them.
Buzzle.com, an Internet site which provides users with a directory of useful information available on the Web, explains that downloading porn to an iPod is a snap. "All it takes is the click of a mouse button, and that's all the age verification such sites need…Anyone who knows how to browse the Internet can download X-rated files to their computer and then load them on the video iPod. Most pornography sites offer free video previews, short video clips, and sample photos, in the hope that giving site visitors a small taste will reel them in to paying for a membership."
So for now, even parents who are vigilant about their children's Internet use will not find it easy to monitor and control what goes on when kids have portable hand-held technology.
Parry Aftab offers these suggestions for parents:
• Get to the know the technology and how it can be used and/or abused by your kids.
• Kids shouldn't have Internet-enabled cell phones until effective filtering techniques are available that can restrict what they can access on the Internet.
• Use parental controls and filters on your computers at home, so that kids can't access porn there and download it to hand-held devices.
• Tell your kids that you will be doing spot checks of what's been downloaded to their cell phones, PlayStations and video iPods at any time and that they should not expect to have any privacy in this regard. Spot check their computers as well.
In his article, "What Every Parent Needs to Know About Emerging Technology", Daniel Panetti, vice president for Legal and Public Policy for the National Coalition for the Protection of Children & Families, maintains that the greatest defense against pornography is to keep an open line of communication with your kids. "Ask your child about the latest technology, discuss the concerns you have…and talk honestly about the issue of sexual predators online and the predatory nature of pornography."