It's 3pm and your little soccer player needs a quick afterschool snack before she dashes off to practice. You reach for the chips, wishing there were something more nutritious you could whip up while she pulls on her cleats and shin guards.

The most important thing to do at snack time is to rethink the words "snack food," says Keri Glassman, family nutritionist at Keri Glassman and Nutritious Life and author of The Snack Factor Diet. Instead of reaching for filler foods like chips or pretzels, think real food in smaller portions. "Snacks have to be another place for kids to get nutrients during the day," Glassman says.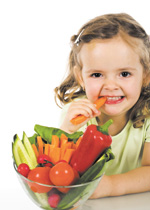 But making a healthy snack for your kids is only half the battle — getting them to eat it can be tricky and may take some creativity. Glassman advises parents to make snacks fun by getting their children more involved in eating it. Anything they can stack, wrap, dip, or dunk is an instant plus. Presentation is also key, says Glassman, who recommends sending on-the-go snacks in character-themed packaging, such as Dora the Explorer Dixie cups or SpongeBob plastic Baggies.

Below are Glassman's suggestions for healthy and easy-to-make snacks for a busy childhood:

• Peanut butter dip (plain yogurt mixed with peanut butter) served with sliced fruit or veggies for dunking

• Health Valley Amaranth Brand Graham Crackers or other whole-wheat crackers served with 2 tbsp. nut butter (such as almond butter or peanut butter) for dipping. Toss in some dark chocolate chips for a treat

• Earth's Best Sesame Street organic oatmeal cinnamon letter cookies (fortified with vitamins and minerals) with a glass of milk (or vacuum-packed carton of milk for on-the-go ease)

• Whole-wheat crackers and slices of deli meat (cut into squares) for stackable mini sandwiches

• Tribe individual hummus containers with Garden of Eden brand whole grain pita chips or sliced veggies for dipping (homemade pita chips toasted with olive oil and sea salt and sprinkled with parmesan cheese are a healthy alternative)

• Pretzel rods with turkey slices wrapped around them

• Leftover whole-wheat pasta and frozen veggies mixed with Italian dressing and served in a fun container

• Smoothie: regular or soy milk blended with a cup of frozen berries (add blueberries for a blue shake or strawberries for a pink one to match your little one's favorite color)

For more snack ideas, visit Keri's website at www.nutritiouslife.com/snacks4kids.